Transition Festival 2020 Promo Party in Germany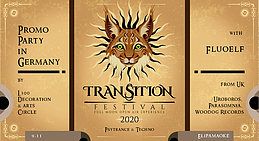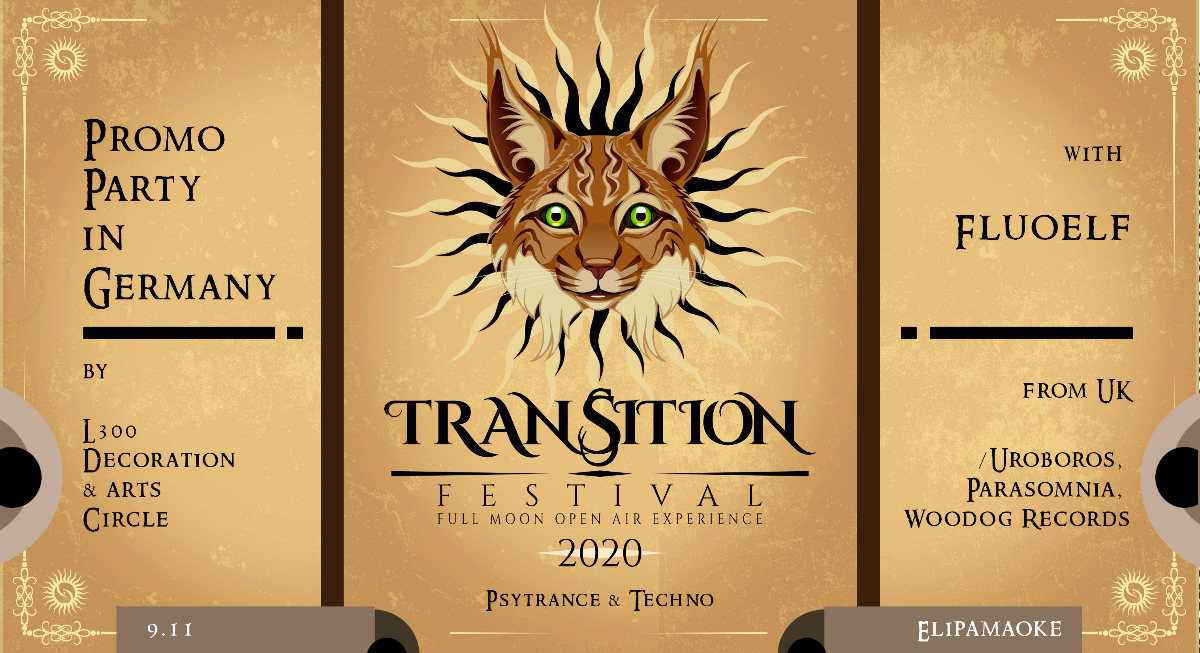 Line Up
L300 Decoration & Arts Circle presents "Transition Festival 2020 Promo Party in Germany"
Transition Festival is a powerful shamanic experience in a magical location under the full moon after the Spring Ecquinox. It is an initiation into the dance trance experience, with the high potential to open new doors in your consciousness to make the transition to a new reality in your life. "Transition" comes from Latin / meaning change of position, state, or concept to another. Do you want a change? Be the change.
The festival is a family party, whose initiation was under a full moon eclipse in the Andalusian forest in 2007
♪♪♪ ॐ ☼ ॐ ♪♪♪
7 days and 7 nights of magic, nature, psychedelia, and transformation
Make your transition.... Being authentic, to learn to love oneself and respect consciousness of everything that is...
<><><><><><><><><><>
Transition 2020 / 5-12 MAY /
DONANA NATURAL PARC // SPAIN
Buy your ticket for 2020:
[transitionfestival.org]
<><><><><><><><><><>
Parts of our crew visited this special gathering for the last 2 years...and they really recommend you to go to this small psy family festival...this is for us the true spirit of goa and the true essence of our worldwide psychedelic scene...
____________________________________________
LineUp Psy Floor ॐ
____________________________________________
◈ Fluoelf ◈
▶ Uroboros Records, Woo-Dog Recordings, Parasomnia Music //UK
♫
soundcloud
◈ TravelMagic ◈
▶ L300 Decoration & Arts Circle // Halle
♫
soundcloud
◈ Anoxia ◈
▶ L300 Decoration & Arts Circle // Halle
♫
[bit.ly]
◈ Monchi ◈
▶ L300 Decoration & Arts Circle // Halle
♫
[bit.ly]
◈ Nutaq ◈
▶ L300 Decoration & Arts Circle // Halle
♫
soundcloud
◈ Dirc D Dänzing / Dimensions ◈
▶ L300 Decoration & Arts Circle // Halle
____________________________________________
LineUp Techno Floor ☼
____________________________________________
◈ Lampé -LIVE- ◈
▶ Phobos Records, Digital Diamonds, Alula Tunes // Hamburg
♫
soundcloud
◈ Fluoelf (Techno-Set) ◈
▶ Uroboros Records, Woo-Dog Recordings, Parasomnia Music //UK
♫
[click here]
◈ Benin Rasljanin ◈
▶ Synaptic / Bayern
♫
soundcloud
◈ Walkman ◈
▶ L300 Decoration & Arts Circle // Halle, Bremen
♫
soundcloud
◈ Funkmaster ◈
▶ L300 Decoration & Arts Circle // Leipzig
◈ Weckerich ◈
▶ ease // Leipzig
____________________________________________
Decoration/Mapping by L300 Decoration & Arts Circle
<><><><><><><><><><><><><><><><>
<><><><><><><><><><><><><><><><>
[facebook.com]
▲No sexism, No racism, No fascism, No homophobia ▲
Location
elipamanoke e.V.
Markranstädter Str. 4, 04229 Leipzig
Organizer
Organizer
L300 Decoration & Arts Circle
Added

3y 7m

· Update

3y 4m

·