Backend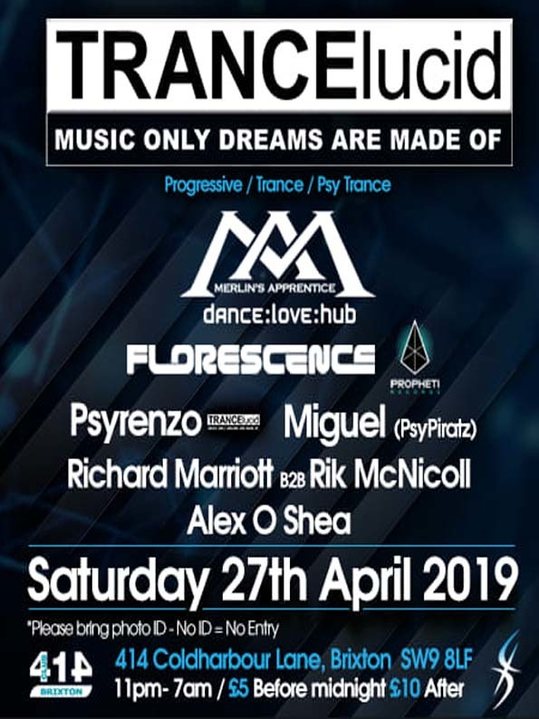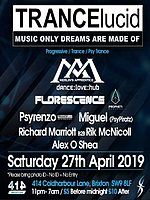 Line Up
Line Up
Merlin's Apprentice
Florescence
Psyrenzo
Miguel
Richard Marriott B2B Rik McNicoll
Alex O Shea
Info
TRANCElucid are proud to bring you here our event for April.
Following on from our massive birthday event last weekend we are excited and looking forward to seeing what the next year holds for us.
More info about the following DJ's on here over the coming weeks
Line up:
Merlin's Apprentice (DanceLoveHub)
[facebook.com]
soundcloud
Florescence (Propheti Records)
[facebook.com]
[facebook.com]
soundcloud
[facebook.com]
Psyrenzo (TRANCElucid)
soundcloud
[facebook.com]
[facebook.com]
Miguel (PsyPiratz)
[click here]
[facebook.com]
Richard Marriott B2B Rik McNicoll
Alex O Shea
soundcloud
Event Info:
TRANCElucid – April
Saturday 27th April 2019
23:00 – 07:00
£5 before midnight / £10 after.
Progressive / Trance / Psy Trance
PLEASE BRING PHOTO ID / NO ID NO ENTRY.
Open Roof terrace for those who wish to smoke.
Club 414,
414 Coldharbour Lane,
Brixton,
London,
SW9 8LF
[club414.org]
HOW TO GET THERE:
Tube = Brixton
(Victoria Line – 24 hours)
Rail = Brixton Mainline station
Daytime buses = 2, 3, 35, 37, 45, 59, 109, 118, 133, 159, 196, 250, 322, 333, 345, 355, 415, 432, P4, P5
Night buses = N2, N3, N35, 37, N133, N159, 250, 345, 689, 690
Directions: Come out of Brixton tube station and turn left. Walk 100 yards till you see KFC on your left. Turn left and walk 100 yards. You have reached your destination on the left.
Location
Club 414-414 Coldharbour lane, Brixton, sw0, 8lf.