Backend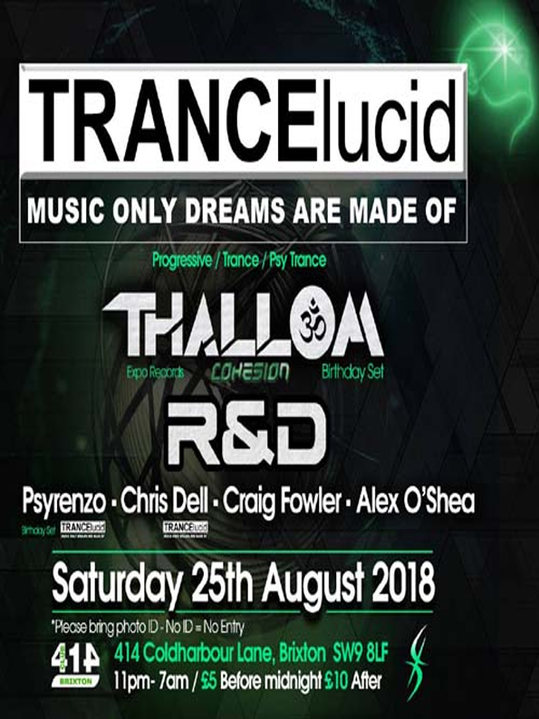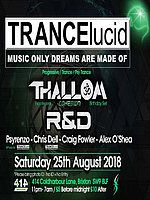 Line Up
Line Up
THALLOM [BIRTHDAY SET]
R&D
PSYRENZO [BIRTHDAY SET] [TRANCELUCID]
CHRIS DELL [TRANCELUCID]
CRAIG FOWLER
ALEX O SHEA
Info
Hi party people and welcome to our next TRANCElucid event.
Our event for August, which for sure shall be another amazing event, with fantastic energy and vibe on the dance floor and a awesome selection of music, within the Trance spectrum and from Progressive Trance, Trance (from past and present) and Psy Trance.
More information of the below DJ's on our line up for this event
from now and leading up until the day.
See you on the dance floor 🙂
Line up:
THALLOM [BIRTHDAY SET] [EXPO RECORDS / COHESION]
[facebook.com]
[facebook.com]
[facebook.com]
soundcloud
[thallom.com]
R&D
[click here]
[facebook.com]
PSYRENZO [BIRTHDAY SET] [TRANCELUCID]
soundcloud
[facebook.com]
CHRIS DELL [TRANCELUCID]
soundcloud
CRAIG FOWLER
[facebook.com]
[click here]
ALEX O SHEA
soundcloud
Event Info:
TRANCElucid
Saturday 25th August 2018
23:00 – 07:00
£5 before midnight / £10 after.
Progressive / Trance / Psy Trance
PLEASE BRING PHOTO ID / NO ID NO ENTRY
Open Roof terrace for those who wish to smoke.
Club 414,
414 Coldharbour Lane,
Brixton,
London,
SW9 8LF
[club414.org]
HOW TO GET THERE =
Tube = Brixton
(Victoria Line – 24 hours)
Rail = Brixton Mainline station
Daytime buses = 2, 3, 35, 37, 45, 59, 109, 118, 133, 159, 196, 250, 322, 333, 345, 355, 415, 432,
P4, P5
Night buses = N2, N3, N35, 37, N133, N159, 250, 345, 689, 690
Directions: Come out of Brixton tube station and turn left. Walk 100 yards till you see KFC on
your left. Turn left and walk 100 yards. You have reached your destination on the left.
Location
Club 414-414 Coldharbour lane, Brixton, sw0, 8lf.