TRANCElucid - September Party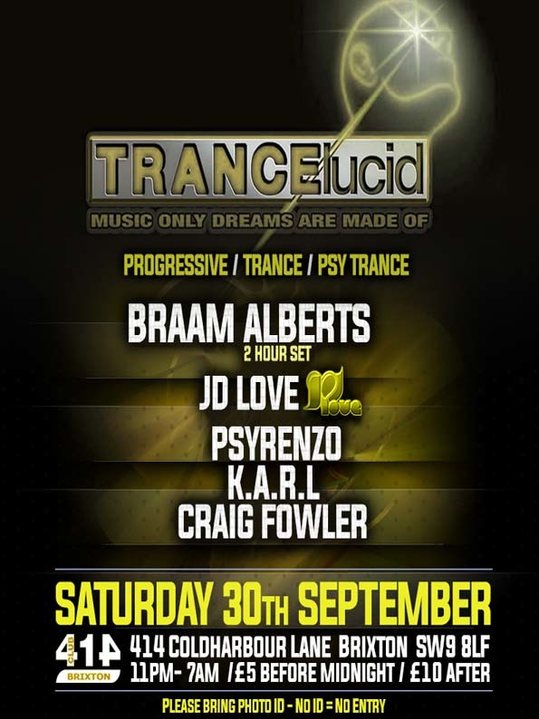 Line Up
Line Up
BRAAM ALBERTS [Friendz] [2 Hour Set]
JD LOVE
PSYRENZO
K.A.R.L
CRAIG FOWLER
Info
Hi party people and welcome to our September Trancelucid event, which will take place at Club 414 on Saturday 30th September.
For our next forthcoming event, we are thrilled and very much looking forward to having Braam Alberts on board to play for us. Braam is the Promoter of the very successful and well known Trance party in London called Friendz. This shall be his Debut set at Trancelucid and his first time playing at Club 414, something which he is very much looking forward to!
We also welcome back K.A.R.L to play at this one. He last played for us at our 1st Birthday in March 2016. Having taken some time out from DJ'ing we can't wait to have him back down to play and hear what he has in store to play. For this event you can expect to hear from his some tough driving Trance, with some Tech oriented Trance thrown in.
Another DJ who we welcome back to play is our good friend Craig Fowler, who shall be getting this event started with some awesome Progressive music.
More Guest DJ's are to be confirmed for this event, so watch this space for future updates, between now and the party.
Finally a Trancelucid line up wouldn't be one without the main man behind this party on it. Joining the mentioned above guest DJ's shall be Lorenzo Barrero. Lorenzo started up Trancelucid in March 2015 and his sets tend to be Uplifting with Tech Trance thrown in. He also has a Psy Trance alias, under the name of Psyrenzo, which he uses for when he plays Psy Trance sets and also at Psy Trance parties.
Please share and invite your music loving friends to this party, a party that will be a memorable one and one to remember.
Many thanks.
See you on the dance floor.
LINE UP:
BRAAM ALBERTS [Friendz] [2 Hour Set]
[facebook.com]
[facebook.com]
K.A.R.L
soundcloud
LORENZO BARRERO
[facebook.com]
[facebook.com]
CRAIG FOWLER
[facebook.com]
MORE DJ'S TBC
EVENT INFO:
TRANCElucid
Saturday 30th September 2017
11pm - 7am
£5 before midnight, £10 after.
Progressive & Trance
PLEASE BRING PHOTO ID / NO ID NO ENTRY
Open Roof terrace for those who wish to smoke.
Club 414
414 Coldharbour Lane,
Brixton,
London,
SW9 8LF
[club414.org]
HOW TO GET THERE =
Tube = Brixton
(Victoria Line - 24 hours)
Rail = Brixton Mainline station
Daytime buses = 2, 3, 35, 37, 45, 59, 109, 118, 133, 159, 196, 250, 322, 333, 345, 355, 415, 432, P4, P5
Night buses = N2, N3, N35, 37, N133, N159, 250, 345, 689, 690
Directions: Come out of Brixton tube station and turn left. Walk 100 yards till you see KFC on your left. Turn left and walk 100 yards. You have reached your destination on the left.
Entry fee
Entry fee
£5b412 £10 after.
Organizer
Organizer
Lorenzo Barrero