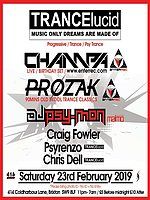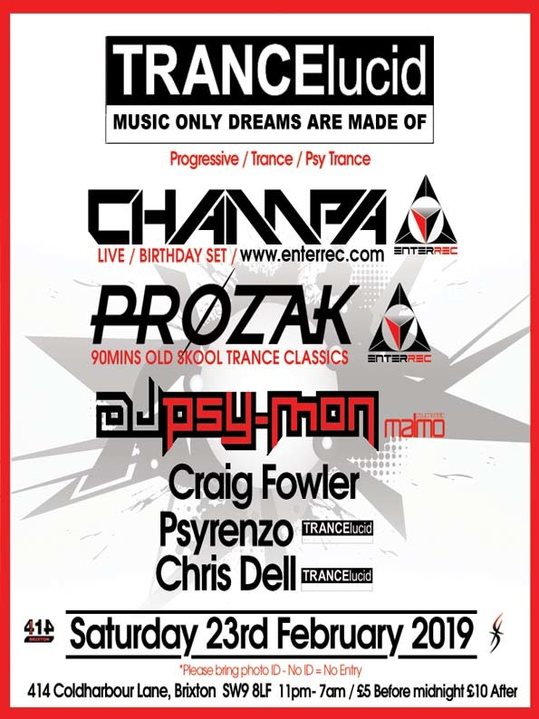 Info
Hi party people and welcome to our February event.
After a fabulous start to kick off the new year, for our January event, we seriously can't wait for this one and we hope you can join us at this one.
For this month we are ecstatic to be welcoming Enterrec Label boss Champa to headline and play at one of our events for the first time. You can expect in this set to hear his own Original Psy Trance productions, along with Remix's of his which he has done for many top Psy Trance Artists. With his birthday also landing a few days after this event, his debut appearance adds something else very much extra special.
He shall also be playing a very special 90 minute old skool Trance Classics set (on vinyl), under his other guise and Prozak, where he shall be digging out over the coming weeks his favourite tunes from back in the day.
More information of the below DJ's on our line up for this event
from now and leading up until the day.
See you on the dance floor :)
Full Line Up:
CHAMPA LIVE (BIRTHDAY SET)
(ENTERREC)
[facebook.com]
[facebook.com]
soundcloud
[instagram.com]
PROZAK (90 MINS OLD SKOOL TRANCE CLASSICS SET)
(ENTERREC)
soundcloud
DJ PSY-MON
(PSYCHEDELIC MALMO)
[facebook.com]
[facebook.com]
soundcloud
CRAIG FOWLER
[facebook.com]
[click here]
PSYRENZO
(TRANCElucid)
soundcloud
[facebook.com]
[facebook.com]
CHRIS DELL
(TRANCElucid)
soundcloud
Event Info:
TRANCElucid
Saturday 23rd February 2019
23:00 - 07:00
£5 before midnight / £10 after.
Progressive / Trance / Psy Trance
PLEASE BRING PHOTO ID / NO ID NO ENTRY.
Open Roof terrace for those who wish to smoke.
Club 414,
414 Coldharbour Lane,
Brixton,
London,
SW9 8LF
[club414.org]
HOW TO GET THERE =
Tube = Brixton
(Victoria Line - 24 hours)
Rail = Brixton Mainline station
Daytime buses = 2, 3, 35, 37, 45, 59, 109, 118, 133, 159, 196, 250, 322, 333, 345, 355, 415, 432, P4, P5
Night buses = N2, N3, N35, 37, N133, N159, 250, 345, 689, 690
Directions: Come out of Brixton tube station and turn left. Walk 100 yards till you see KFC on your left. Turn left and walk 100 yards. You have reached your destination on the left.
Location
Club 414-414 Coldharbour lane, Brixton, sw0, 8lf.
Entry fee
Entry fee
£5 before midnight / £10 after.