Backend
T.R.A.N.C.E.I.N.A (return to club M7 Barcelona)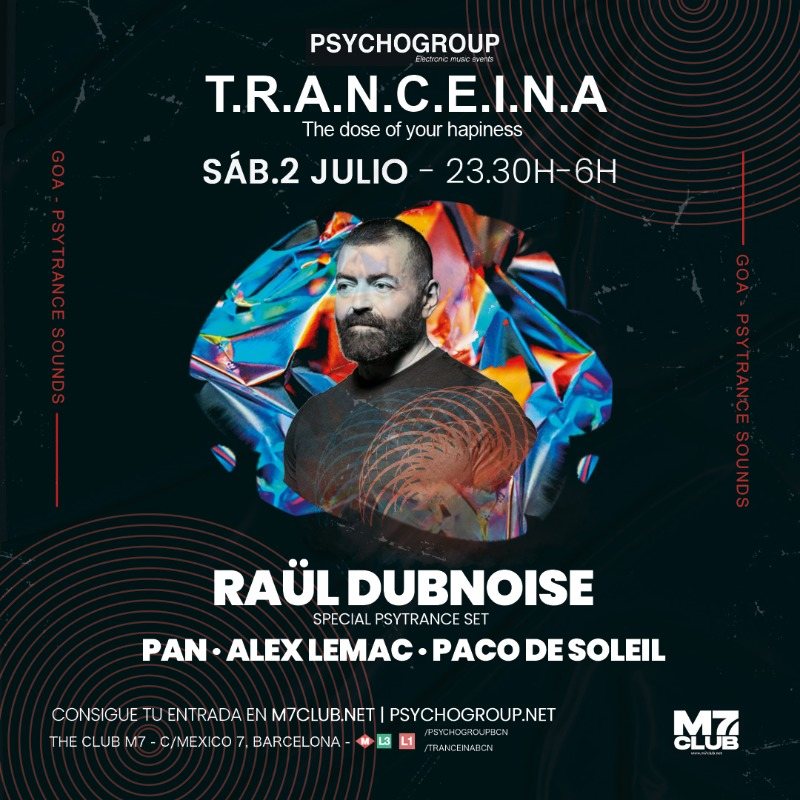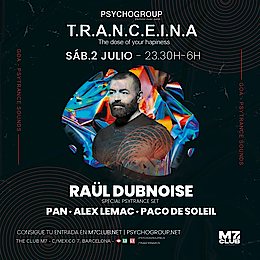 Line Up
Line Up
Raul Dubnoise / Paco De Soleil /Alex Lemac / Pan
Info
Nuestra dosis PSY de T.R.A.N.C.E.I.N.A vuelve a Club M7 Barcelona!
Hemos preparando un LINE UP PSY de infarto para la ocasión.
Aristas confirmados 👇
> RAUL DUBNOISE (especial PSY set) 🇪🇦
> PAN 🇬🇧
> ALEX LEMAC 🇪🇦
> PACO DE SOLEIL 🇪🇦
> Decoración especial
> Sonido Martin audio
Reserva esta fecha: sábado 2 de julio.
Ya puedes comprar tu entrada desde 12€ en el siguiente enlace 👇
Tickets
[company.site]
[psychogroup.net]
◾◾◾◾◾◾◾◾◾◾◾◾◾
Our PSY dose of T.R.A.N.C.E.I.N.A returns to Club M7 Barcelona!
We are preparing a heart attack LINE UP!
Confirmed artists 👇
> RAUL DUBNOISE (special PSY set) 🇪🇦
> PAN 🇬🇧
> ALEX LEMAC 🇪🇦
> PACO DE SOLEIL 🇪🇦
> Special deco
> Martin audio sound system
Save this date: Saturday, July 2. You can now buy your ticket from €12 at the following link 👇
Tickets
[company.site]
[psychogroup.net]