Backend
TRANCE-ZEN-DANCE - Weltaufgang meets Chaishop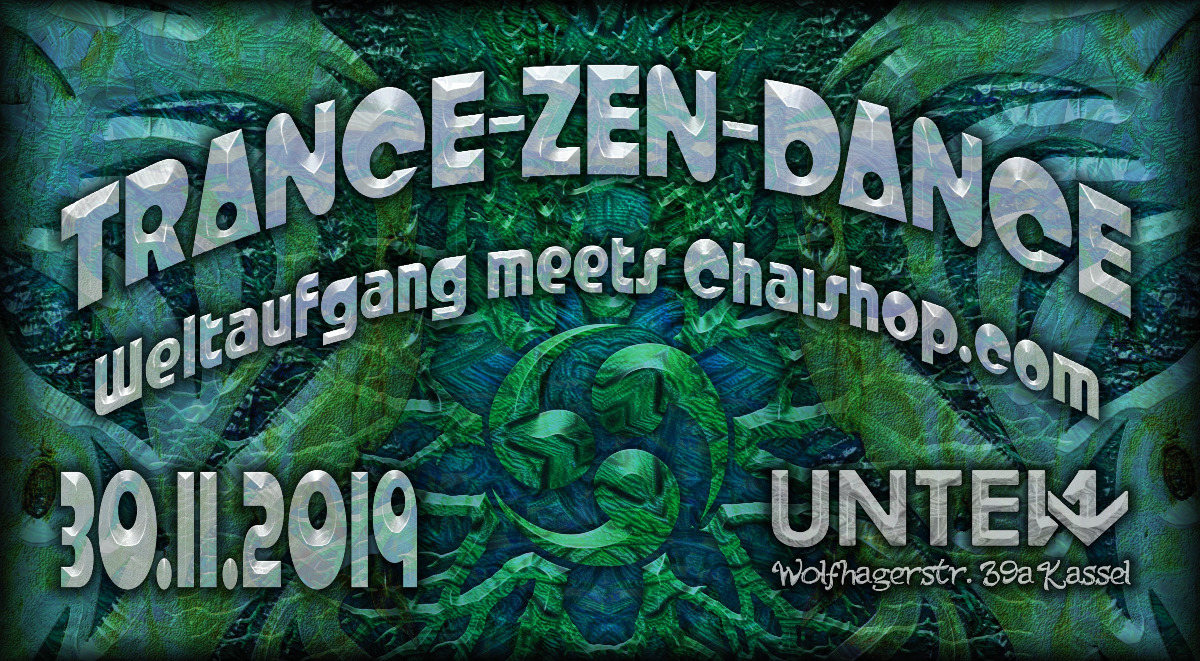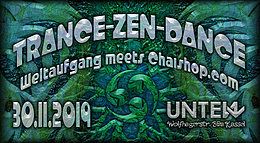 Line Up
🌐 Dieses Mal haben wir unsere Freunde von CHAISHOP eingeladen, die werden auf dem TRANCE-FLOOR für eine kunterbunte Mischung einmal quer durchs Psytrance-Beet sorgen! Das wird mit Sicherheit eine ganz besondere Klangreise durch die verschiedenen Spielarten!
🎵 YOHANAN *LIVE
(Chaishop.com / Square Lab Music)
soundcloud
🎶 VOIDSCREAM *LIVE
(Chaishop. com / Black Out Records)
soundcloud
🎵 MISTER EDGE
(Chaishop. com / Van Daark)
[click here]
🎶 MUTTERKORN
(Chaishop. com / Wummerland / Gaggalacka)
soundcloud
🎵 ASTRONOM
(Chaishop. com / Gaggalacka / Square Lab Music)
soundcloud
🎶 PSY SCHILLY
(Chaishop. com / Laws Of Nature)
soundcloud
🎵 ASARUALIM
(Binary Audio Machinery Records)
soundcloud
🌐 Auf dem ZEN-FLOOR werden wir von WELTAUFGANG für gemütliche Atmosphäre und entspannte bis psychedelische Klänge von Schneckno über Chillout, Downtempo bis World Music sorgen!
🎵 SLOWPAKORAS
(Weltaufgang)
soundcloud
🎶 + SURPRISE ACTS!
Deco
🌐 Natürlich haben wir auch an die Optik gedacht! Vici und Roman werden für Euch eine leuchtende Parallel-Welt im Unten aufbauen!
🔷
[vici-artworks.de]
(Weltaufgang / Chaishop .com)
Info
🌐 TRANCE-ZEN-DANCE 🌐
ૐ Weltaufgang ૐ meets Chaishop.com
Kommt wieder mit uns gemeinsam auf eine Reise durch andere Welten! Wir möchten Euch im Club Unten einen Raum zur völlig freien Entfaltung und Erfahrung bieten: zum Sich-Verlieren und Sich-Finden, zum Tanzen und in Trance kommen, zum Spielen und Verrücktsein, zum Genießen und Man-selbst-sein! Und das natürlich abseits von Mainstream und Kommerz ... also füllt diesen Raum mit Leben! Wir freuen uns schon sehr auf Euch, werte Freaks und Fraggles!
🌐 Und neben den akustischen und optischen Leckereien gibt's selbstverständlich auch was für Gaumen und Seele - Köstlichkeiten kredenzt von
🍵CHAI MANIA
[facebook.com]
🌐 Oh, es wird auch wieder einen Mini-Schwarzlicht-Shop mit tausend tollen Dingen von der GNB-Crew geben!
... Also merkt Euch den Termin schonmal vor! Wir freuen uns auf Euch! :)
Jajaja, und wer sein Bändchen vom "A Place To Be - Chaishop Psychedelic Family Gathering" aus Portugal vorzeigt, kommt sogar noch n Euro günstiger rein!
Location
Unten
(ehemalige Tofufabrik neben der Tankstelle) - Wolfhagerstr. 39 a in Kassel