Backend
Trance Warehouse Acte 1 (Psytrance Edition) w/ Yabba Dabba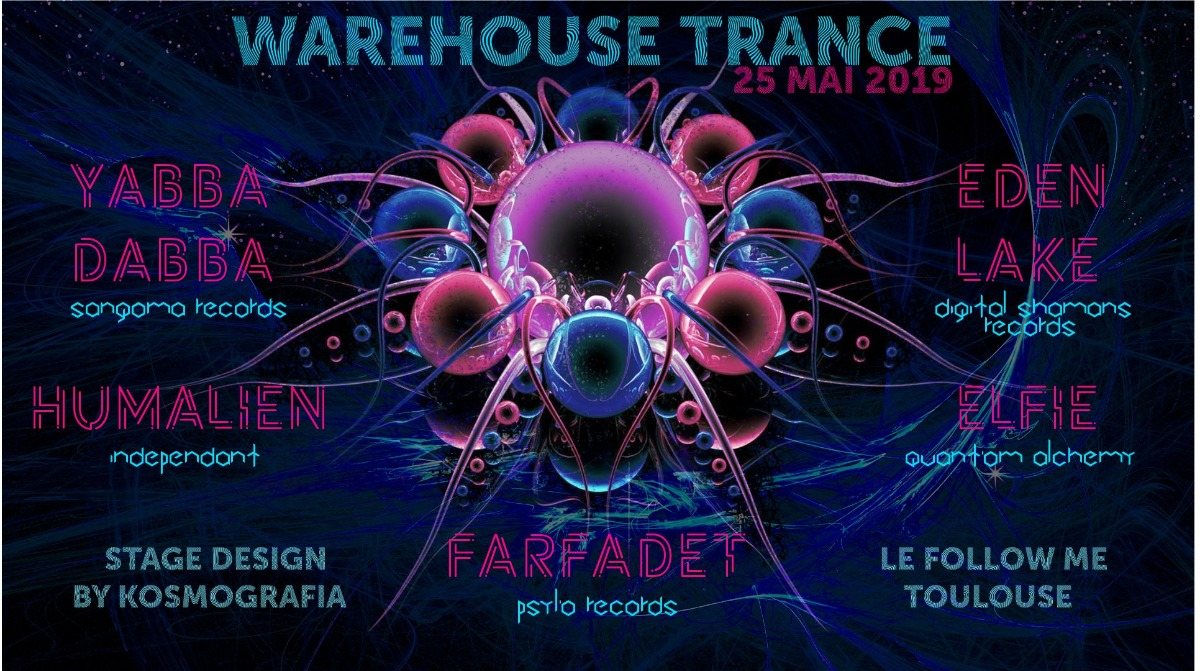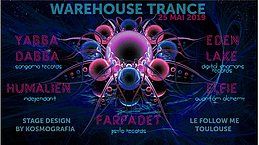 Line Up
🌀 LINE UP 🌀
🎼 🎵 YABBA DABBA - Sangoma Records 🎶
soundcloud
YABBA DABBA est le projet de deux français, Frederic B. et Jeremy Q., tout deux nés et ayant grandi en Nouvelle Calédonie. Ils ont exploré ensemble l'univers Psychédélique et c'est ainsi que la connection a opéré. Résident à présent sur le sol français, ils viennent de sortir leur dernier album que nous vous invitons à découvrir ci-dessous !!!
soundcloud
🎼 🎵EDEN LAKE - Digital Shamans Records 🎶
soundcloud
Eden Lake est un artiste français qui a toujours aimé la musique et faire la fête.
Il découvrit l'électro au hasard d'une soirée. Et c'est aussi simplement qu'il amena ses racines rocks et indus vers la musique électronique en 2012.
En 2013, il découvrit ce que certains grands artistes avaient déjà accomplis, comme Illegal Machine,
Synthetic Chaos et Chris Rich. C'est ainsi qu'il découvrît la Psy-Trance, son groove,
les sons et l'ambiance générale qui s'en dégageaient. Il a alors commencé à mixer sur Lyon et ses abords.
En Automne 2014 il se forme à la production et travaille depuis sur un projet live.
Essentiellement influencé par les artistes qui l'ont mené à la Psy-Trance, il aime jouer selon ses règles.
Sa musique est un mélange de basses lourdes et sourdes, avec un groove dans une atmosphère Dark. Il aime jouer avec votre esprit comme avec son master ! Croyez-le, son set va être putain de Groovy, à ne pas manquer !!!!
For booking please contact :
edenlakemusic@gmail.com
[facebook.com]
🎼 🎵 ELFIE - Quant'Om Alchemy 🎶
soundcloud
Toulousaine passionnée de musique électronique sous toutes ses facettes ; et plus particulièrement de Techno, Progressive Techno, Trance Progressive, Psygressive et Psytrance, Elfie est Co-fondatrice de l'association Quant'Om Alchemy et membre du label W_anted Agency.
Parcourant les festivals et organisant de nombreux événements depuis 2014, elle partage ses découvertes musicales au travers de Djs Set Psytrance / Psygressive / Trance Progressive / Dark Progressive / Psy Dub.
C'est au fil des rencontres qu'elle puisa ses influences avec des grands noms comme Occular, Talpa, Radikal Moodz, Ajja, Earthling, ZZBing, Illegal Machines, Synthetic Chaos, Eden Lake, Fighting Shadows, Chris Rich, Dirty Saffi, Psymmetrix, … et plein d'autres encore !
Se lançant depuis quelques temps dans la production et vous pourrez suivre son avancée via les quelques extraits disponibles sur sa page soundcloud !
Retrouvez là sur le dancefloor pour un tapage de coussinet affirmé !
🎼 🎵 HUMALIEN - Independant 🎶
soundcloud
Humalien est un jeune dj et un producteur principalement intéressé par Psytrance et Acid / Hardtekno.
Il voyage depuis quelques années et s'inspire de fêtes à travers le monde.
Tous ses sons sont téléchargeables gratuitement ;)
Dj sets :
[click here]
Enjoy !
🎼 🎵 FARFADET - PSYL'O RECORDS 🎶
soundcloud
DJ toulousain, originaire du centre de la France. Farfadet gambade depuis son plus jeune âge dans la musique électronique. Plus particulièrement dans les sous genres de la Trance, tel que la Hardtrance des années 90' et la Psytrance aux basses profondes et aux aigues électriques et envoutants.
Fin 2018, il créa Psyl'o Records avec son acolyte Psydrift pour promouvoir l'ensemble des sous genres de Psytrance à travers les contrés plus ou moins lointaines.
Pour une petite mise en bouche, retrouvez-le sur le Souncloud de Psyl'o Records :
[click here]
Pour les prochains évènements c'est ici :
[facebook.com]
🌀 STAGE DESIGN / VIDEO / MAPPING 🌀
💥 KOSMOGRAFIA 💥
[facebook.com]
Kosmografia is an ongoing psychedelic stringart and UV decorations project inspired mostly by sci-fi, technology and astronomical objects.
🌀 INSTALLATION SON / LUMIERE 🌀
💥 15 KW DE DAS AUDIO à plein régime ! 💥
💥 SHOW LIGHT by LE FOLLOW ME 💥
🌀 PERFORMANCE 🌀
💥 Shows de HOOLAHOOP LUMINEUX ET EVENTAILS by Audrey Dancer Artist 💥
🌀 INFOS PRATIQUES 🌀
🌍: Le Follow Me - 4 impasse Didier Daurat - Toulouse (Accessible en metro)
🕒: 23h-5h30
💰: 15€ sur place
🚌 Bus : Ligne 78 S
✦ Arrêt : Clément Ader - environ 1 minute à pied
Dernier départ à 01h depuis Métro Ligne B - Arrêt : Université Paul Sabatier
Horaires :
[tisseo.fr]
🚌 Bus : Ligne L7
- Arrêt : Malepère (Terminus) 15 minutes à pied
Dernier départ à 01h depuis Cours Dillon (ou Esquirol / François Verdier)
- Horaires :
[tisseo.fr]
🚌 Bus : Ligne L8
- Arrêt : Gonin - environ 20 minutes à pied
Dernier départ à 01h depuis le Métro Ligne A - Arrêt : Marengo SNCF (ou Jean Jaurès / François Verdier)
- Horaires :
[tisseo.fr]
Location
Le followMe 4 impasse Didier Daurat - TLSE