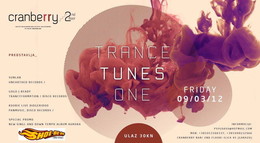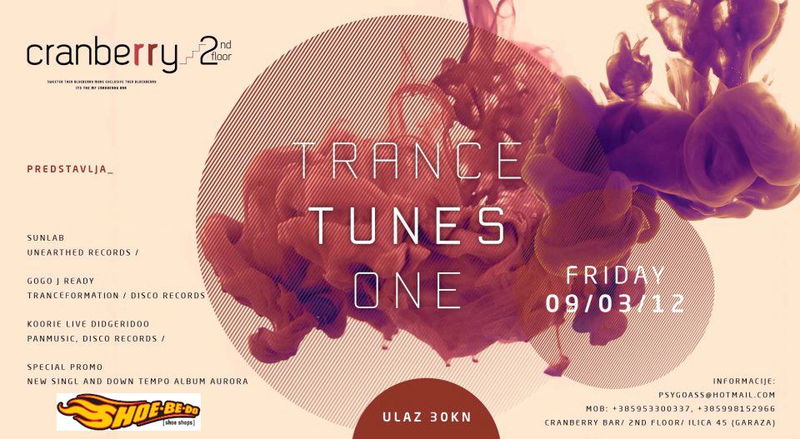 Live
Line Up
Koorie down tempo & psytrance live set with didgeridoo performans / Panmusic records, Digital Freaquenz , Disco hr
Chill
Koorie didgeridoo performans
Info
9.3.
Club CRANBERRY present TRANCE TUNES ONE
WE ARE THE ONE!!!!
...
Line up
SUNLAB
Bonzai(BEL), Unearthed Records(UK), Blue Soho Recordings(TUR).
GOGO J. READY
(Tranceformation crotia )
KOORIE
digtal freaquenc(swe),disco hr,panmusic (ESP),trance teleport,disco hr,manikari crow (FRA),universal dance
bio:
Sunlab aka Mišo Šegan
Roden u Zagrebu, od ranih dana u doticaju sa elektronskom muzikom, posebice Trance žanrom i smjerom.
Odmalena u doticaju sa klavijaturama što je 2004. godine preraslo u experimentiranje sa muzickom produkcijom.
Nakon nekoliko godina rada i povezivanja s drugim ljudima došlo je do zadovoljavajucih rezultata
s objavom prvih singlova na stranim labelovima kao što su: Bonzai(BEL), Unearthed Records(UK), Blue Soho Recordings(TUR).
Svoje pocetke zabilježava pod raznim aliasima i suradnjama kao što su Moonsouls(Bojan Njegomir), T-Sphere, Nash & Stryker (House)
i naravno Sunlab pod kojim izdaje i nastupa.
Uz mnoge remixeve koji su ostali zapaženi medu populacijom (Chris Brown & Benny Benassi - Beautiful People) trenutno bilježi veoma uspješan remix
za Francuski Trance dvojac Karybde & Scyllu za single "Tokyo" koji je potpisan na Unearthed Records te trenutno najveci uspjeh,
single "Nerine" potpisan takoder na Unearthed Records(UK) koji je
dosegao #24 Top 100 Beatport Trance Releases te bio supportan od strane mnogih etabliranih dj-a i producenata na svjetskoj
bazi kao što su: Aly & Fila, Manuel Le Saux, Sean Tyas, Dash Berlin, Giuseppe Ottaviani, Paul Oakenfold i mnogi drugi!
Trenutno je u iscekivanju svog novog singla zvanog "Mictlan" koji je nastao u suradnji sa Moonsouls (Bojan Njegomir) i potpisan pod etiketom
Blue Soho Recordingsa uz Sunny Lax Remix (Anjunabeats).
Veliki interes iskazuje i za dj-ing uz par gostujucih mixeva za razne radio emisije i stanice (Ah.Fm, Discover Trance Radio)
te official nastupi: Tranceformation @ Londoner Zagreb te Sound Designers Festival @ Aquarius Club Zagreb, TrancePort @ Shamballa Club Zagreb.
Gogo J. Ready
rođen 1984, Zagreb, Hrvatska) ulazi u svijet elektronske
glazbe u kasnim 90 tima. Za vrijeme školovanja, preostalu snagu ulaže u prve
korake ka dj'ingu. Nakon usvajanja povećeg gradiva o elektronskoj kulturi pribavlja
svoju prvu opremu te profesionalno, tehnički i duhovno nastavlja usvajanjem novih
tajni ovog zanimljivog zanata, pritom do dan danas ostaje vjeran uporabi analogije
poput gramofona. Neodređenog je repertoara u žanrovima i freelancer u svojoj struci,
a favoriti su mu psy trance, comercial trance i DnB, i to zahvaljujuči nekih od
idola poput: Paul Oakenfold, John Digweed, Paul van Dyk, Tiesto, Westbam, Ferry Corsten,
Astral Projection, Man With No Name, Etnica, Prana, Infected Mushroom, 1200 Micrograms,
Astrix, Squarepusher, FSOL, Roni Size i mnogih drugih.
Službenu aktivnost bilježi od 2004-te godine u nekolicini lokalnih
klubova u Zagrebu, organizirajući manje kulturne evente, pružajući svoje
usluge na raznim događajima i promocijama. Kroz već mnogobrojnu suradnju
s artistima domaćeg porijekla, kasnije 2007. godine uz pomoč dvoje kolega
osniva program pod nazivom "eXperiment" kao mali kulturološki
projekt. Prvo official predstavljanje bilježi na nekolicini Astralis
evenata 2010 uz pomoć i podršku Astralis Teama. 2010 se priključuje rame
uz rame DJ NRG-u (Zg) i Marko Felinger-u (Os) u Tranceformation programu,
jedinom tada aktualnom trance programu u Hr. Trenutno vodi ljetni program kao
jedan od rezidenata u groove klubu "Euphoria" koji se nalazi u Novalji/Zrće.
Neki od bitnijih evenata/lokacija na kojima je gostovao: Tranceformation, Astralis,
Static Noise (09), NYE 2009 UES afterparty support, Idesh Fest Open Air, Keep It Alive,
VUM fest, 1st & 2nd Halfpipe Championships (07,08), Rollerskate Championship 2008,
Tanderbal vol.2 (Os), Venus club summer edition 2008 (Nin), UFO festival 2010 (Os),
Invazija Open Air warmup support, Euphoria trance edition 2009 (Novalja, Zrce beach),
Halloween 4 floor special Fort Punta Christo (Pu), Zagreb DJ Music Radio show etc...
Koorie aka Igor Ðurek
jedan od vodecih psytrance,down tempo producenta u HR,pocinje s glazbenom karijerom rane 1995 godine kao ljubitelj progressive rock ,psychedelic etno zvuka uskoro nastupa
kao svirac u pratnji mnogih glazbenika u regiji.Kroz krace razdoblje okrece se vlastitoj produkcije te usko suraduje te nastupa sa planetarno popularnim imenima poput Astral Projection,
M.F.G.,California Sunshine,Dalton,Power Source,Oniro,Psyshrek te mnogi drugi.Prošavši cijelu hrvatsku svoje horizonte siri van granica domovine
Nastupa diljem Europe na festivalima Aurora (Grcka),Zenith (Serbia),Goa Madness ( Beligija ),Future Nature (Hrvatska),te klubovima vecih gradova Eu.
Prošlost te ljubav prema Pink Floydima,Deep forest,Adrian Ross,J.J.Cale itd ostavlja svaki trag u njegovom danasnjem stilu glazbe koju upotpunjuje
s egzoticnim instrumentima kao sto su didgeridoo ,
frule i ostali duhacki i prekusijonisticki instrumenti od kud i potjece ime Koorie što znaci aborigin.
2008 godine izdaje svoj prvi progressiv goa album Are you alone za talijanski Polena records pod imenom Etnical Project te zapocinje suradnju s
jednim od zacetnika Trance glazbe u srbiji dj Dalton-om.
Dvojac uskoro osvaja ljubitelje electronske glazbe u cijeloj Europi te gostuju na svim vecim dogadajima pod imenom Spiritual virtuose .
Radio kao voditelj emisije na studenskom radiu,organizator klubskih te open air dogadaja,te promotor afirmiranih i neafirmiranih izvodaca iz cijelog svijeta .
Kao takav zapocinje suradnju s vec poznatim imenima hrvatske elektronske scene te potpisuje ugovor i suradnju s goranom Vlajicem aka Go Cut i
izdavackom kucom Disco records te usko povezuje odnos s liderima labela.
Izdaje svoj prvi singl za istoimeni label Are you alone koji u rekordnom roku s istoimenom pjesmom izlazi na compilaciji MAxximum trance tunez 8 exclusiv kao jedini psytrance izvodac .
Osim što uz nekoliko remixeva artista poput Sun tribe-a,Vicky Merlina,Dj Gorana i drugih uskoro se ocekuje nastavak izdanja albuma Alone on the moon te u istom trenutku ocekujemo
Ep i Remix Purnama za DIGITAL FREAQUENZ RECORDS,U aprilu izlazi debitantni album AURORA za Španjolski PAN MUSIC RECORDS jednog od vodecih izdavaca trance glazbe u Europi.
Uz vec mnogobrojne booking-e uskoro krece na turneju po Japanu što uvelike pridonosi samom sebi ali i znacaju Hrvatske scene.
soundcloud
[click here]
soundcloud
[myspace.com]
www.reverbnation/koorie
www.faebook/KOORIE.LIVE.ACT
[youtube.com]
youtube
[facebook.com]
[digitalfrequenz-records.com]
[universaldancerecords.com]
relase:
[polenarecords.it]
[beatport.com]
[apple.com]
soundcloud
DOWNLOAD FOR FREEE!!!
youtu
interview:
[chaishop.com]
CLUB CRANBERRY 2nd FLOOR
ILICA 45
contact
psygoass@hotmail.comPrikaži
više
Location
Ilica 45 , Cranberry 2nd. floor
Organizer
Organizer
club Cranberry & Trance Teleport