TOUCH Samadhi 5th Annual Arts and Music Festival: Equinox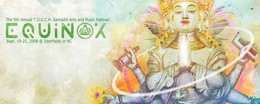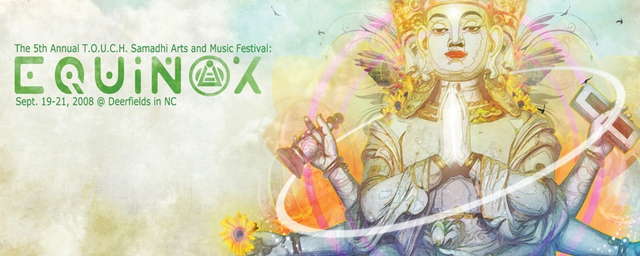 Line Up
Main stage:
Scorb [United Kingdom] Trick Music, Last Possible Solution *LIVE
Random [san francisco, CA] geomagnetic/vaporent *LIVE
Primordial Ooze [chicawaukee, WI/IL] kabrathor *LIVE
Virtual Light [ottawa, Canada] geomagnetic *LIVE
Clone [ottawa, Canada] Tundra Records *LIVE
Shapestatic [NC/TN] touch samadhi *LIVE
Dragon [pensacola FL] dharmaharmony *LIVE
Bioluminescense [greenville SC] pure perception records *LIVE

2nd stage:

The Malah [greenville, SC] The Malah *LIVE
Yoko K [washington, DC] asahra music *LIVE*
Aquarium [greenville, SC] Aqaurium on myspace *LIVE
Aligning Minds [washington, DC] native state / aleph zero *LIVE
Silver Machine [asheville, NC] Silver Machine 11 on myspace *LIVE
Naiad-Daiad [NYC / greenville, SC] Naiad-Daiad on myspace *LIVE
Primordial Ooze [chicagowaukee] divine balance / kabrathor *LIVE
Logos [asheville, NC] logosmusic.net / I-Create-I-Am *LIVE
Quetzatl [asheville, NC] waveform modulations / heterodox *LIVE
Main stage:
Kri [asheville NC] touch samadhi
Moksa [atlanta GA] altpsy
Wichdokta [san francisco, CA] geomagnetic
Kameleon & Labyrinth [greenville SC] pangea productions
Koji [charlotte NC] singlecell
Oso [athens GA] touch samadhi
KT [chicago IL] touch samadhi
Iduna [asheville NC] touch samadhi
Medisin vs Cinder [NC/GA] touch samadhi / ATLpsy

2nd stage:
Opensourcecode [NYC] Opensoucecode
Kameleon & Labyrinth [greenville, SC] pangea productions
Xist [asheville, NC] alientechnology
NOD [asheville, NC] ATLpsy / touch samadhi
Shad [nashville, TN] touch samadhi
D.Raigosa & Klaws [greenville, SC] pangea productions
Oso [athens, GA] touch samadhi / ATLPsy
Senjya [winston salem, NC]
Panties the Clown [greenville, NC] ATLPsy / psybertribe
Olof [asheville, NC] asheville fullmoon
Alex [knoxville, TN] ATLPsy / LoopD / touch samadhi
The Fuzz [winston salem, NC] touch samadhi
Medisin [asheville, NC] asheville full moon / touch samadhi
Deco
Psyoptic Mindstimuli:
Devotee & The Fuzz [Winston Salem NC] touch samadhi

Second stage environment:
Night Light Riders, Pyite, and Psyonic
Info
BRING EVERYTHING YOU NEED TO SURVIVE COMFORTABLY FOR 3 DAYS IN THE WILDERNESS.
BRING YOUR OWN WATER -- 2 gallons a day is suggested.
What else to bring: flashlights, floats for the lakes, mountain bikes, etc...
Workshops:
Bellydance
Yoga
Silk Reeling Qi Gong
Time and Space Theories
In / Outs are highly discouraged and are reserved for emergencies!
Fires will only be allowed in designated fire circles.
NO DOGS! You will not be allowed in with a canine.
Pirate sound-systems are not allowed!
18 and up
Children under 14 are loved, cherished, and free with a guardian!
Guardian = Parent
and all must have ID's with matching names and addresses.
*Visit us online for additional details, full schedule of events and workshops, complete list of vendors and future updates!
$5 parking fee per car
Deerfields is located 20 minutes south of Asheville, North Carolina in the Mills River Community. The private retreat is a 940-acre family-owned tract of unspoiled wilderness offering camping, swimming, and hiking. Cascading through the Queens Creek Mountains of the Appalachia, the land is surrounded by ponds, apple orchards, and rhododendrons.
Gate opens Friday at Noon!
18 and up!
kids under 14 are loved, cherished
and free with guardian!
This is a benefit for Ananda Millietics --
[blogspot.com]
info:
info@touchsamadhi.com
location:
[deerfields.com]
main website:
[touchsamadhi.com]
Entry fee
Entry fee
Pre-registered by September 8: $55
at the Gate: $70
full name of attendees required with registration
pay with paypal.com:
Added

14y 6m

· Update

7m 11d

·

/ 10