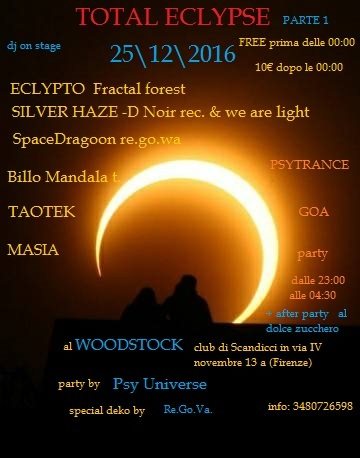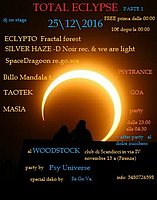 Line Up
privè goa-psytrance deko hall:
<<<<<<< EKLYPTO>>>>>>>>>---------------<<<<<Fractal Forest >>>>>>>>>
soundcloud
<<<<<<< SILVER HAZE >>>>>>>--------<<D Noir records&Wearelight>>>
soundcloud
<<<<<<< SPACEDRAGOON>>>>>>>>-------<<<< resitance goa warrior>>>>>
soundcloud
<<<<<<< TAOTEK >>>>>-------<<<<<< Psy Universe >>>>>>
<<<<<<< MASIA >>>>>>-------<<<<<< Psy Universe >>>>>>
<<<<<<< BILLO >>>>>>------<<<<<<< Mandala Tribe >>>>>
and
Real Techno Dj Set / Live!
Main Room by:
Guest : Dj Super Marco May (Blackout Records)
Francesco Eco (Ipnosi staff)
Luciano Reale (Techno Rc)
Prezzel & Phazer (Hardstyle Raw)
Lorenzo Geroni (Techno)
#Chepsywave(Trance)
The Voice :
Guest: ROBERTO FRANCESCONI
Deco
Deco
Resistance Goa Valley
Info
Info
........//////// TOTAL ECLYPSE \\\\ .......La serata si svolgerà al Woodstock club di Scandicci dalle 23:00 fino alle 5:00 della mattina del 26 dicembre, dopo proseguiremo con un after party al Dolce Zucchero club in pieno centro storico a Firenze a partire dalle 6:00 fino anche a pranzo dove molti dj locali si alterneranno in consolle per accompagnarci con magiche note, se rimarremo in molti a farci compagnia ed ad animare questi giorni di festa possiamo stare al locale anche molto a lungo. Il costo dell'after è di 5€ d'ingresso e tutti possono prenderne parte e naturalmente siete tutti benvenuti.
Nella stessa serata il woodstock club ospiterà anche una serata techno hard style con Francesconi, marco mey ed altri artisti di quella scena musicale, e l'ingresso a tutte e due le sale del locale è unico ed allo stesso prezzo è permesso trascorrere la serata in ambe due le sale.
Come arrivare al TOTAL ECLYPSE : dalla stazione di santa Maria novella prendere la tramvia in direzione Scandicci, villa costanza, scendere alla fermata resistenza, prendere via Giovanni Pascoli,il locale è a 500m. dalla fermata. Per gli orari della tramvia consultare il sito
[tramviafirenze.it]
Mentre per raggiungerci all'after dovete trovare via de' pandolfini n.36/38 in pieno centro storico a Firenze vicino al duomo che è poco distante dalla stazione di santa maria novella, lì c'è il Dolce Zucchero club
happy birthday //////// FRANK and happy birthday ///////// PSYGATE
Location
Location
Woodstock club Firenze in via iv novembre 13, 50018 a Scandicci (FI)
Entry
Entry
FREE ENTRY !!!!!!!!! prima delle 00:00 ; 10€ dopo le 00:00 l'ingresso consente l'accesso libero a tutte e due le sale ovvero sia per la sala hard style che per la sala goa-psy trance

+after party al Dolce Zucchero a 5€ dalle 6:00 alle 14:00