Backend
TNS & Protoned Presents "Tripnosis" Album "We Are" (Halloween)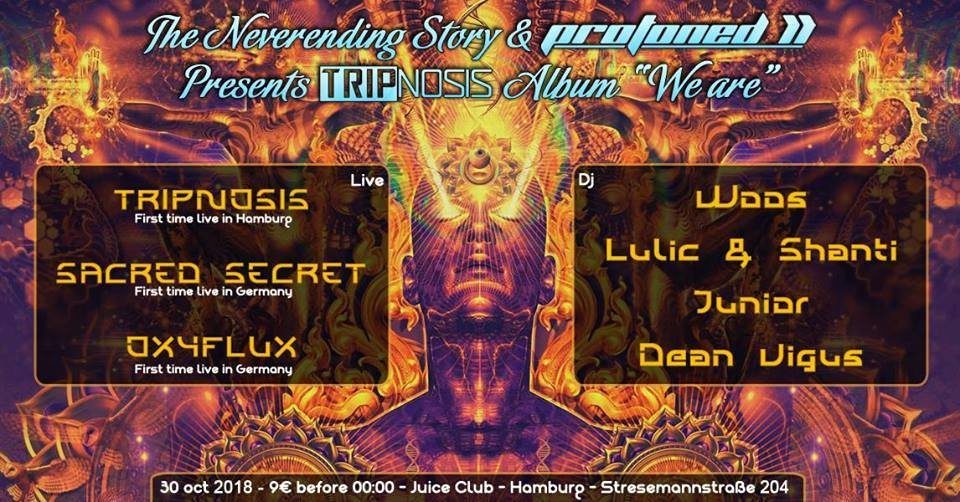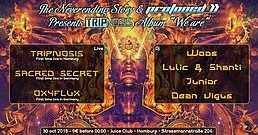 Deco
Protoned Music
The Neverending Visuals & Friends

3D Video-Mapping:
Re:Sorb
Info
Tripnosis:
Is the psytrance project of Danny "Bismuth" from Copenhagen, Denmark.
With a busy schedule in the last couple of years, he's been playing in most of Denmark and big parts of Nothern Europe, some of which include Indian Spirit, Psychedelic Circus, Utopia, Scandinavian Electronic Festival, Tam Tam, S.H.I.V.A. Spirit Festival, Hexentanz, and many more.
In 2016 he created the project Sacred Secret. A strong progressive trance project ready to kick the dancefloor!
Having 8 years of production and 4 EP releases on his back, we're now celebrating his first album release "We Are", which contains 8 banging tunes ranging from 145-150 bpm. One is the remix of his popular tune "Pills In The People". Its going to be released on the label Protoned Music.
It is soon to be launched on your favorite online platforms! Stay tuned!


Protoned Music:
Is a concept founded by Michell Reich in 2006. This community has been hosting events as Utopia, Atma, Psychedelic Issues and Shiva Spirit Festival.
In 2009 they started signing DJ's and Producers and with their first release in 2016 Protoned evolved into a label aswell.
In 2018 Michell teamed up with Danny Bismuth who is now running the label together.
Today the Protoned family has grown into 8 members – and they're all ready to bring new grounds to the ever-evolving world of psychedelics!


Woos Protoned (Woos):
Michell Reich is the man behind the project
With roots in Forrest and Hitech he emerged to the genre of Progressive Trance. Today he's mainly playing within the Twillight genre.
During the recent years he started getting recognition and is now a common guest on the international festivals, such as Indian Spirit, Psychedelic Circus, Antaris Festival, Waha Festival, WAO Festvial, Ufobufo Festival, Tree Of Life Festival and the list goes on.


Lulic:
Is Sanel Lulic. With roots in Bosnia, he's been living in Denmark since 1992.
With an interest in the psychedelic scene he started turning tables in 2007.
He got his first gig in 2008 and has been visiting a number of European Festival incl. Antaris Festival, Psychedelic Circus, WAO Festival, Tree Of Life Festival etc.

Dj Shanti :
DJ project created by André Firoozabadi.
Already from childhood music played a big role in his life. During his years he has been playing various instruments with the lead guitar as his main tool.
With his deep passion for psychedelic trance music, this main tool later became his turn tables.
In 2017 he started tweaking his own sounds – and is currently working towards his live project.


OxyFlux Music (OxyFlux):
The latest member of Protoned Music. The behind this project is Osvald Krabbe.
His electronic-musical journey started in 2012.
Leaving his hometown in 2015, he started studying on a school of electronic music. During this time he began playing at small outdoor events and local clubs.
After studying for a year he decided to move to the capital Copenhagen and things took off and he got the chance to play at bigger events.
In 2017 his release "Plane Of The Ecliptic" reached a 1st place on the Beatport Release chart.
In 2018 he got accepted on the Royal Academy Of Music. It was the same year that he got contacted by BMSS Records and got a release on the VA "Holistic Nature".
He's currently working on his first release for Protoned Music – so stay tuned!
Location
Juice Club
Stresemannstr. 204
22769 Hamburg
Entry
Entry
9€ Vor/Before 00:00
11€ (9€ mit Club-Karte)
FREIER EINTRITT -> Für alle Geburtstagskinder und eine Begleitperson, gegen Vorlage eines gültigen Personalausweises.