TNS: Halloween Special with 2 nights of goa (Part 1)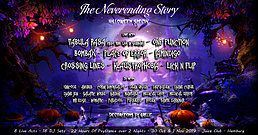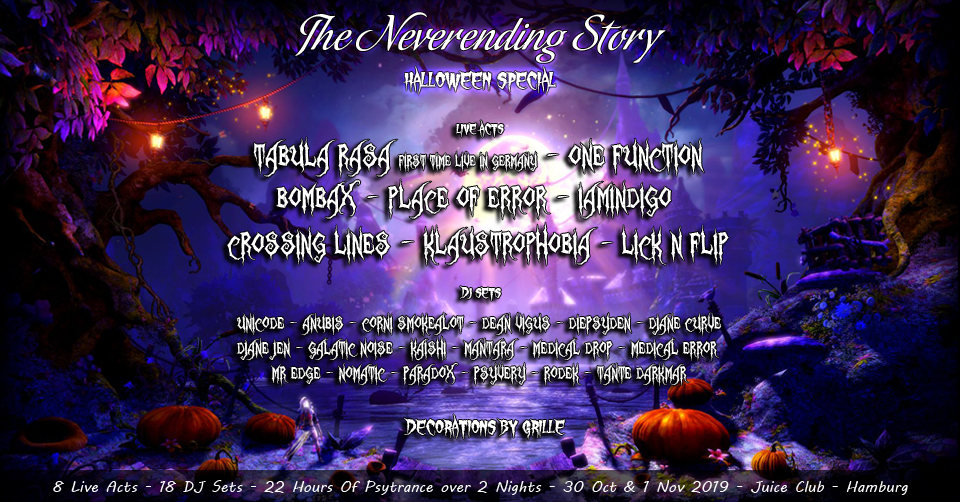 Deco
📢 Extra Mega Big Super Decorations by
--- Grille (Amplidudes)
[facebook.com]
Info
Psytrance - Forest - Darkpsy - Hitech
Fullon - Progressiv Psytrance - Proggy/Offbeat
30 October TNS: Halloween Special with 2 nights of goa (Part 1)
& 1 November TNS: Halloween Special with 2 nights of goa (part 2)
🎃 Halloween kommt.! 🎃
Es dauert nicht mehr lange, bald ist es soweit.
Die Hexen kreisen über unser Haus am Himmel,
doch keine Angst, unsere Hauswände sind ohne Schimmel.
Die Monster sind auch da mit ihren strengen Geruch,
Ich hoffe Du kommst, es war zumindest ein Versuch.
🦇 🦇 🦇 🦇 🦇 🦇 🦇 🦇 🦇 🦇
Lass dich durch die schaurigen Nächte mit extrem tanzbaren Sound leiten und vergess alles um dich herum!
Sei ein Teil des großen Ganzen ganz frei von allen Alltagssorgen.
2 Tage pure stampf Lust! Los geht es am Mittwoch den 30. Okt. und der zweite Teil der Party folgt am Freitag den 1. Nov.
🕷️🕸️🕷️🕸️🕷️🕸️🕷️🕸️🕷️🕸️
Grusel, grusel, Geisterschloss,
vom Ober- bis zum Untergeschoss,
Geister, wohin man nur blickt,
sie wurden alle zu uns losgeschickt.
👻 👻 👻 👻 👻 👻 👻 👻 👻 👻
Sei auch Du dabei und feier mit uns auf zwei Etagen!
💌 WIN FREE TICKETS 🎫
💌 GEWINNE GRATIS TICKETS 🎫
🎉 Party, CD von/from One Function & Smokers Choice Goodie Bags:
[facebook.com]
🆓 Die ersten 50 Gäste erhalten außerdem eine Gratis Packung Jointpaper inkl. Filter von Smokers Choice.
- FREE JOINTPAPER + FILTER FOR THE FIRST 50 GUESTS
Location
Juice Club
Stresemannstraße 204-206, 22769 Hamburg, Germany
Entry fee
Entry fee
💰ENTRY / EINTRITT:

16€ for both nights with Wristband / Für beide nächte mit Stoffarmband.
10€ for one night / Für eine nacht.
Organizer
Organizer
The Neverending Story