TLALOCAN- Psychedelic Open Air-Camp Out-Spring B-day celebration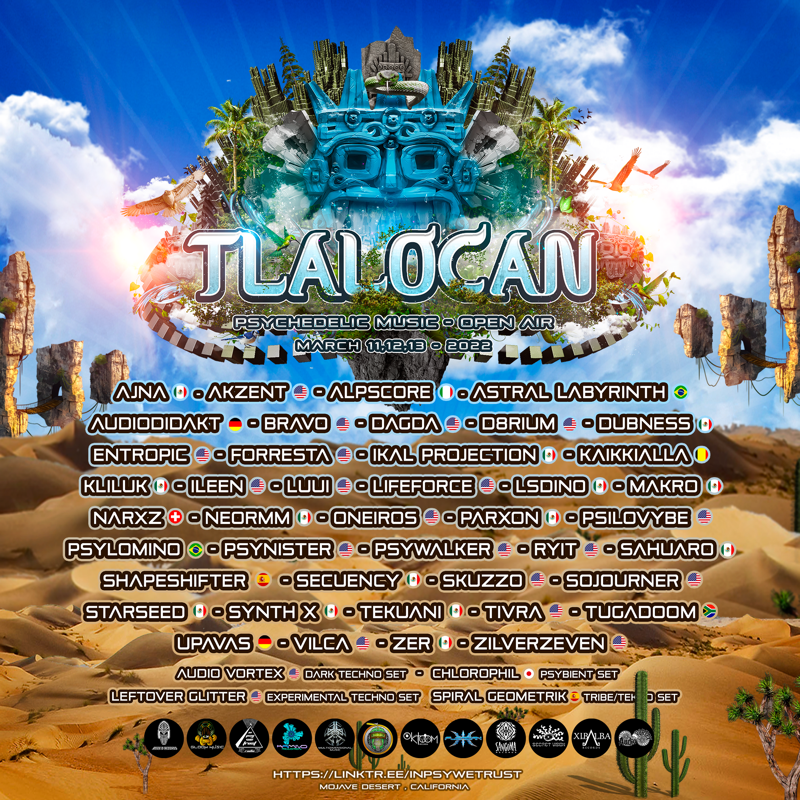 Line Up
Psychedelic Music-Open Air-Campout
3 days and two nights over 48hours!
Join us in celebration of Tlalocan we pay tribute to Tlaloc and eternal spring by playing non stop music the entire weekend. Dance to the sounds of experimental music such as Hitech, Psycore, Dark,Forrest, Psytrance, Psybient Trance and Techno/Tekno on a SoundSystem that's over 8,000 watts of full power over or 48 hours!
The meaning of Tlālōcān:
Tlaloc is the lord of the night for this week of March. We pay tribute to Tlālōcān [t͡ɬaːˈloːkaːn̥] which translates to('place of Tlāloc') is described in several Aztec/Mayan codices as an eternal spring paradise, ruled over by the rain deity Tlaloc. It is the 4th dimension of heaven in aztec religion and it absorbs those who die through drowning or lightning, or as a consequence of diseases associated with the rain deity. Tlalocan survives as an all-encompassing concept embracing the subterranean world and its denizens. In Aztec culture, worship of a storm god like Tlaloc rituals believed to help bring life giving rains, and fertility to the earth its plants and its beings.
Dj Bravo has conjured up an epic lineup together so everyone can enjoy the music, its a stacked lineup & you're welcome to come and dance 💃 your ass off!
Live acts from :
Alice D Records
Anomalistic Records
Endless knot
Kamino Records
In Psy We Trust Radio
Gloom Music
Multidimensional Music
Oktoom Records
Pleiadians Records
Sangoma Records
Secret Vision
Xibalba Records +more TBA
Lineup phase 1
*Alpscore- 🇮🇹 Italy
soundcloud
*Astral Labyrinth - 🇧🇷 Brazil
[goo.gl]
*Kaikkialla- 🇧🇪 Belgium
[goo.gl]
*Kiluk- 🇲🇽 Mexico
soundcloud
*LSDino- 🇲🇽 Mexico
soundcloud
*Narxz- 🇨🇭 Switzerland
soundcloud
*Shapeshifter- 🇧🇷 Brazil
[goo.gl]
*Starseed- 🇲🇽 Mexico
soundcloud
*Makro- Mexico🇲🇽
*Zer-Mexico- 🇲🇽
soundcloud
Here's the complete lineup !
Lineup phase 2:
Tlalocan Stage:
•Ajna 🇲🇽
•Akzent 🇺🇸
•Alpscore 🇮🇹
•Astral labyrinth 🇧🇷
•Audiodidakt 🇩🇪
•Bravo 🏴‍☠️
•Dagda 🇪🇸
•D8rium 🇺🇸
•Dubness 🇲🇽
•Entropic 🇺🇸
•Forresta 🇺🇸
•Ikal projection 🇲🇽
•ileen!🇺🇸
•Kaikkialla 🇧🇪
•Kliluk 🇲🇽
•Lifeforce 🇺🇸
•Lsdino🇲🇽
•Luuli🇺🇸
•Makro🇲🇽
•Narxz🇨🇭
•Neormm🇲🇽
•Oneiros🇺🇸
•Parxon🇲🇽
•Psylovybe 🇺🇸
•Psylomino🇧🇷
•Psynister🇺🇸
•Psywalker🇺🇸
•Ryit 🇺🇸
•Sahuaro🇲🇽
•Shapeshifter 🇪🇸
•secuency🇲🇽
•Skuzzo🇺🇸
•sojourner🇺🇸
•Starseed🇲🇽
•Synth X🇲🇽
•Tekuani🇲🇽
•Tivra 🇺🇸
•Tugadoom 🇿🇦
•Upavas 🇩🇪
•VILCA 🇺🇸
•Zer 🇲🇽
•Audio Vortex 🇺🇸 Dark Techno set
•Chlorophil 🇯🇵 Psybient set
•Leftover Glitter 🇺🇸 Experimental Techno set
•Spiral Geometrik🇪🇸 Tribe/Tekno set
•Tlalocan Event Production by
In Psy We Trust Radio 🌎
•QSC Sound system by Hyperdimension Audio
•Tlalocan stage by Rob Macey
•Shade structure by Khorde
•Visual' by Visual Vortex
•Tlalocan alter by Manu Productions
Tickets:
Tickets will cover your entry and camping at the event. Tickets must be redeemed for a wrist band. We want to thank you in advance for your patronage. Please purchase your tickets on line via our Eventbrite link listed on our event page.
Buy them on our Eventbrite:
[linktr.ee]
Early Bird Tickets : $40 SOLD OUT!
Tier 2 tickets $50 SOLD OUT!
Tier 3 tickets: $60 ON SALE NOW!
Tickets at the door will be higher get your presales while ya can !
Please send us the first and last name per ticket per person, If anyone would like to pay for ticket via
Venmo @inpsywetrust
Cash app $inpsywetrust
PayPal
inpsywetrustradio@gmail.com
Location:
Private Land in the Mojave Desert, Southern California
Exact location will be shared with online ticket purchasers
phone info line will be posted and updated march 10 2022
-Directions:
Will be provided to those who purchase their tickets on event brite.
*our phone info line will be posted the week of the event.
What to expect:
Upon arrival you will be asked to sign a waiver and show your identification
check in at the entrance to get your wrist bands before parking!
-Shop our event t shirts and sweaters
-Restrooms
-hand washing stations
-first aid table
-Self serve coffee, Tea bar
(help yourself to free coffee, tea, fruits)
-Shade structure
-Dance floor
-Stage Alter
-Tlalocan Shrine
-sound system
-Live DJs
-good vibes-Music Schedule:
Timeslots will be announced later on
*March 11 2022 Friday-
Music starts
Pre-Party
Opening Ceremony
*March 12 2022 Saturday-
March Birthday Celebration
Bday for DJ Bravo
*March 13 2022 Sunday-
After party
Closing Ceremony+
Music ends.
*March 14 2022 Monday-
everyone who needed to spend the night on Sunday is encouraged to be packed by Monday morning.
Camping and parking space
Everyone is welcome to arrive anytime after March 11 2022 to the campground, All friends are encouraged to pack up at the latest by by Monday march 14 2022. Car camping, Rv camping is welcome. Restrooms will be provided, however there is no drinking water provided on site. You must be prepared please pack clothes for hot or cold temperatures and bring food, water, camping gear, personal care items, headlamps, flash lights, dust mask dust goggles. This is a leave no trace behind event please if you pack it in pack it out. Driving to the property is fairly simple and isn't too far from civilization.
Last but not least
The words we hate to hear but must say:
!Social Distancing !
Please social distance, Wash your hands, avoid hugs, sharing drinks other things that can get you sick.
Try to say hello with a wave of the hand
AIR HUGS are BEST
maybe avoid handshakes
highly recommended that if you have have covid please don't attend
our staff will be doing our best to avoid close contact and social distance
our artists need to be covid free to fly home and not get stuck here so we try to avoid that anyone gets sick.
Special thanks to everyone who has shown us support in the making.
If you are interested in volunteering shoot us a message thanks!
If you have any questions please contact
us on instagram @tlalocan_events_inpsywetrust
or on our Facebook page
In Psy We Trust Radio
Location
Helendale, California

Google night jar oasis camp ground
Organizer
Organizer
In Psy We Trust Radio, Multidimensional Music
Added

1y 23d

· Update

11m 6d

·