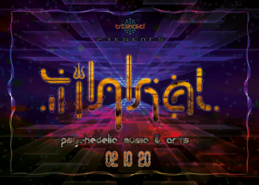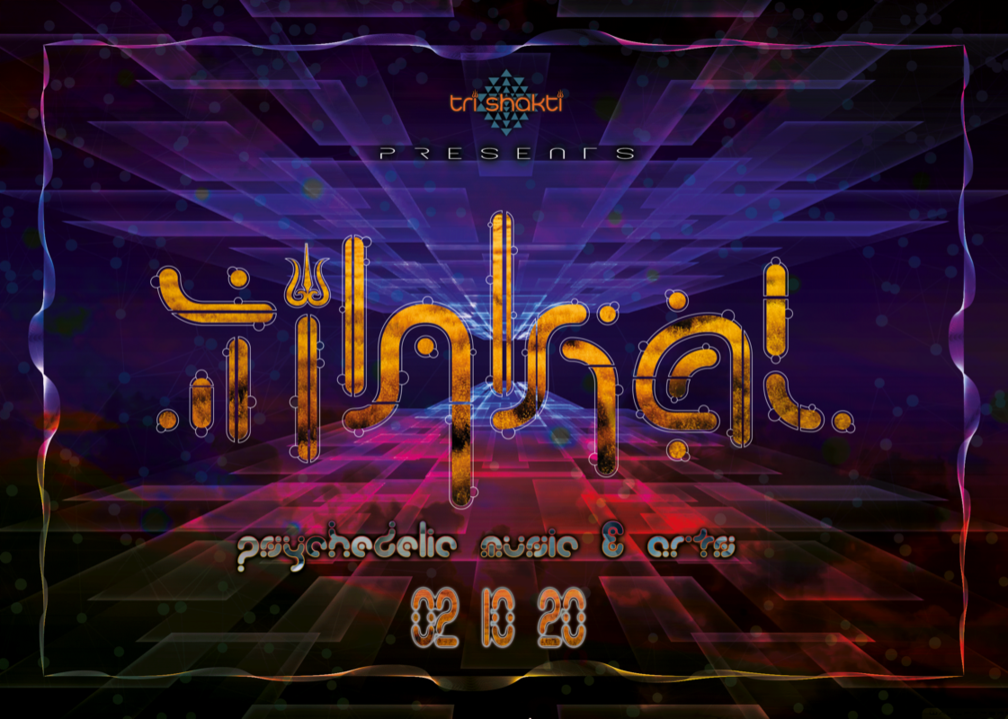 Line Up
.: LiVE :.
★ ARCHAIC ★
Parvati Records - Greece
[facebook.com]
[parvati-records.com]
soundcloud
Behind Archaic project is Kostas, born in Thessaloniki, Greece.
His musical background starts with the explosion of the punk age in the 80s and later with the first underground rave culture.
Kostas fell in love with psychedelic trance music in the beginning of the 90s when he started to spin under the name of DJ Lory, so he became one of the first DJs in Greece who was playing this type of music: he was then performing in many major parties, and also taking part in organizing events.
Around 1996 he started to experiment and write his own music, alone and together with friends, creating tracks which only exist on DAT tapes under projects names such as Full Moon Unit, Shabaladelia, Initia and others. In 2002 he released his first album Shining Beings as Initia: the sound here was more for the day time and experimental.
During the years he never stopped to explore and experiment with great passion music and composition. In 2004 Archaic project was born, inspired from various books and mainly from Terrence Mckenna "The Archaic Revival" and Mirchea Eliade "Shamanism and the Archaic techniques of Ecstasy".. And in 2008 released his first album Wildness with project name Archaic on english label Wildthings Records. The music had immediately a great response and many other releases came after that, making his music more known to the international psy-trance community. Later on he released two EPs : Free-quency Modulator and Cosmic Perspective.
In 2011 Archaic released his second album Sonic Driving pushing up the boundaries with more night time and twilight sounds.
During his trip to Goa in winter 2013, he met Parvati family and label owner/manager Giuseppe, who gave him a big call to go further with his work.
His first track was then released on Parvati Records (Mushroom Power in Footprints 03 EP). This was the start of a strong relationship between Archaic and Parvati Records who published more tunes after that, and in the autumn of 2014 released Archaic solo EP Kykeon inspired by the mythological realms.
And now after more than 3 years of work Archaic new Album is ready and will be released this October 2018 here on Parvati Records and is an extract, an essence of all of his years work and dedication to psychedelic music!
Archaics music can be described as narration of a journey: intense, powerful and groovy, characterized by deep, cosmic, mysterious and organic forest atmospheres. The music reveals fine harmony between prodigious depths and magical aerial elevations of its sound. These shamanistic soundscapes are empowering and truly alive, filled with deep mystical throbbing rhythms. Created to bring you in non-ordinary dance-state, to reveal directions towards your own source of power. Truly original, like Kostas himself, reminding you to simply feel once again It is the magic in us
Dance is a free form of the ancient tradition 
Kostas also has a second music project, psychedelic downtempo Avaris which unleashes the other side of his music exploration and in May 2013, he presented a debut release Windgod EP on Spaceradio Records and in 2018 he released the first Avaris chill track on Parvati records together with Archaic track in his E.P digital gift "Archaic's Medicine bag"!
★ VIA AXIS ★
Sangoma Records - Brasil
[facebook.com]
[sangomarecords.com]
soundcloud
Via Axis is the project of Rafael Corrales from São Paulo, Brazil. Producing music since 2005, he played his first live set in 2007. After his highly acclaimed debut album " Expressions of One" in 2011 on Ovnimoon records, his unique and utterly psychedelic interpretation of psychedelic trance music brought him a lot of attention from the scene, which led to performances at renowned festivals like Boom(Portugal), Universo Paralello(Brazil), Antaris(Germany), Earthdance(Brazil), Monte Mapu(Chile), Zuvuya(Brazil) and Respect(Brazil) among others.
His atmospheric hypnotic tunes are known for its deepness and they often contain some elements which reminds us of the golden days of Goatrance. His releases can be found on various labels like Sangoma, BMSS, Antu, etc. Many music lovers might be familiar with the single "Galactic Mantra" which he co-produced with Ovnimoon and later remixed and re-released several times on various labels. With his clean and crispy production as well as his humble presence and performance, he steadily expands the number of followers.
.: DJ :.
★ BACK TO MARS ★
Occulta Records / Omveda Records - Netherlands
[facebook.com]
[occultarecords.com]
soundcloud
Back To Mars started playing in 2001 at the legendary underground 9Lives of Hofmann parties in Amsterdam. Since then, she grew as an international DJ, playing in major festivals like MoDem, O.Z.O.R.A., Antaris, Boom, Sonica, Ritual, Psy-Fi, Hai in den Mai, WAO, WAHA, Sunshine, Waldfrieden Wonderland, Universo Paralello, Transition, Synaptic Eclipse, Own Spirit, Utopia, Solstice, Blackmoon, Space Safari, SUN, Sunburn, Cross, Play Music, Human Evolution, Further, Psykult, Funny Moon.
A diverse DJ, she can play day time and power night music. Some of her favorite styles are Forest, Groovy Night Psy, Driving Prog and Psygressive. Besides specific one-style sets, she can also combine them and create transitions on the dance floor. 
Outside the decks, Back to Mars is responsible for the music programming for Bom Voyage, Trance Orient Express and Solstice Festival (Ruigoord) in Amsterdam, The Netherlands.
★ MISS VERSTÄNDNIS ★
Banyan Records - Germany
[facebook.com]
soundcloud
Corinnas first contact with Psytrance was 1998. From this moment it was a part of her life! Very soon she strated mixing and decorating on partys under her former artist name Kiri / MissBumBleBee. At the beginning she listened and played a lot of the early Full-On Music, but her style became more bolder and darker with the time. Today her stes are influencent from Psy, Forest and Darkpsy! Especially important for her is a certain variety in the sets, which nevertheless fits harmoniously together. Dancing your head free, from everything that put a strain on us and prevents us from being free. That is the feeling which she like to transfer in her sets on the dance floor.
★ ORKO ★
Akitoka - Germany
soundcloud
★ AKI DALA ★
Tri Shakti - Germany
[facebook.com]
[facebook.com]
soundcloud
Aki (Dj Aki Dala / Dj Treibsand) musical exploration began in the late 80´s. After playing an e-organ, he noticed a rising interest for electronic dance music - especially for the techno & house genre. A certain sympathy for psychedelic music and its background increased around 1997. Immersed in a new world of musical possibilities, Aki was impressed by the culture as a whole: arts, music & decor, as well as the mind frame of the scene. Curiosity, fascination & enthusiasm drove him to initiate an event project called "Akitoka" with buddies in 2002. Mainly focused on outdoor events, Akitoka did also organise many indoor parties during the following 10 years. Playing dj- sets at underground events from 2005 on, he was/is known under the name "Dj Treibsand". More than a decade later Aki spinned the decks at countless events in western Germany and beyond.
His definition of sound covered a dynamic & warm, straightforward bassline, in combination with pretty balanced micro- shots of melodic chunks and a vast repertoire of effect- complexity. Influenced by the forest genre for a couple of years, he intended to evolve to that certain kind of musical expression. Catching the audience with an average speed around 148bpm, Aki performs on a more spacious and less melodic, but still straight & forward level nowadays.
★ FEEL X ★
Tri Shakti - Germany
[facebook.com]
[facebook.com]
soundcloud
Felix (Dj Feel X) always had a passion for music. In the early years he played instruments like the euphonium and the trombone; both in an orchestra over a quite long period of time.
Infected by psytrance in 2008, he started mixing seriously. After playing gigs on psychedelic trance events in 2010 he discovered a passion for his certain style of music. inspired by artists like Ajja, Ianuaria, Yab Yum, Shotu and Dust first, Felix later got influenced by more deeper styles of music from Atriohm, Arjuna, Ectogasmics , Nobot and Archaic - just to name a few. After launching an event project called "Bitepsytic" with some local friends in 2013, they organised many smaller and some larger in- and outdoor events such as "Buddha Beatz" or the "Voices of Trees" Festival in western Germany.
Today Felix`s dj- sets describe a journey through the different aspects of the forest- styled sub genres. Originating from psytrance, he moves from twilight stories to forest and back.
Being home at the speed around 150 bpm, Felix´s music unfolds in an energetic & uplifting way. Caused by his ability to switch between different styles, he may manage to adjust his sets to nearly every (day- or night-)time the dance floor asks him for.
.: CHiLL :.
★ 2542 ★
Psytravller.net - Germany
[facebook.com]
[chayns.net]
mixcloud
★ WHOISIR ★
zknftsmsk - Germany
[facebook.com]
soundcloud
★ NAILS DAVIS ★
Mischkonsum Records - Germany
[facebook.com]
[nails-davis.de]
soundcloud
Dear listeners
this is your carving captain dealing with 4//4 structures for your
privat experience of psychedelic doodledubbing during this flight
woop woop
I look forward to welcoming you aboard!
You are diving with Nails Davis
This DJ from Bochum brings around a whole new, lucid and unmistakeble quality for the music lovers ears! His bona fide commitment to creating exquisit content has compelled him to become a Neotrance connesseur. Nails Davis aka Nordmann brings to life continious uniqness.
With every new Mix echoed by the abundance of his output.
The loyalty to the deepness of his soundscapes has progressed his music to an exquisite and unmistakeable style.
The consistent Output and musical fate has led Nordmann to consolidate with the Label 'Mischkonsum'. Following the slogan, 'simple music for simple people' Mischkonsum commits to a genuine affection to music. The collaboration arose by nature as they share the same humble devotion: an exploratory spirit discovering the depts of the uncharted terrains of techno.
Lean back and unfasten your deep cells!
★ HERBST DER GAMMLER ★
Oescher Freak Family - Germany
[facebook.com]
soundcloud
.
.: DECOR :.
★ NEBOKAD´S DREAM ★
Germany
[facebook.com]
Nebokad's Dream – this art project was launched by its namesake "Dj Nebokad" from south Bavaria. It is an attempt to combine the spirit of Nature and psychedelic Art into a surreal, swampy Atmosphere. In addition to the handmade Backdrops and Lycra fabriks, organic elements and dummies as Charakteristic are used for stage design.
.: MOTION PICTURE :.
★ RETINA FUNK ★
Germany
[facebook.com]
RETINAFUNK visuals is my art project for VJ , live mixed visuals, video mapping, art installtions, motion graphics and similar audio visuals, projections at various events. I do awesome stuff since 10 years . Mostly at music events and festivals, like Boom festival , MOYN MOYN, Fusion , Ketoga in Odonien Cologne and many other events. My tools of choice is Resolume ARENA. I called my project RETINAFUNK becouse the Retina is the party and FUNK becouse I love funk and funky music of all kinds and try to make funky visuals.
.
Info
.: PA SYSTEM :.
★ VOID ACOUSTICS ★
[pa-rental-group.de]
[voidacoustics.com]
.: INFO :.
°°° PSYCHEDELIC TRANCE GATHERING PRESENTED BY TRI SHAKTI°°°
°°° B-DAY- KIDZ DO ENTER THE VENUE FOR FREE. BRING & SHOW YOUR ID/PASSPORT °°°
°°° THE MINIMUM AGE TO PARTICIPATE AT THIS EVENT IS 18. NO EXCEPTIONS °°°
°°° NO RACISM. NO VIOLENCE. RESPECT EACH OTHER. CREATE GREAT MEMORIES :) °°°
line up is closed.
° ° ° TRI SHAKTI COVID-19 UPDATE ° ° °
An die Freunde der gepflegten Abendunterhaltung!
Aus dem allseits bekannten Anlass (COVID-19) sehen wir uns gezwungen, unsere "Tihkal" VA am 02.10.2020 schweren Herzens abzusagen bzw. auf ein späteres (unbekanntes) Datum zu verschieben.
Ein Event wie die Tihkal ist wie die Tri Shakti Genesis eine wunderschöne Reise, auf der man viele liebe Menschen trifft und ausgelassen feiern kann, erstklassigen Sound von internationalen & nationalen Artists auf die Lauscher bekommt, sich in einem phantastischen & spacig dekoriertem Raum verlieren kann und in dem Zeit bestenfalls eine untergeordnete Rolle spielt. Doch die Gesundheit einer/ eines jeden Einzelnen steht für uns an erster Stelle. Deshalb wollen und können wir das Risiko einer eventuellen Ansteckung unserer Gäste und dem Tri Shakti Team mit COVID-19 nicht eingehen. Zu Zeiten der Tri Shakti Genesis (06.03.2020) war dieses Thema bei Weitem nicht so ausgeprägt wie zum jetzigen Zeitpunkt. Auch war die Gesetzeslage eine Andere. Seit dem ist ungefähr ein Monat vergangen; das COVID-19 hat sich massiv in NRW ausgebreitet. Mit den Folgen müssen wir nun alle leben und unseren Alltag danach ausrichten. Ein Ende scheint vorerst nicht in Sicht - von den wirtschaftlichen Folgen des Ganzen gar nicht erst zu sprechen. In den kommenden Wochen geht es überall auf der Welt um Schadensbegrenzung und den Schutz der Mitmenschen - sei es zu Hause, auf der Arbeit oder sonst wo.
Wir hoffen, das Ihr & eure Liebsten das gut übersteht und gesund bleibt, so das wir uns alle zum nächstmöglichen Zeitpunkt auf dem Dancefloor wiedersehen und ausgelassen unser "Überleben" feiern können ;) Dieser "nächstmögliche Zeitpunkt" wird der 02. Oktober 2020 werden. Aus heutiger Sicht ist bis dahin genug Zeit, damit sich die Situation wieder beruhigen kann und gesetzliche Restriktionen gelockert oder am besten ganz fallen gelassen werden können. Wir haben uns gedacht, die erste "Tihkal" so wie sie ist, d.h. in vollem Umfang mit allen bestehenden Bookings, einfach auf das neue Datum zu verschieben. Das spart Mühe, Zeit und Kosten für das Tri Shakti Team und stellt im Moment die praktikabelste Lösung dar, denn: Aufgeschoben ist nicht aufgehoben!
Eventuell sieht man sich ja bereits vor diesem Termin, z.B. auf den OA´s im Spätsommer (in so fern überhaupt noch welche stattfinden) oder einer kleineren, familiären Tri Shakti OA- Sause irgendwo im nirgendwo.
Bis dahin wünschen wir Euch allen trotzdem eine schöne Zeit! BLEIBT GESUND!
To the friends of the well- kept evening entertainment!
Due to the well-known situation (COVID-19), we see ourselves forced to cancel our "Tihkal" event on October 2nd and postpone it to a later unknown date.
An event like the Tihkal is like the Tri Shakti Genesis a wonderful journey, on which you can meet many dear people and celebrate with exuberance, get top-notch music from international & national artists on the eavesdropper, get lost in a fantastic & spacy decorated venue and in which time, at best, plays a subordinate role. But the health of each individual is our top priority. Therefore we do not want to and cannot take the risk of a possible infection of our guests and the Tri Shakti team with COVID-19. At the time of the Tri Shakti Genesis (06.03.2020) this topic was nowhere near as pronounced as it is at the present time. The legal situation was also different. It's been about a month since then; the COVID-19 has spread massively in NRW. We all have to live with the consequences now and align our daily lives accordingly. An end seems not in sight for the moment - not to speak of the economic consequences of the whole thing. In the upcoming weeks, the world will focus on limiting damage and protecting others: at home, at work, or anywhere else.
We hope that you & your beloved ones will survive and stay well, so that we can all see each other again on the very next possible date on the dance floor and celebrate our "survival" with exuberance;) This "next possible date" will be in the unknown future; hopefully in 2021. From today's perspective, there is enough time until then, so that the situation can calm down again and legal restrictions can be relaxed or even better, being dropped. We thought about moving the first "Tihkal" as it is, i.e. in full with all existing bookings to the new date easily. This saves effort, time and costs for the Tri Shakti team and is currently the most practical solution, cause: Postponed is not canceled ;)
You may already see each other before this date, e.g. on the OA's in the late summer (so far there are any) or a smaller Tri Shakti OA party somewhere in the middle ofnowhere.
We wanna wish you all a nice time until then! STAY HEALTHY!
.
Location
.

Northrhine- Westphalia
Germany




.
Added

3y 3m

· Update

2y 8m

·