Backend
TIEFENRAUSCH - Spirit Of The Pharao w/ Babalos, Tezla, W.A.D uvm.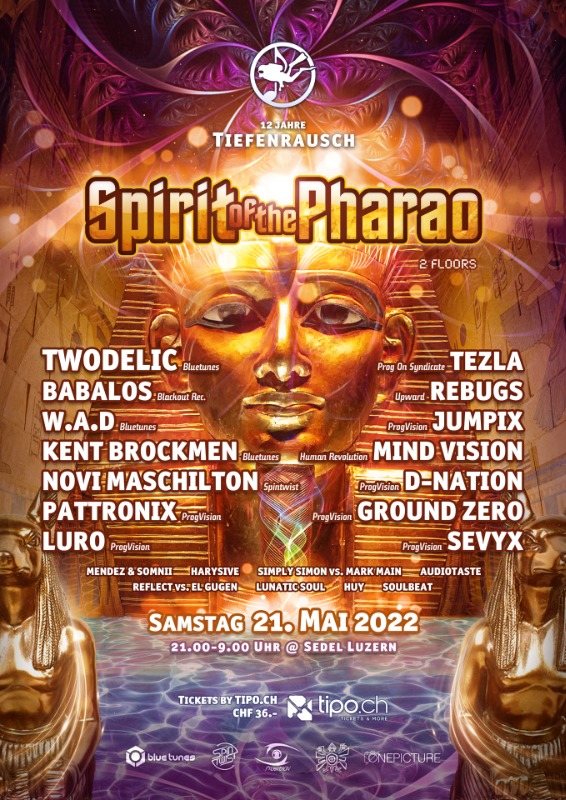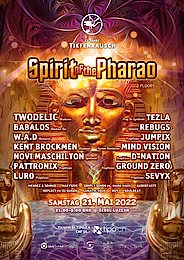 Info
WELCOME TO TIEFENRAUSCH 2022
🤟WE ARE BACK!🤟
𓂀 Die Zeit ist gekommen und wir erreichen endlich das Land der Pharaonen! Gemeinsam reisen wir über sandige Dünen hin zum Gewässer des Nils bis zu den grossen Pyramiden, wo nun das lang ersehnte Fest beginnen kann!𓂀
Endlich nach 2 langen Corona Jahren Ist Tiefenrausch wider back on board! Es kann endlich wieder Fahrt aufgenommen werden, volle Kraft voraus😍🤟🌊 Ahoi!
Freut euch auf auf eine unvergessliche Nacht mit uns und taucht mit uns ab in andere Welten✨
👁‍🗨🌞🌴 Seit 2 Jahren arbeiten wir an der Dekoration für dieses Event! Der Sedel wird komplett umgewandelt INTO A JOURNEY TO EGYP!🌟
Macht euch bereit für eine Eskalation auf 2 Floors🤟💥
🌴🌞 DEKO 🌞🌴
☀️ Bonitas Art
[facebook.com]
☀️ ProgVision Deco & Visuals
[facebook.com]
☀️ Tiefenrausch prod.
[facebook.com]
☀️Baba Moon Chai
[facebook.com]
☀️Jackys Art Merchandise Shop
☀️ONEPicture Photo
🚌 SEDEL-SHUTLE-BUS 🚌
An jeder Veranstaltung ab Türöffnung bis 2 Uhr
ab Sedel '57 und '27
ab Löwenplatz (Sitzbank bei Businsel) '03 und '33
ab Bundesplatz (vor Tankstelle) '10 und'40
ab Kasernenplatz (Veloplatz vor Museum) '15 und'45
Die Kapazität des Shuttlebuses stösst an einigen Veranstaltungen an ihre Grenzen. Wir machen, was wir können – das könnt ihr auch: Indem ihr das Velo nehmt, zum Sedel hinaufspaziert, in den Bus (Nr. 18/19, Ausstieg: Gopplismoosweg) steigt oder ein Taxi bestellt.
Location
Location
Sedel Luzern
Sedelhof 2
6020 Emmenbrücke
Entry
Entry
Abendkasse vorhanden falls nicht schon vorher Sold Out
Organizer
Organizer
ProgVision & Tiefenrausch Prod.