Through the Wormhole - psychedelic rave voyage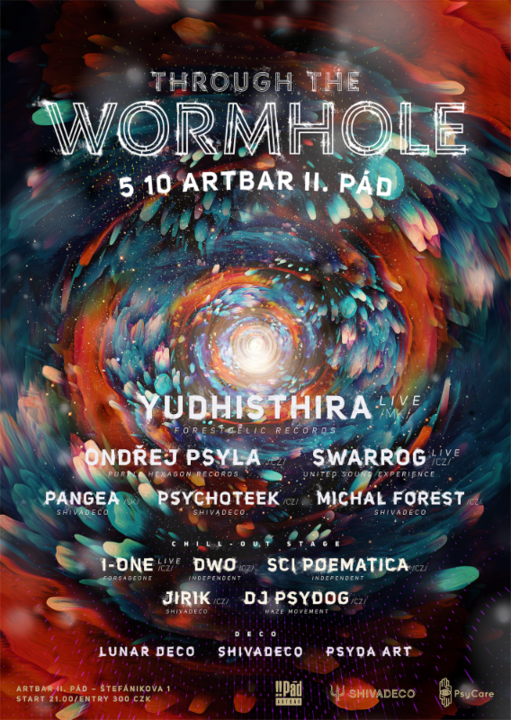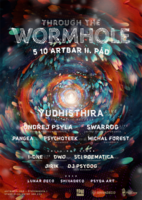 Line Up
PSYTRANCE STAGE:
Yudhisthira LIVE (Forestdelic records) /MK/
Yudhisthira
soundcloud
Ondřej Psyla (Purple Hexagon Records, Digital Forest Festival) /CZ/
DJ Ondrej Psyla
soundcloud
Svarrog LIVE (United Sound Experience) /CZ/
soundcloud
Pangea (Shivadeco) /SK/
[click here]
Psychoteek (Shivadeco, Fenix Festival) /CZ/
[click here]
Michal Forest (Shivadeco) /CZ/
[click here]
CHILLOUT STAGE:
I-One LIVE (Forsageone) /CZ/
soundcloud
DWO /CZ/
DWO
[click here]
Jirik (Shivadeco) /CZ/
soundcloud
Sci Poematica CZ/
Sci Poematica
soundcloud
DJ Psydog (HAZE Movement, Dub from the ground) /CZ/
Deco
Deco
Lunar Deco, Shivadeco, Psyda Art
VJ Steen
Info
Let us invite you to the first indoor Shivadeco party of the season.

Imagine you are lying in the forest grass and looking through the treetops on the sky. While thinking about how small we are compared to the universe you cannot help but wonder, how would it be to travel closer to those seemingly little stars. Suddenly a circle appears before your very eyes. Inside the circle you can see a world that looks unlike anything you have ever seen. Thousands of little stars, each one completely different than the others and each one orbited by number of planets, large and small alike.

The circle comes closer and closer to you, so you take a deep breath and suddenly find yourself inside a universe where the laws of physics, as we know them, ceased to exist. You are able to breathe! And swim through the air, ignoring lack of air pressure. And you're able to hear and talk. And what do you hear? Beats making your head spind around, bass making your heart beat faster. When you get closer to the source of the magical sound, there is dancing - all kinds of unimaginable beings are dancing through the interplanetary space. Naturally, you join their dance.

You feel no pressure, no one expects you to do anything, no one judges you, they are happy you are there with them. You've never felt such pure connection with people.

However, you can experience that kind of connection even with people in this reality. On the fifth of October we will embark on a voyage through the wormhole, straight to the other side of the universe, where the impossible becomes reality. The gate will be open only for one night, so do not hesitate and come join us and explore the unknown!

There will be a cloakroom, tearoom and psycare from Czech Psychedelic Society.
Location
Location
Artbar Druhý Pád, Štefánikova 1