Backend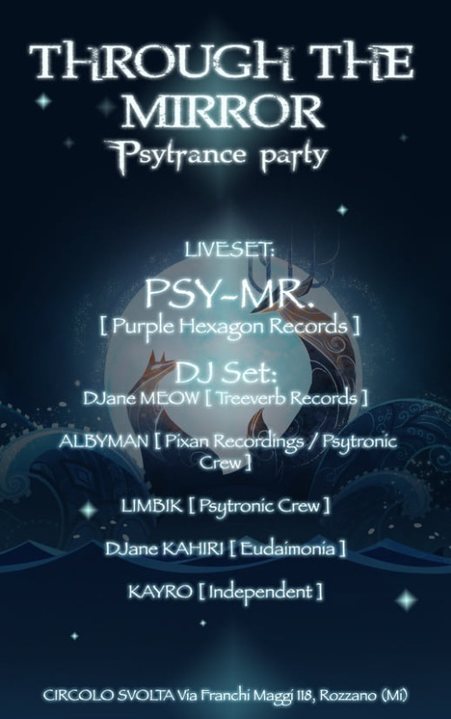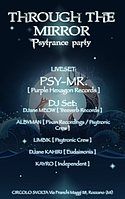 Line Up
• • PSY-MR. [ Purple Hexagon Records ]
[facebook.com]
soundcloud
Psy-Mr. is an Italian producer who started his music career as an apprentice Dj for the local radio when he was just 13 y.o. He soon discovered l techno/electronic parties and start spinning in clubs. In 2001 he left that environmnent for goa psytrance music and started playing at many parties in Northern Italy, where the scene was very lively. His passion for music, dance and fun brought him to play to neighbouring Switzerland as well. Playing with renown national and international Live acts since 2007, Psy-Mr started his own project in 2011, raising from humble beginnings to a very sought after project that keeps growing. Since then, Psy-Mr has released tracks with Shamanic Records, Eleusys Rec, Creative Jungle Rec and Dreamproject Records and in 2012 he started a new project with his friend Caveman. In 2013 he presented his new live set and joined Visionary Shamanics Records. Psy- Mr. is constantly working on producing music, both psytrance and downtempo, he just released 2 tracks with Purple Hexagon Records on the new compilation Purple Pixan and a collaboration together with Naan for a downtempo various is on the way,and many other release will come.
DJSETS
• • DJane MEOW [ Treeverb Records ]
[facebook.com]
soundcloud
• • ALBYMAN [ Pixan Recordings / Psytronic Crew ]
[facebook.com]
[click here]
• • LIMBIK [ Psytronic Crew ]
[facebook.com]
[facebook.com]
• • DJane KAHIRI [ Eudaimonia ]
soundcloud
• • KAYRO [ Independent ]
soundcloud
Location
Circolo svolta ( Rozzano Mi )
Entry
Entry
10 euro + Tessera ACSI (5 euro)
Organizer
Organizer
Psytronic Crew!
From
Psytronic Project ·
1,448