TheDarkCode COREOSCOPE (Izmir)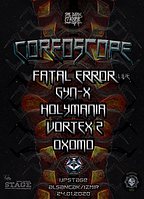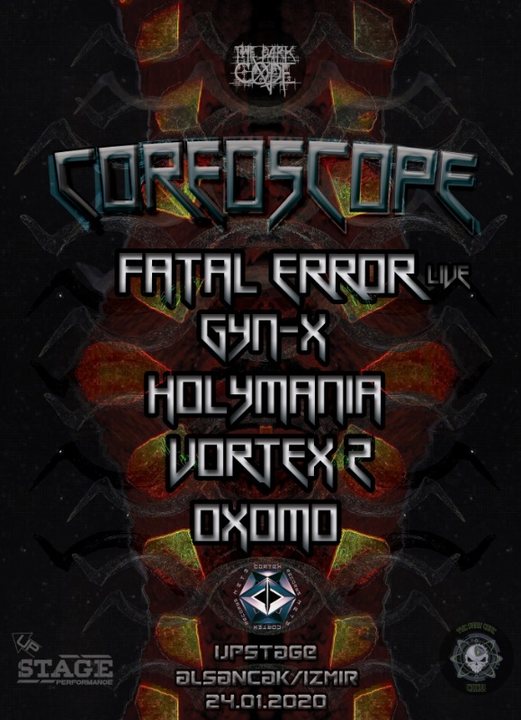 Line Up
LINE UP
Fatal Error (Live)
Metacortex Records
Katava Records
soundcloud
Gyn-x
Metacortex Records
Dream Crew Records
Katava Records
soundcloud
Holymania
Metacortex Records
Katava Records
soundcloud
Vortex-Z
Metacortex Records
soundcloud
Oxomo
Metacortex Records
Voodoo Hoodoo Music - Psychedelic Portal
Popol Vuh Records
soundcloud
Info
Info
After a long break The Dark Code Crew and Metacortex Records artists coming back to İzmir!!! Vortex Z will start the dark night and than Holymania will play some of the best darkpsy tracks. Than Gyn-x will play us some dj sets but with the tracks his own production. With Oxomo we will hear newest psycore selection from the world! And for the closing the night we have special live act One of the first psycore producer from Turkey Fatal Error!!!
We are waiting for all friends to Upstage/ Alsancak- İzmir in 24 January 2020.

Diversive line of visions of Corescope gives us a variable reflection of dark and core sounds.

Coreoscope is a word which we created.
Basically is our fictitious freaky terminological word. In a way, this might be a toy or mechanism which breaks act of seeing and that breakage supply new angles and colours. that creates new way of seeing, sense, this can sharp and change some listeners fore judgements about psycore music. With this might its possible to dream together with unique and diverse new age music.
Location
Upstage ALSANCAK - IZMIR TURKEY
Entry fee
Entry fee
40 lira / 6 euro