The Temple of GOA V: Celebrating the holy Temple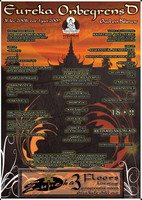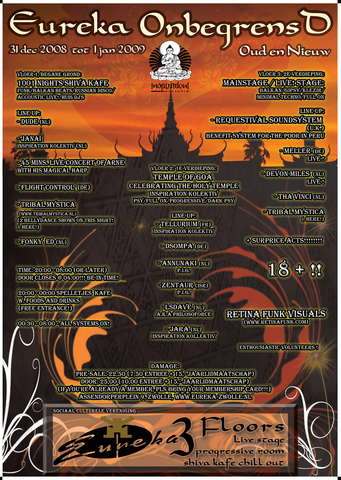 Live
Line Up
Line up in no particular order:

- special Dj Set:
Mel (Meller, Hamburg Germany)

- Devon Miles (nl.) (live minimal techno!)
- Tha Vinci (Z.T.K.)

More to come!!!!!!!
Line up in no particular order:

- dsompa (ger.)
- Annunaki (nl.) (p.i.g)
- Zentaur (isr.) (p.i.g)
- Tellurium (fr.)(Inspration Kolektiv)
- LSDave (nl.)
- Jara (nl.)

more to come!!!!!!
Confirmed so far:
- Requestival Soundsystem (U.K.)(balkan/gipsy/klezmir - benefit soundsystem for the poor in Peru. Support them!
- Janai (isr.)(balkan beats) (Inspiration Kolektiv)
- Flight Control (ger.)
- Dude (nl.) (ambient/reggae, chill out)
- Resi (nl) (Psy & Space Dub)
- fonky Ed (nl) Eureka DJ
- live 45 mins live concert of Arne with his magical Harp!
- 2 live shows of Tribal Mystica (
[tribalmystica.nl]
Bellydance Performance
more to come!!!!
Deco
Visuals by:
RETINA FUNK VISUALS -Traumfaenger (ger) (Waveformfestival (uk) BOOM 04(port)

Decoration by:
Inspiration Kolektiv
Dina & Shiva Kafe
Eureka
Info
extra's:
- Chaishop & fruitbar
- Shiva Kafe Chill out! (confirmed - chill out kafe in Indiastyle!)
- Live Visuals, interactive!
- HEALING heARTS (tarot, readings, massage etc)
- Poi & Jugling acts
- small shops
This will be the 1 year anniverary party of Inspiration Kolektiv and we will celebrate it on Silvester!!!!
We got 3 floors:
Mother Earth, the Other dimension & the Galactic Gate. Each floor decorated in it's style.
What can you aspect:
- legal limited party to 300 people, door closes @ 03:00, Party will go on till every one is knocked out.
- 3 stages w at least 15 acts & performances: Psy, Full on, Progressive, Breakcore, D'n'B, Techno, Reggae, Dub, Accoustic live acts, Ambient.....
- A really nice club where you still can smoke your sigaret or your Ganja/Herbs without getting problems
- Doorfriendly policy
- 18 + party
Update info's:
Presale will start this week!
For the people outside of Zwolle, you can make a reservation from 13 dec. 2008:
Write an email to:
info@eureka-zwolle.nl
Send the following information:
- Name
- Adress + postcode
- City & country
- Amount of tickets
Only if you're sending complete info's your reservation is made, we're a closed club and we need to know who are in the building(local gouvernment decision) Payments can be done when you pick up the tickets.
Note: Tickets must be picked up before 23:30, on 31th dec.!!!!! otherwise they will be sold @ the door!
Also additional info's:
When you will come by train: the trains will go till 20:00 hours @ NYE, more info on:
[ns.nl]
Location
Sociaal Culturele Vereniging Eureka
Assendorperplein 9
Zwolle, The Netherlands
Location coordinations for Google maps:
52.506733,6.099966
Entry fee
Entry fee
pre-sale: 22,50
door: 25,00
Price includes required year membership of 15,00. Any questions about the membership, send me a message.
Organizer
Organizer
Inspiration Kolektiv
P.i.G. (progressive in goa)
Eureka
Added

14y 5m

· Update

14y 3m

·

/ 4