THE SUNSHINE IN THE NIGHT 2015 >> a Full Moon Experience!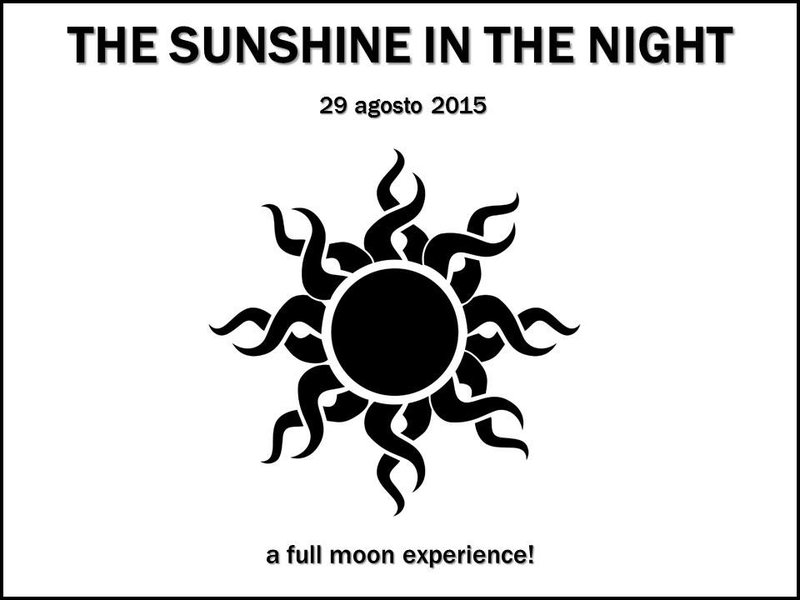 Line Up
Sabato 29 Agosto
dalle ore 15:00

------------------------------
SUNSHINE STAGE:
------------------------------
La musica intesa come "mezzo" per poter aiutare ognuno di noi ad entrare in contatto con l'ambiente circostante.
Musica Ambient, Chillout e Tribal ci introdurranno in questa esperienza ed andranno a crescere arrivando a sonorità Psychedelic & Trance, che coincideranno con il massimo splendore della Luna.

music by:

ITAKAM
BRAIN JAM
SUPERNATURAL
MAIKI
CLOV
PSYBABA
DARIO
JIMMY9
PIKA
Info
CI DISPIACE MOLTISSIMO...
MA CAUSA PROBLEMI DOVUTI ALLA LOCATION E ALLA POCA SERIETA' DI ALCUNI COLLABORATORI PREFERIAMO RINVIARE L'EVENTO AL 2016 !!!!
PER ORA METTIAMO UN WEEKEND DI MAGGIO 2016 (CHE PRESUMIBLIMENTE DOVREBBE ESSERE IL + ADATTO)..MA POSSIBILE CI SARANNO ULTERIORI CAMBIAMENTI.......QUINDI ATTENDIAMO DI AVERE CONFERME PER POI INFORMARVI E PROGRAMMARE IL TUTTO AL MEGLIO E IN MODO DEFINITIVO.......




Benvenuti alla quinta edizione del nostro evento Full Moon!!

Dopo la prima ed indimenticabile edizione del 2002 che ha visto la partecipazione di oltre mille persone e dopo le successive edizioni del 2010, 2011 e 2012 in forma più privata, abbiamo deciso di proporre nuovamente questa esperienza ripensandola nella forma e nella struttura. Una nuova concezione e un nuovo progetto che permetterà di rivivere le emozioni che ci vengono donate dalla Luna e dalla musica che, attraverso l'ascolto e il ballo, ci faranno riscoprire le antiche sensazioni che da millenni accompagnano l'uomo nella sua evoluzione fisica e spirituale.
THE SUNSHINE IN THE NIGHT si trasforma in un evento dove arte, natura e cultura si intrecciano per donarci un'esperienza unica ed indimenticabile.
Cucina vegana, vegetariana e del territorio. Pratiche Yoga e di massaggio. Workshop di varia natura e tanto altro. Sarà questa un'occasione per ognuno di noi di sentirsi parte integrante dello spazio in cui vive, del Mondo e della Natura che saranno visti e vissuti come porzione reale di noi stessi e di tutto quello che ci circonda.
Celebriamo assieme la luna piena, con amore e serenità, a contatto con la Natura! ♥
Location
Location
nature.....under FULL MOON !!