Backend
The Psychedelic Way & Carry On Regardless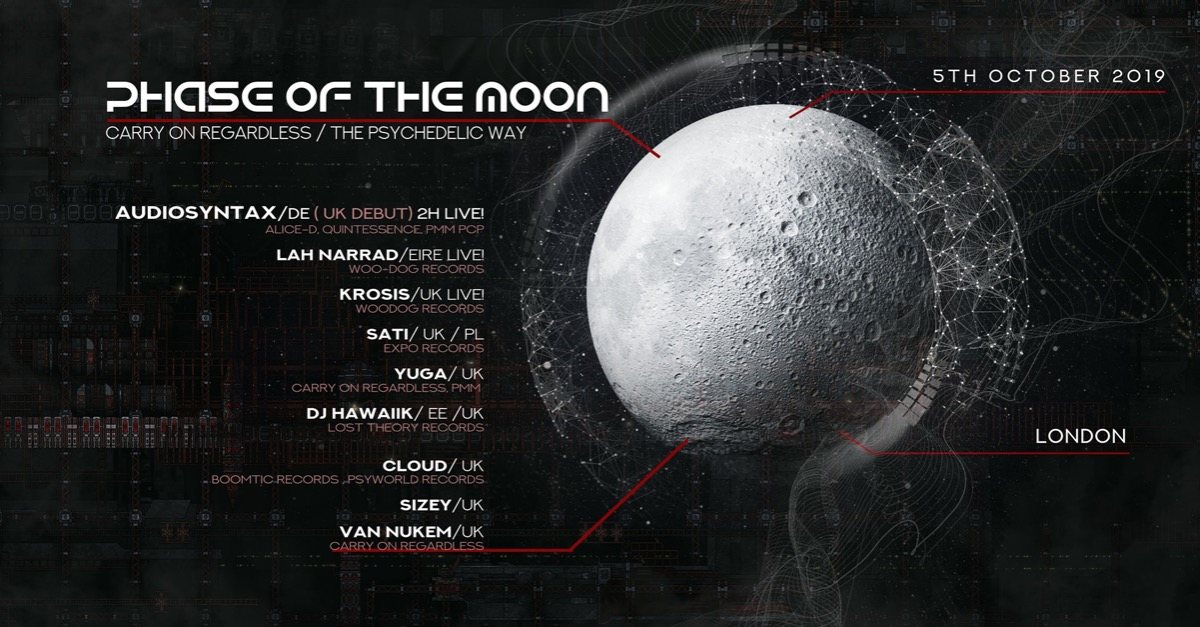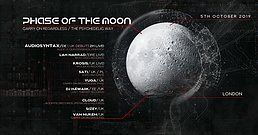 Line Up
Phase Of the Moon Launch Party
CARRY ON REGARDLESS & THE PSYCHEDELIC WAY!
Collaborating Giving you the finest Production
expect banging artists and out of this world decor
The lunar phase or phase of the Moon is the shape of the directly sunlit portion of the Moon as viewed from Earth. The lunar phases gradually and cyclically change over the period of a synodic month as the orbital positions of the Moon around Earth and of Earth around the Sun shift.
The lunar terminator is the boundary between the illuminated and darkened hemispheres.
When the sun and the moon are on the same side of earth the moon is in the "New Moon" phase. ... The moon phases can affect our mind, body and emotions in the following ways: Body– We tend to sleep less during the new moon phase and rise early. Our appetite tends to increase and we tend to experience spurts of energy.
—— Line Up ——
🎧🌓AUDIOSYNTAX/DE ( UK DEBUT) (2h Live)
Alice-d, Quintessence, PMM PCP
soundcloud
🎧🌓LAH NARRAD/EIRE (Live)
Woo-Dog Records
soundcloud
🎧🌓KROSIS/UK (Live)
Woo-Dog Records,Blue Hour Sounds
[bluehoursounds.com]
🎧🌓 SATI/ UK / PL
Expo Records
[facebook.com]
soundcloud
🎧🌓YUGA/ UK
Carry On Regardless, PMM
soundcloud
🎧🌓Ɗʤɉ ĦÀŵÁЇЇƘ / EE /UK
Lost Theory Records
[click here]
🎧🌓CLOUD/ UK
Boomtic records , Psyworld records
soundcloud
🎧🌓SIZEY /UK
[click here]
🎧🌓 VAN NUKEM /UK
Carry On Regardless
soundcloud
🌗Full UV Decor & Lights
🌓Security
🌓Camp Area
🌗Chai Bar
🌗Fully Stocked Bar
Deco
Deco
Full uv decor by Transcedental Spirit / LT
Lights by Inphase
Info
Info
Security
10K crystal clear sound system
Chai bar
Fully stocked bar with low prices
Location
Location
Secret London Location
For directions send email to :
thepsyway@mail.com
On Saturday 5 October
Organizer
Organizer
The Psychedelic Way
Carry On Regardless