THE PEAK EXPERIENCE ~ a psychedelic gathering ~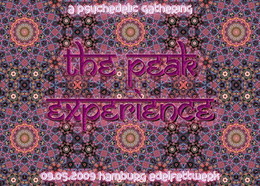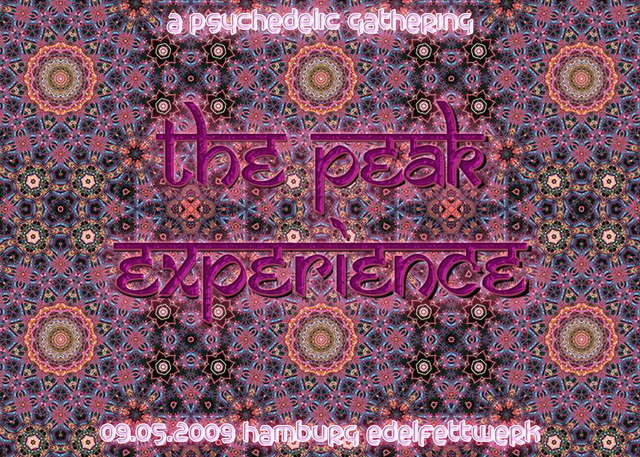 Info
* * *!
The Peak Experience ist eine Party von Freaks für Freaks! Wir wollen mit diesem ganz besonderen Fest die Wintersaison gebührend verabschieden. Wir haben keine Mühen gescheut und euch Musik vom feinsten nach Hamburg geholt.. Auf dem Mainfloor gibt es Ajja und Yab Yum live, neben ausgesuchten Djs, die euch ordentlich einheizen werden. Wir freuen uns besonders auf die Visuals von Lucysky. Und da hier in Hamburg der Chillout meist zu kurz kommt, haben wir uns da auch etwas besonderes ausgedacht: Master Margherita wird sein neues Album "Hippies with Gadgets" vorstellen, dass diesen Monat bei Peak Records erscheint. Neben 3 Dj Sets von Manaproject und Expanding Conscience, wird Flooting Grooves aus Südafrika noch seinen Liveact vorstellen. Um vegetarische Speisen, Kaffee, Kuchen und Chai wird sich das Nettchen kümmern. Wir freuen uns auf eine ganz besondere Party mit Euch!
Und zur Afterhour kann man dann ja aus dem Edelfettwerk direkt zum alljährlichen Summeropening pilgern.. ;)
! Sorry Mistake ! On the flyer you can find the name "funplastica" (deco), this was a mistake, which is happenend to us, so please don't mind!
See you tomorrow!
Wegbeschreibung:
Auto:
[sendspace.com]
<download here
Öffentliche Verkehrsmittel:
Vom Hbf mit der S21 bis Eidelstedt, Treppe runter dann links 300m bis zur Location
Location
Edelfettwerk
Schnackenburgallee 202
22525 Hamburg
[edelfettwerk.de]
check google map below
Entry fee
Entry fee
15,- €
if you have birthday
you'll come in for free!
don't forget your passport..
Added

14y 6m

· Update

12y 4m

·

/ 105