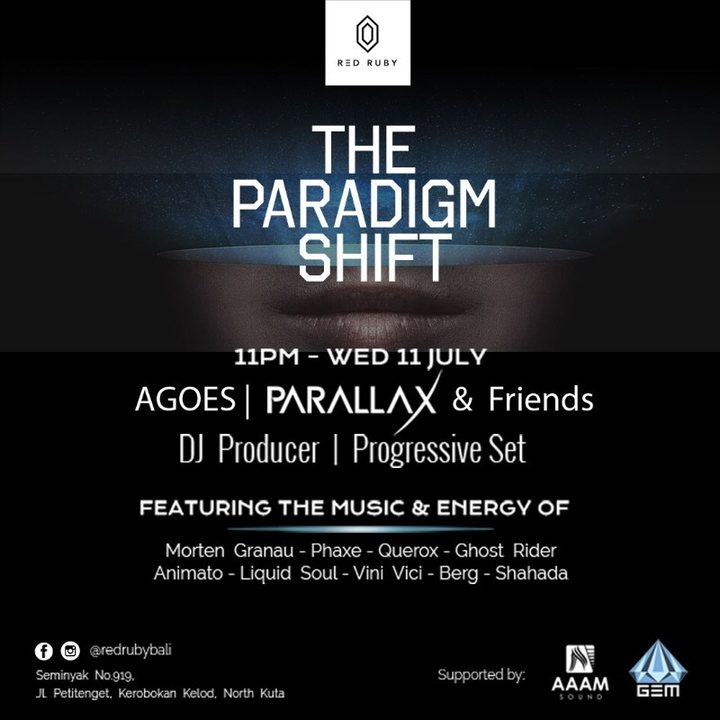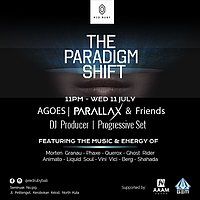 Line Up
Line Up
Agoes
Parallax & Friends
Deco
Deco
AAAM Sound / GEM Live Co
Info
Wicked Wednesdays @ Red Ruby

Brings you "The Paradigm Shift"

Agoes | Parallax & friends

Featuring the music & energy of
Morten Granau – Phaxe – Querox - Ghost Rider – Animato, Liquid Soul - Vini Vivi – Berg - Shahada

Thumping, exotic, classy and cool are just some of the elements which have drawn fans of electronic dance music to nightclub dance floors and neon-lit music festivals for decades. Agoes own innovative style of subtle beats based on smooth, pounding bass whumps without feeling brash, noisy or aggressive. He features the music of many great DJs and Producers as well as his own original tracks including two brand new releases "Trippin in Kuta", "Ice Cube", "Oceans" and "Olly Olly" .
His set also comprises of remixes and mashups. The reason for choosing songs from these artists to remix in particular with our own original tracks is due to wanting to bring in an element of some well known commercial tracks to the dance floor.
His ability to reach music lovers and take them on a journey is what he does well. So in one set Agoes, who can mix his socks off, can play the music from 5 different sub genres and get people to just enjoy good music.

Agoes Mulyadi is a composer, performer and producer from Bali, Indonesia. He has been professionally creating music in the scene for more than two decades.

Start at 11PM.
Free Entry
2 for 1 Vodkas first 2 hours (11-1am)

VIP bookings and Special Reservations:
RSVP 03614732884

See you on the dance floor!
Location
Location
Red Ruby Nightclub, Jalan Petitenget n.919, Seminyak, Bali, Indonesia
Organizer
Organizer
GEM LIVE Co & AAAM Sound