Backend
The Mystic Rose meets Ovni Rec & 2 Year Way to Wonderland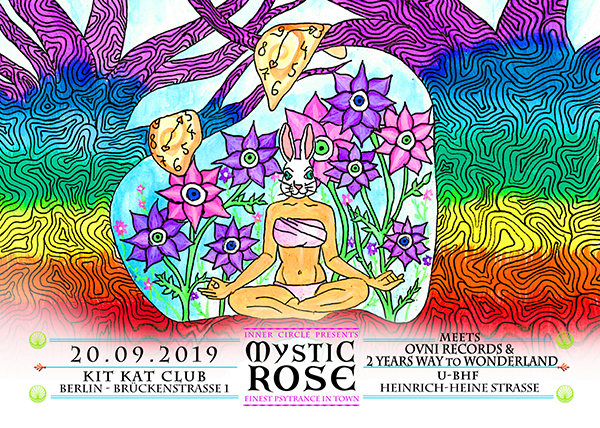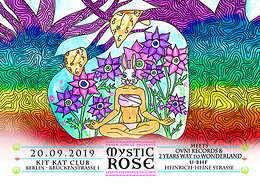 Line Up
LIVE:
Luna Rave - Ovni Rec - France
Athzira - Ovni Rec - France
Angry Luna - Ovni Rec - France

TIMETABLE:

Mainfloor: Psytrance
23:00 Enantion - Psychedelic Theatre - Berlin
01:30 LIVE: Luna Rave - Ovni Rec - France
03:30 Diavolo - Soundviecher - Berlin
08:30 Johnson Patrick vs Psyberkick - Way to Wonderland - Berlin

Dragonfloor: Hi-Tech
01:00 Alien Techno - Ovni Rec - Berlin
04:00 LIVE: Athzira - Ovni Rec - France
05:00 Cosmic Spiral - Ovni Rec - France
07:00 LIVE: Angry Luna - Ovni Rec - France

Underground: Tech-House
00:00 Ben Dover - Way to Wonderland - Berlin
03:00 Sievert Serviert - Way to Wonderland - Berlin
06:00 NK Porter - Way to Wonderland - Berlin
Deco
Visuals & Arts:
Flourooptics - Brandenburg
Way to Wonderland Crew - Berlin
Bodypainting by B-Painted & Way to Wonderland

Specials:
Spacebar by Ganesh
Chaishop by Djamoon
Massagen von COLLIN
Info
Liebe Gäste...!

Ich hoffe, ihr hattet alle einen schönen Festival Sommer...:-)

Aber jetzt läuten wir mal die Herbst/Indoor Season ein...mit einem Paukenschlag...OVNI Rec und allen voran LUNA RAVE / ANGRY LUNA gibt sich die die Ehre...;-)

Und die Way to Wonderland Crew feiert ihr 2 jähriges Bestehen...
ich wünsche herzlichen Glückwunsch und viel Erfolg für die Zukunft.

Wir sehen uns dann alle....auf der Tanzfläche..:-)
spread the word and come together...
Give Peace a Dance...;-)

LOVE

PS:
Hätte ich nicht meinen Aufbau an diesem Tag, wäre ich zur FRIDAYS FOR FUTURE Demo gegangen, die 20.09.2019 vom Brandenburger Tor um 12:00 startet...!!!

Drum kann ich an dieser Stelle lediglich dazu aufrufen...!!!

Diese Demo ist weltweit...und soll die grösste werden, die jemals in diesem Zusammenhang stattgefunden hat...
Auch denen wünsche ich viel Erfolg...!
Location
Kit Kat Club
Brückenstr. 1, Berlin Mitte
Entry
Entry
18,00 Euro, Garderobe inclusive
Organizer
Organizer
The Mystic Rose Team