Backend
The Mystic Rose meets Ma Faiza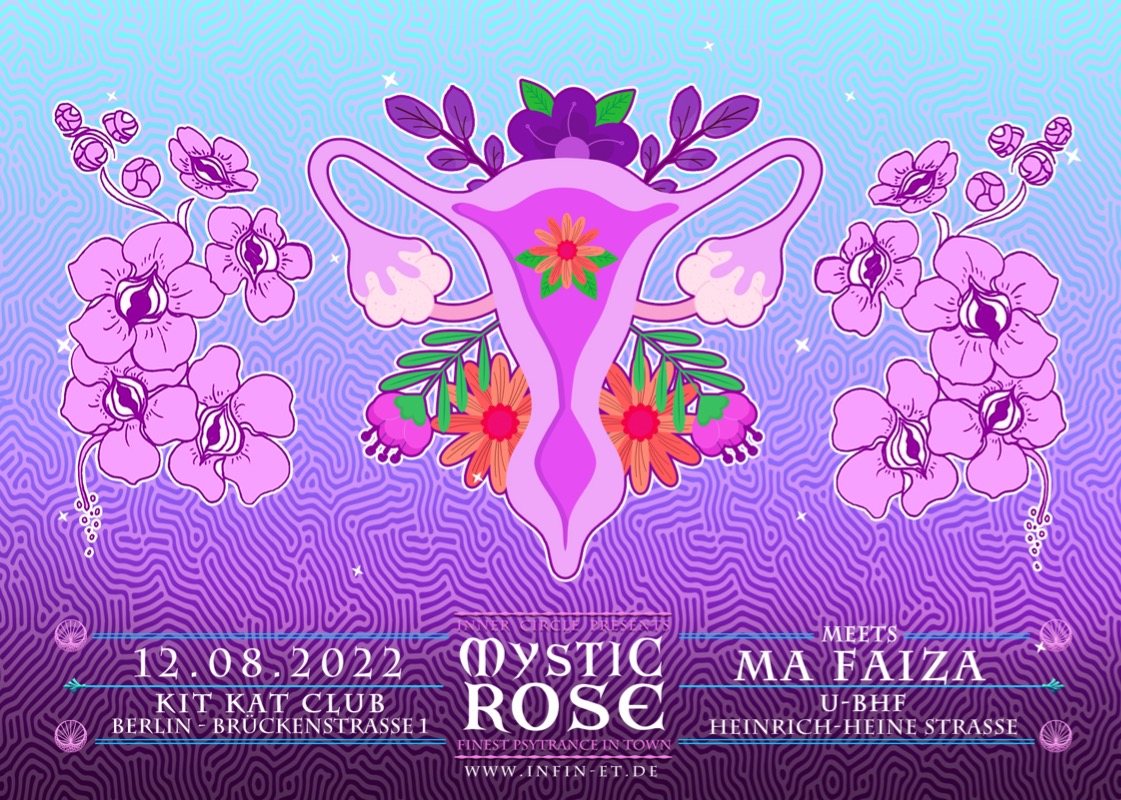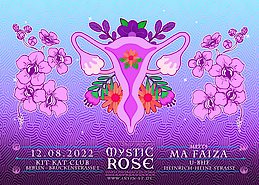 Line Up
LIVE:
Performance : Die Religion der fröhlichen Fotzen - mit Salome von Berlin

TIMETABLE

Mainhall:
22:00 Ma Faiza - Masti Music - India
03:45 LIVE Performance: Die Religion der fröhlichen Fotzen - mit Salome vom Berlin
04:45 Die Mantis - Volle Pulle Mulle Rec - Thailand / Berlin
10:00 Ende

Dragon Floor:
23:00 Enantion - Psychedelic Theater - Berlin
03:00 Agansett - 5.D. Rec - Berlin
07:00 Ende

Separee:
00:00 Chantree - Locuma Rec - Berlin
05:00 Ende

Visuals & Arts:
Funplastica - Hamburg
Hypnotikal Laser Productions - Berlin

Specials:
Bodypainting by Nathaly - Berlin
Spacebar by Ganesh - Berlin
Chaishop by Djamoon
Massagen von Collin
Info
Eintritt: 20 Euro, Garderobe inclusive!
No Dresscode.
just be yourself and be sexy...
But no jeans or streetwear
--------------------------------
Ich freue mich besonders auf Ma Faiza aus Indien.
Sie ist seit vielen Jahren immer im August bei mir gebucht, da das die Zeit ist, wo sie ihre Deutschland / Europatournee macht. ein wahres Highlight, zusammen mir Die Mantis . die Gottesanbeterin - lasst euch verzaubern von den Beiden...
Ein weiteres Highlight ist die Live Performance mit Salome von Berlin.
Sie schreibt ihre eigenen Lieder und in ihren Texten thematisiert sie weibliche Aspekte der Sexualität., und das mit einer ausgebildeten Opernstimme...bezaubern und herausfordernd...
Auf alle anderen Künstler freue ich mich natürlich auch.
Auch diese Party kann ohne die Corona Restriktionen gefeiert werden...
Und vor allem freue ich mich auf euch...
Das wird ein Fest der Extraklasse...!
Spread the word and come together...
See you on the dancefloor.....
-------------------------------
Mystic Rose bei Telegram:
[t.me]
Mystic Rose bei Instagram:
[instagram.com]
Mystic Rose bei Facebook:
[facebook.com]
Location
Kit Kat Club, Brückenstr. 1, 10797 Berlin
Brückenstr. 1
10797 berlin
Organizer
Organizer
The Mystic Rose Team