The Mystic Friday meets Tristan meets Digedax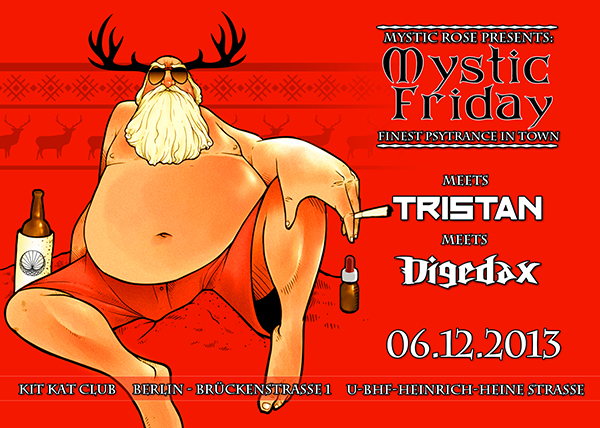 Mainfloor:
23:00 Alice D. - Waldfrieden OA - Münster
03:00 LIVE: TRISTAN - Nano Recs - UK
05:00 Goa Jonas - Harmonia Recs - Berlin, Goa
08:30 Nayati Sun vs Pandu - Digedax - Berlin
Dragonfloor:
01:00 Pandu - Digedax - Berlin
03:00 Nayati Sun - Digedax - Berlin
05:00 cd-wexler - Digedax - Berlin
Alternative Floor:
02:00 Elbee Bad feat. The Nervous Dj - Gigolo Recs. - Berlin / New York
Specials:
+++Videoperformance von Ulli Ishvara Stardancer
[facebook.com]
+++Body Painting by B-painted
[facebook.com]
+++ab 06:00: Bodywork von Collin Edina Leach...1 Minute, 1 Euro...20 Minutes, 20 Euros
[wix.com]
+++Spacebar by Ganesh+++
Deco
Deco
Infin-E.T. - flourescent networks - Berlin
Deevana Paradise - Magdeburg
Info
I believe in Santa Claus!
Santa Claus macht's möglich....
Der 6.12. war der einzige Termin in diesem Jahr, an dem TRISTAN noch nicht verbucht war irgendwo auf dem Planeten, und deshalb freue ich mich ganz besonders, ihn heute ankündigen zu dürfen!!!
Für mich ist er einer der besten Trance-Acts der Welt, und wer ihn dieses Jahr auf der Antaris gehört hat, weiss, wovon ich spreche!
Und wer ihn noch nicht kennt, sollte sich auf keinen Fall die Gelegenheit entgehen lassen, ihn zu hören!
2 Stunden Psychedelic Trance von allerfeinsten!
Eingerahmt wird dieses Hi-light von ALICE D., GOA JONAS und den DIGEDAXEN, die mehr für die progressiven Nuancen zuständig sein werden...ein gelungene Mischung denke ich.

Grosse Freude....

Santa Claus macht's eben möglich...;-))
I believe in Santa Claus!

spread the word and come together...
see you on the dancefloor!
Location
Location
Kit Kat Club
Brückenstr. 1, Berlin Mitte
Entry fee
Entry fee
15,00 Euro incl. Garderobe
Organizer
Organizer
The Mystic Rose Team