The Mystic Friday meets Panta Rhei & Ganesh's Birthday Bash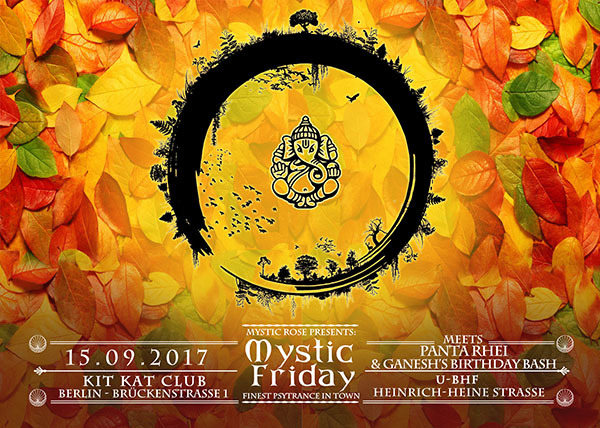 Line Up
LIVE:

TIMETABLE:

Mainfloor:
22:00 Intro by Der Loth - Triptonite Rec / Panta Rei - Berlin
23:00 LIVE in CONCERT: ORANGE - Ebenso Music - Allgäu
00:30 OV Silence Oli - OV Silence Music - Hamburg
04:00 LIVE: Static Movement - Iboga Rec / Iono Music - Israel
06:00 Jerando - Atacama / Digital Om Prod. - Berlin
09:30 Der Loth - Triptonite Rec / Panta Rei - Berlin

Dragonfloor:
01:00 LIVE & Dj Set: Ninja Drops - Creact Rec - Dresden
05:00 Diavolo - Soundviecher - Berlin

Ganesh's Bucht Floor:
01:00 Daxz - Rummelsbucht - Berlin
03:30 Josephine Wedekind - Schiffbruch / Digital Structures - Berlin
06:00 Vittjas Tief - Kopfüber - Berlin
08:00 Tschaika - Kopfüber - Berlin

Separee:
02:00 Ray Castle - New Zeeland
Deco
Visuals & Arts:
Cosmic Walkers - Leipzig
Fluffy Flowers - Berlin
Infin-E.T. - flourescent networks - Berlin
Mapping by Resorb
Body painting by B-Painted

Specials:
Spacebar by Ganesh
Chaishop
Info
Es ist Mitte September, und das heisst:
Die Herbst Indoor Saison startet.....
und für uns heisst das:
Wir wollen das mit einem Paukenschlag beginnen...:-)
Drum haben sich Mystic Friday, Panta Rhei und Ganesh zusammengetan, um es mit euch richtig krachen zu lassen...
Auf 4 Floors und mit einem grandiosen Live Konzert der Gruppe ORANGE aus dem Allgäu.
ORANGE ist ein Project von RAINER von VIELEN, einem Obertonsänger, der schon mal ein Intro gemacht hat bei einer Mystic Friday Party...googlet einfach mal und lasst euch inspirieren...wenn ihr die Band noch nicht kennt, nach dem Auftritt werden ihr sie lieben...:-)
Kommt früh...!!!!
PANTA RHEI ist ein Partyprojekt von Stefan, besser bekannt als DER LOTH, und der ANGELA Kapitänin der RUMMELS BUCHT, das von Oktober bis Mai jeden 1. Freitag des Monats an diesem Platz stattfindet, einer der schönsten Lokations der Stadt...:-)
Und GANESH brauche ich wohl nicht vorzustellen, allein seine Cocktails sind weltberühmt...:-)
Er hat Geburtstag und feiert gerne, drum feiern wir mit und sagen Happy Birthday...we love you...:-)
spread the word and come together...
see you on the dancefloor...:-)
LOVE
---------------------------------------------------------------------------------------
Special LIVE BAND Opening by:
★ ORANGE (Separated Beats / Klangwirkstoff Rec.) Kempten
[facebook.com]
[orangevibes.de]
++++++++++++++++++++++++++++++++++++
•٠•● An den Decks ●•٠•
-------------------------------
ૐ •٠•● ★ MYSTIC PANTA RHEI FLOOR - Progressive ★ ●•٠• ૐ
++++++++++++++++++++++++++++++++++++
•٠•● LIVE ●•٠•
★ STATIC MOVEMENT (Iboga Rec. / Iono Music) Israel ★
[facebook.com]
soundcloud
•٠•● DJs ●•٠•
★ JERANDO (Atacama / Digital Om Prod.) Berlin ★
[facebook.com]
soundcloud
★ OV-SILENCE-OLI (OV-Silence-Music) Hamburg ★
[facebook.com]
soundcloud
★ DER LOTH (Triptonite Rec. / Panta Rhei) Berlin ★
[facebook.com]
[click here]
٠••٠••٠••٠•● ૐ ●•٠••٠••٠••٠
•٠•● ☆ GANESH´S BUCHT FLOOR - Techno / PsyTechno ☆ ●•٠•
++++++++++++++++++++++++++++++++++++
★ VITTJAS TIEF (Kopfüber) Berlin ★
[facebook.com]
soundcloud
★ JOSEPHINE WEDEKIND (Schiffbruch) Berlin ★
[facebook.com]
soundcloud
★ DAKZ (Rummel) Berlin ★
[facebook.com]
soundcloud
★ TSCHAIKA (Kopfüber) Berlin ★
[facebook.com]
soundcloud
٠••٠••٠••٠•● ૐ ●•٠••٠••٠••٠
•٠•● ★ DRAGON FLOOR - Psytrance / Full On ★ ●•٠•
++++++++++++++++++++++++++++++++++++
•٠•● LIVE ●•٠•
★ NINJADROP (Creact Records) Dresden ★ LIVE + DJ SET
[facebook.com]
soundcloud
•٠•● DJs ●•٠•
★ DIAVOLO (Soundviecher) Berlin ★
[facebook.com]
[facebook.com]
٠••٠••٠••٠•● ૐ ●•٠••٠••٠••٠
★ ★ ૐ SEPARÉE FLOOR - Oldscool Floor ૐ ★ ★
++++++++++++++++++++++++++++++++++++
RAY CASTLE (Wakyo Rec.) London
[facebook.com]
[raycastle.com]
٠••٠••٠••٠•● ૐ ●•٠••٠••٠••٠
•٠•● Deco / Visuals / Laser ●•٠•
☆ Decoration by Cosmic Walkers (Leipzig) ☆
[facebook.com]
☆ Decoration by Fluffy Flowers (Berlin) ☆
[facebook.com]
☆ Infin-E.T. (Flourescent Networks) Berlin ☆
[infin-et.de]
☆ Mapping by Resorb (Berlin) ☆
[facebook.com]
٠••٠••٠••٠•● ૐ ●•٠••٠••٠••٠
•٠•● Specials ●•٠•
☆ Chai Stand by Djamoon's Chai, Chillum & Chapati ☆
[facebook.com]
☆ Spacebar by Ganesh ☆
[facebook.com]
☆ Bodypainting by B-Painted ☆
[facebook.com]
☆ Chilliger Außenbereich ☆
☆ Fruits for Free ☆
٠••٠••٠••٠•● ૐ ●•٠••٠••٠••٠
★ ★ ★ ૐ LOVE ૐ LAUGH ૐ DANCE ૐ ★ ★ ★
Location
Location
Kit Kat Club
Brückenstr. 1, Berlin Mitte
Entry fee
Entry fee
17,00 Euro, Garderobe inclusive
Organizer
Organizer
The Mystic Rose Team