Backend
The "MUSIC FROM THE HEART" experience !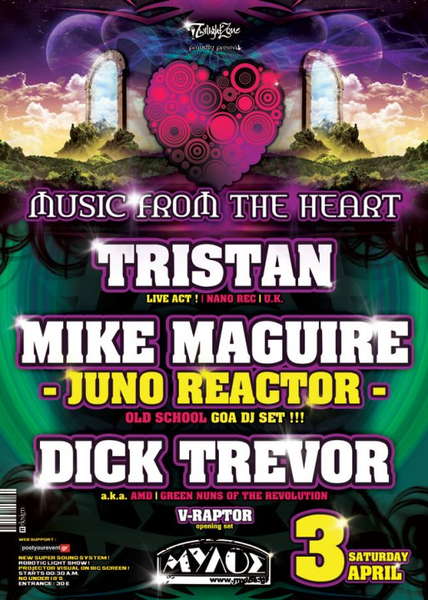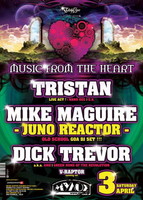 From UK
MIKE MAGUIRE (JUNO REACTOR)
>>> OLD SCHOOL GOA DJ SET <<<
-------------------------
From UK
DICK TREVOR (AMD - GREEN NUNS OF THE REVOLUTION)(Nano Records)
>>> DJ SET <<<
[myspace.com]
Deco
Deco
/ Projector visual !
/ Robotiks & Lazers !
Info
SATURDAY 3 APRIL 2010
TWILIGHT ZONE proudly present:
The "MUSIC FROM THE HEART" experience !
For the first time in Greece after almost 13 years the legendary dj of Juno Reactor is back to offer to all of you an exclusive and unique old school Goa dj set ! After many people's request the deck master of the trance revolution of the 90's has return to bring back all those dreamy memories from the thrilling "ACID" and "SUNRISE ZONE" partys, for the oldest to remember and the new ones to learn !
The tall man is also back to town and ready to move the dancefloor up and down together with the MAN himself Mr Dick Trevor from the ground breaking group of Green Nuns of the Revolution and AMD.
SEE YOU THERE & HAVE FUN !
[myspace.com]
[youtube.com]
Location
Location
Mylos Area (thessaloniki)
Entry
Entry
/ Guest list strictly until 02.30 !
/ Entrance 30 e
/ No under 18
Organizer
Organizer
TwilightZone festival
From
seja TwilightZone Org ·
1,385