The Magical Formula (Psychedelic Wonderland)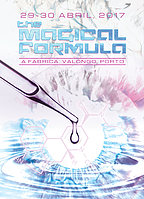 ·
Flyer comments...
Once again The Magical Formula team will take you on another trip through
mind blowing Projection mapped Visuals, syncronised with our awesome 3D 16K sound system and 7 color 3D laser show
It's guaranteed to create an epic 24 hour journey, through Psychedelic wonderland that you will never forget.
MAIN FLOOR DJ'S
OCELOT (USA)
[co.uk]
soundcloud
GANEISHA (PT)
soundcloud
ZABOT (PT)
[codevisionrecords.com]
ACTARUS (F)
soundcloud
Marharetta & Moonloop records
SEQUENCI (UK)
soundcloud
BLUE BUBBLE (ISRAEL)
mixcloud
MEKANICS (PT)
soundcloud
OZONEE (PT)
soundcloud
VJ SHOW ON MANY SCREENS + MULTI SURFACE PROJECTION MAPPING + VISUAL MIXING
BABY K
[youtube.com]
The Magical Formula ~ Resident VJ
YELLO KAT
[yellokat.com]
/
The Magical Formula ~ Resident Film Producer & VJ
CHILL OUT DJS
SIGIL
soundcloud
OZONEE (PT)
SCI MANTRA (UK)
soundcloud
RUI ALVES (PT)
24 HOUR EVENT OPEN 19.00h (7pm)
THE GARDEN CHILL OUT RESTAURANT & COURTYARD BAR ~ IS SITUATED INSIDE A Comfortable EVENTS MARQUEE WITH CHILL OUT DJ'S & LIVE PERFORMANCES FROM JUGGLERS & MIME ARTISTS....
MEXICAN & VEGETARIAN FOOD WITH COCKTAILS 7pm ~ Midnight
CHAI SHOP OPEN 24 HOURS + MARKET STALLS TAROT READINGS & MASSAGE
BREAKFAST SERVED 7AM-12AM
CAKES CROISSANTS & FRESH PASTRIES DELIVERED FROM A LOCAL BAKERY
SERVED WITH COFFEE. ( WE HAVE A COFFEE MACHINE)
MARKET TRADERS PLEASE CONTACT
magicalformula25@gmail.com
THIS IS A DISPLAY OF AUDIO & VISUAL TECHNOLOGY AT ITS BEST
DESIGNED TO DELIVER A BREATHTAKING EXPERIENCE OF EPIC PROPORTION
CUTTING EDGE TECHNOLOGY IS BROUGHT TO LIFE BY TALENTED ARTISTS
HIGH QUALITY 3D SOUND WITH AWESOME SUB BASS TO ROCK THE DANCEFLOOR
FANTASTIC NEW VENUE RECENTLY CONVERTED FROM AN OLD WAREHOUSE
1,500 CAPACITY
ARRIVE EARLY FOR THIS EPIC PSYCHEDELIC ADVENTURE
If you are looking for an event that goes a bit further & offers better quality technology than most events of this kind... This is it.
ALL ROADS LEAD TO VALONGO
SEE YOU ON THE DANCE FLOOR....
Many more DJ's to be announced
Watch this space......
Location
A Fábrica
Avenida Oliveira Zina, nº68
4440-506 Valongo
Organizer
The Magical Formula
DO MY TREE FESTIVAL
1 - 4 Sep '17 · Festival
central portugal ·
Portugal
Line Up:

<<<<< "THE MAGICAL FORMULA" >>>>> (Will Be Hosting The Psychedelic Stage) OCELOT…


Info:

A magical cavalcade of underground art, music, healing and learning set within 100 acres of beautiful farmland, surround…


Loc:

10k from Pedrogao in Central Portugal

Added by Sequenci · Update

3m 21d

·

2,030

· Starts in

5m 9d
Fr, 1 Sep '17 ·
central portugal