The Magical Formula (Psychedelic Wonderland)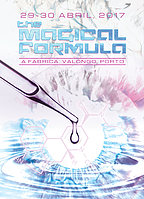 ·
Flyer comments...
Once again all roads lead to Valongo, where The Magical Formula will take you on a trip through psychedelic wonderland.
Our DJ line up is sure to rock the house, along with a fine display of mind blowing visuals on many screens & multi surface Projection mapping, syncronised with our awesome 3D 16K sound system and 7 color 3D laser show
It is guarranteed to create another epic 24 hour journey, you will never forget.


MAIN FLOOR DJ'S

OCELOT

GANEISHA

SEQUENCI

MEKANICS

OZONEE


CHILL OUT DJS

OZONEE

SCI MANTRA

RUI ALVES

Many more DJ's to be announced
Watch this space......
Location
A Fábrica
Avenida Oliveira Zina, nº68
4440-506 Valongo
Organizer
The Magical Formula
THE MAGICAL FORMULA
11 - 12 Mar '17 · Indoor
valongo ·
Portugal
Line Up:

"MAIN STAGE" TRYAMBAKA ~ LIVE · SURIA ~ LIVE · MYRAH ~ LIVE · OCELOT ~ LIVE · The Magical Formula ~ Reside…


Loc:

A Fabrica, Avenida Oliveira Zina, No.68 . 4440-506 Valongo P…

Added by Sequenci · Update

24d 2h

·

2,735

· Starts in

19d 23h
Sa, 11 Mar '17 ·
valongo
DO MY TREE FESTIVAL
1 - 4 Sep '17 · Festival
central portugal ·
Portugal
Line Up:

<<<<< "THE MAGICAL FORMULA" >>>>> (Will Be Hosting The Psychedelic Stage) OCELOT…


Info:

A magical cavalcade of underground art, music, healing and learning set within 100 acres of beautiful farmland, surround…


Loc:

10k from Pedrogao in Central Portugal

Added by Sequenci · Update

2m 16d

·

1,862

· Starts in

6m 9d
Fr, 1 Sep '17 ·
central portugal