The Hitech Dark Forest •BOMBAX LIVE• "Friday the 13th special"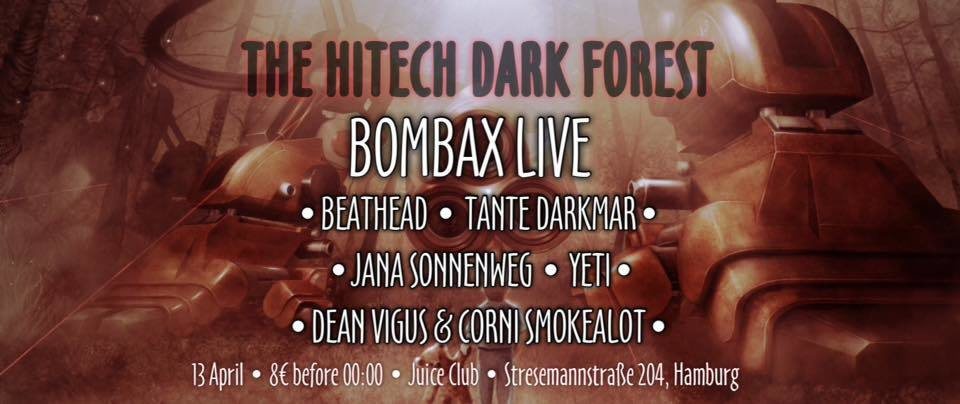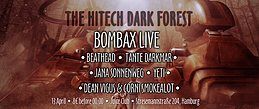 Line Up
•PSYTRANCE•FOREST•DARK•HITECH •
Es geht in die zweite Runde und in ein anderes Universum am Freitag den 13. Wir begleiten euch durch die Nacht mit Musik die euch wegtreiben lässt.
Angefangen wird mit treibenden Psytrance und danach geht es über zu Forest und wird abgelöst von Dark und zum Highlight des Abends gibt es Hitech. Ab Hitech geht es rückwärts bis zum Psytrance zurück.
Eine Nacht voller glücklicher Menschen die in ein anderes Universum mit uns flüchten zu Galaktisch guter Musik!
Line up:
Live:
Bombax (Kamini Records) Germany
soundcloud
[kaminorecords.com]
Dj's:
BEATHEAD
TANTE DARKMAR
JANA SONNENWEG
YETI
DEAN VIGUS & CORNI SMOKEALOT
Deco
Deco
The Neverending Visuals & Friends
Info
Info
More:
Arcade Games, Free Candy
DIR GEFALLEN UNSERE EVENTS? Und magst du uns unterstützen? Dann bitte lade deine Freunde ein zu der party & "LIKE" UNSERE SEITE! ♥
[facebook.com]
Location
Location
Juice Club
Stresemannstraße 204
22769 Hamburg
Entry
Entry
8,- € vor/before 00:00 Uhr
10,- € nach 00:00 Uhr (8,- € mit Club-Karte)

FREIER EINTRITT -> Für alle Geburtstagskinder und eine Begleitperson, gegen Vorlage eines gültigen Personalausweises.
Organizer
Organizer
The Neverending Story