The Galaxies II - Psychedelic Trance Party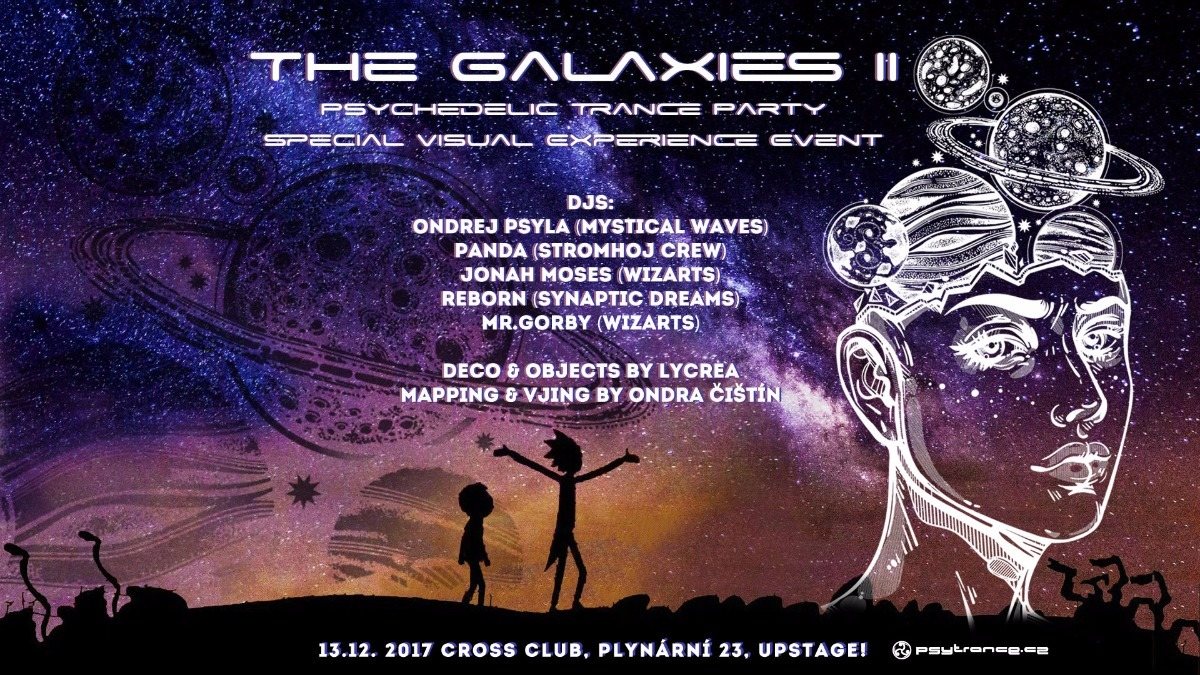 Line Up
Line Up
Psyrix, Panda, Jonah Moses, Reborn, Mr.Gorby
Info
The Galaxies II - Psychedelic Trance Party
*Special Visual Experience Event*
13.12.2017 Cross Club
Plynární 23, Upstage!
//ENGLISH BELOW
Lanikaea je nezměrná, fyzicky ji lidstvo nikdy nebude schopno celou obsáhnout. Takové jsou zákony fyziky, zákony vesmíru, zákony života. Z pohledu naší Galaxie je stejně nezměrná, jako je nezměrný mozek z perspektivy jediného neuronu. To ale platí pro fyickou stránku člověka.
Co ale jeho vědomí? Může se oddělit od těla a cestovat do sousedních galaxií?
Miliony a miliony hvězd. Od gigantických zářících obrů, které hrozí sežehnout vše kolem sebe svou posmrtnou explozí, po malé červené trpaslíky, stejně staré, jako vesmír sám. Budou tu i po miliardách let - zůstanou jako poslední.
Ani vědomí, nespoutané zákony fyziky, je nedokáže obsáhnout všechny najednou. Je třeba nahlížet na ně postupně a hledat. Nacházet podivné světy bez života, obry drtící se navzájem gravitací a spalující vše kolem sebe zářením. Tu a tam se však objevují mikroorganismy. Barevné kolonie bakterií, které vytváří na povrchu planet podivné obrazce. Mořské planety, zelené planktonem, kde bakterie pomalu plní atmosféru kyslíkem. Podivné mikroby složené z nepředstavitelnch molekul, tlačící se navzájem v evolučním klání k vyšším formám. Po průzkumu tisíců hvěz je patrný fraktál, jakoby se jednotlivé osamělé živé planety propojovaly tak, jako neuronová síť, jako Laniakea. Vše najednou dává smysl - vědomí se bez váhání obrací do středu obrazce, ke světu inteligentních bytostí.
Vydejme se na průzkum nejbližšího neuronu Laniakei - trpasličí galaxie ve Střelci. Je malá - pouhých 65 tisíc světelných let – a je jedním z nejbližších souputníků naší galaxie Mléčné dráhy.
LyCrea společně s klubem Cross a Ondřejem Čištínem si pro Vás připravili speciální středeční psytrance event.
Mise se bude netradičně odehrávat na horní stagi, která bude změněna k nepoznání.
Serie akcí The Galaxies kontinuálně navazuje na větší akci Explore The Galaxies. Jsou to eventy menšího charakteru, ale se stejnými kvalitami.
DJs:
►Psyrix (Hedonix Crew)
soundcloud
[facebook.com]
►Panda (Stromhoj Crew)
[facebook.com]
►Jonah Moses (WizArts)
[facebook.com]
[facebook.com]
►Reborn (Synaptic Dreams)
mixcloud
[facebook.com]
[facebook.com]
►Mr.Gorby (WizArts)
soundcloud
[facebook.com]
►Deco & Object by LyCrea
[facebook.com]
►Mapping & VJing by Ondřej Čištín
[facebook.com]
►Promo videos links
youtube
vimeo
(Live at Cross)
►Full flyer(by Kashmir) download link
[bit.ly]
//
Laniakea is immense. From the vantage point of our Galaxy, Laniakea is as large as a brain is from a vantage point of one of its neurons. Humanity will never be able to physically contain it. Such are the laws of physics, the laws of Universe, the laws of life. That is true for physical human body.
How about consciousness? Can it leave its body and travel on its own to distant galaxies? To see millions and millions of stars? From gargantuan brightly radiating giants, who threaten to burn everything around in their death explosion - to tiny slow burning red dwarfs, who are as old as the Universe itself? They will stay for billions of years, they will remain the last. Even the consciousness, unbound by physics, is not able to perceive all the stars at once. It needs to peek at one after the other. It finds strange lifeless wolds, behemoths crushing each other with gravity and burning violently with radiation. Here and there primordial microbes appear. Colorful colonies of bacteria painting playful patterns on surfaces of their planets. Sea worlds, green with plankton, where tiny organisms fill the atmosphere with oxygen. Inconceivable microbes composed of strange molecules are forcing each other to higher forms in evolutionary clash.
When thousands of such planets are inspected, a fractal pattern becomes obvious. Almost as if lonely planets with life were connecting, just like neural network, just like Laniakea. Everything makes sense all of a sudden. The consciousness focuses on the center of the pattern, towards the world of intelligent beings.
Let's visit the nearest neuron of Laniakea - the dwarf galaxy in Sagittarius. It's small, just 65 thousand light years across - and it is one of the closest neighbors striding through the Universe along our Milky Way.
LyCrea together with Cross Club and Ondřej Čištín have prepared a special Wednesday
psytrance event for you. The mission will take its part on the upper stage, which will be totally changed.
The series of Galaxies events are gradually following up on the larger action Explore the Galaxies. They are about a minor event, but with the same qualities.
Location
Location
cross][club
Plynární 1096/23, Praha 7
15500 Prague