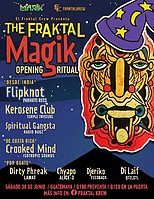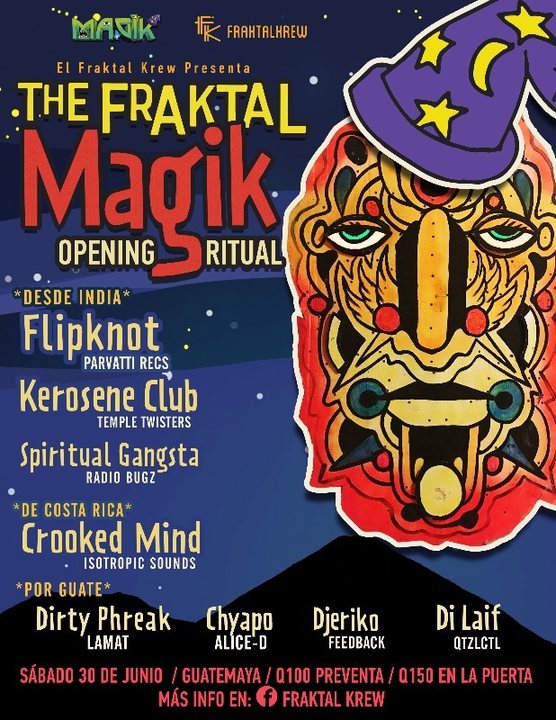 Line Up
-*- FLIPKNOT-*- (Parvatti Recs. / India)
-*-KEROSENE CLUB-*- (Temple Twisters / India)
-*-CROOKED MIND-*-(Isotropic Sounds / CR)
-*-SPIRITUAL GANGSTA-*-(Radio Bugz / India)
-*-DIRTY PHREAK-*-(Lamat / Gua)
-*-DJERIKO-*-(Feedback / Gua)
-*-CHYAPO-*-(Fraktal Krew / Gua)
--VISUAL--
-*-MONKEY VISION-*- (Fraktal Krew / Gua)
-*-KAMIKAZEE-*- (Fraktal Krew / Gua)
************************************************************
Brian Fernandes aka Kerosene CLub / Flipknot /Fibre Stomp is one of india's most respected trance composer/dj with a fan following spread all over the world.His sets are legendary as well his diverse taste in other genres of music.His Versatility lies across his different styles .He can send you into the deepest realms of existence to the most pleasant journeys one can embark on .One of the few versatile Indian electronic musician who is constantly touring and spreading his sound to the four corners of the world.A Slight peak into his main occupation revolves around manipulating sound frequencies to influence one's brain and one's kneecap and testing it on human specimens in places like India,Japan,Russia,Brazil,Germany,Portugal,Australia ,Greece,Switzerland Belgium,Spain,Dubai,Nepal etc .He has performed at the Boom Fest,Universo paraello ,Ozora,Full moon Fest,Psycrowdelica,Sol Fest etc..
Flipknot is Now signed up with Parvati records,Denmark.
[parvati-records.com]
Info
Info
Este es el inicio del viaje, la ceremonia de apertura, el ritual inicial que nos llevará directo a MAGIK FESTIVAL 2018. Uno de los pioneros de la escena psytrance mundial nos vuelve a visitar desde la India. Si no pudiste escuchar a este MASTER en el MAGIK pasado, únete a la psytribe y se parte de una noche obscura y profunda.
Brian presentará sus tres proyectos sónicos. Bienvenidos a la vida FRAKTAL, Bienvenidos al MAGIK. BOOOOOM!
Location
Finca San Agustin Santo Tomas Milpas Altas, a 200 metros del cementerio.
Entry fee
ADMISIÓN: Q.100 Pre Venta / Q150 Taquilla

TICKETS

-*- Chiribisco Zona 10-*-
-*-Soma Zona 1-*-
-*-Chermol Antigua-*-

-*-Depósito Bancario-*-
No. 380-04-77955
Carlos Castellanos
Ahorro / BI

*PRO SOUND*PRO MUNCHIES*PRO BAR*PRO VIBE*