Backend
The Dark Code - Mutation 2018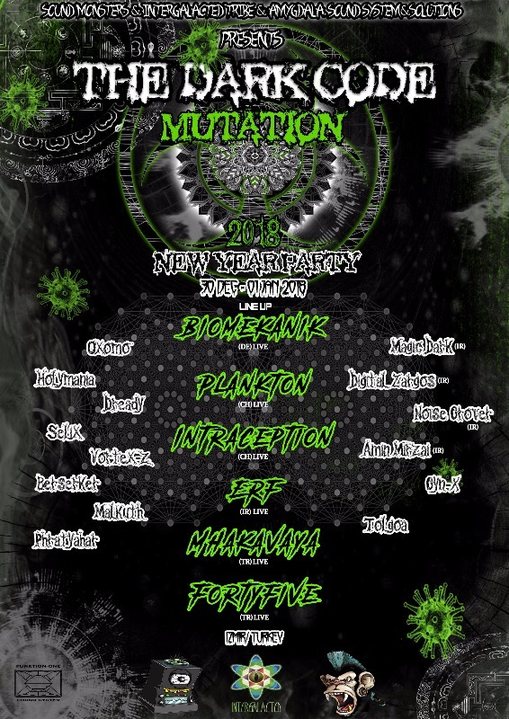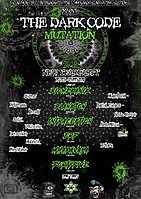 Line Up
TheDarkCode
MUTATION
2018
As TheDarkCode Team, we are welcoming 2018 with the concept of mutation. An abandoned depot area will come to mutation with Function One for this event that will last for long 40 hours of 6 live acts with Biomekanik from Italy, Plankton and Intraception from Switzerland, Erf from Iran, Mhakavaya and Fortyfive from Turkey, and 16 Dj sets. In order to present different ideas and perspectives; there will be music production workshops and Mutation art Gallery available. VA MUTATION that compiled by Oxomo and that will be published during event night, is going to be available for download from Vooodoo Hooodoo Records Bandcamp for free. (More info about VA MUTATION scroll down..)
For the new year we hope, we can create an energy field, which can attract right ideas that will pass through next generations by the power of music and dance in upcoming new year. Because our generation is facing a great change biologically, mentally and technologically, along with gene mutations, we are hoping to send the right energy to the universe by dancing in significant frequencies in order to prevent these spams caused by wrong patterns and life styles in minds become a mutation.
WHAT IS MUTATION?
Any sudden change occurring in hereditary material is called as "mutation"
it includes, a nucleotide changing to another, a structure changing shape and context, genetic constitution failing due to false copying and so many other genetic changes that can be counted as mutation.
Today, most scientists regard the term "mutation" as a description of a change in an individual gene, and more precisely as some minute alteration of the DNA of that gene, especially a nucleotide substitution. But the idea of mutation has changed considerably from the pre-Mendelian concepts of Darwin's generation, who viewed "fluctuating variations" as the raw material on which evolution acted, to today's up-to-the-minute genomic context of mutation. The mutation in the DNA can make evolution a real thing. But it is a very difficult process…
Most of the forms of mutations appear suddenly and effective in just a few generations. Yet even such seemingly "normal" characteristics such as our ten fingers or our two eyes or our relatively hairless skin (compared with that of apes) are ultimately the product of mutations that took shape over the many hundreds of millions of years during which animal life has been evolving. Evolution, in fact, is driven by mutation, along with natural selection. Unfortunately, we cannot tell when the mutation might happen, or where it might happen, or how unpleasant the mutant virus will turn out to be. Mutations are, in fact, quite coincidental…
MUTANT GENERATION!!!
Other than coincidental or evolutional mutations on the genes, there are some mutations that occur faster and effective with the cause of mutagen. All the chemical waste, nuclear energy, nuclear bombs and weapons, radiation, petrol, plastics and so many more nature- hazardous material (mutagens) that existed because of the miscalculations of human being, have caused many effects on human cells and brain. Human systems that ever existed until today and wrong life-styles are the main cause of weird mutations on many living creature on earth including humans. Wasting information and energy in the wrong fields almost proves us that the generation incapable to create their own reality, has symbolically suffered from a mental mutation. Such as Fukishima and Chernobyl disasters are long forgotten and there are three new nuclear energy plants planning to be built in our country. Instead of taking reasonable lessons from the many disasters around the world, a generation keeps on doing the same mistakes knowingly; this is showing us that it must be a very advance mutation the are suffering in their brain. It is a fact that our future generations cannot create super human abilities from their genetic and mind mutations they will have however, an alternative part of this mutant generation along with significant frequencies, can complete the intellectual evolution and create a life suitable with the planet we live on.
We hope that these experimental sounds and arts we project in this event can play the key role for repairing our minds in order to transform mutation into evolution. We hope to start the New Year together, dance for hours and be aware of the system we are in, be aware of the things we can do and direct the mutations...
Magic
LINEUP
LIVE ACTS
BIOMEKANIK - IT
soundcloud
PLANKTON - CH
soundcloud
INTRACEPTION - CH
soundcloud
ERF - IR
soundcloud
MHAKAVAYA -TR
soundcloud
FORTYFIVE - TR
soundcloud
DJ SETS
MAGIC (DJ set) - İran
soundcloud
NOISE GROWER (DJ Set) - İran
[facebook.com]
DIGITAL ZAGROS (DJ Set) - İran
soundcloud
AMIN MIRZAI (DJ Set) - İran
soundcloud
OXOMO (DJ Set) - TR
soundcloud
DREADY NAGA (Dj Set) - TR
soundcloud
HOLYMANIA (DJ Set) - TR
soundcloud
I-TOUCH (DJ Set) - TR
soundcloud
SELIX (DJ Set) - TR
[facebook.com]
VORTEX-Z (DJ Set) - TR
soundcloud
BERSERKER (DJ Set) - TR
[facebook.com]
MALKUTH (DJ Set) - TR
soundcloud
PHRATYAHARA (DJ Set) - TR
soundcloud
VA MUTATION (Free Music for New Year!)
Oxomo is bringing together young and new Psycore producers from different countries with VA Mutation. VA Mutation will release by Voodoo Hoodoo Records at the event night 01.01.2018 will be available for FREE download in BandCamp. Its like a newyear present for all dark/psycore listeners from Oxomo, The Dark Code Team and Voodoo Hoodoo Records. Compilation consisting Psycore tracks higher than 200 bpm, is dedicated to all genetic and mental mutations since human existence.
VA MUTATION ARTIST LIST
Plankton (CH)
Psycore25 (DE)
!luuli (USA)
YMBX (MX)
Nephilim (BR)
Dajjal (BR)
Magnetic Sadhu (BR)
Yamavoodoom (BR)
Necronomicon (MX)
Neormm (MX)
Compiled by; Oxomo
Mastering by; Biomekanik
Art Work by; Luis Gustavo Gonzalez
Release by; Voodoo Hoodoo Records
Release date; 01.01.2018
Free Download;
[bandcamp.com]
MUSIC PRODUCTION WORKSHOPS
As The Dark Code Team, we are organizing pre-event producing work-shops for the second time in Turkey.
Our guests Biomekanik from Italy, Plankton from Switzerland, Erf from Iran and Mhakavaya from Turkey, will be presenting production software such as Logic and Ableton by using the examples of their own techniques. It is mandatory for all those who would like to participate to workshops, to bring their own laptops. Most important purpose of these workshops is to promote those who wants to create their own music and take a small step to challenging production world. Entrence fee for these workshops is 100 TL / 20 EU. We hope to contribute to those who grow great interest for music and help them find their technique/sound.
MUTATION ART GALERY ARTISTS
IŞIL ZEYNEP DEMIR (Xnon)
KIVILCIM GUNGORUN
KRISTAL GUNGORUN
ESAT CAVIT BASAK
SAFAK CELEBI
AYCA DAGILGAN
ETRAFI
OZGE ALTUN
SULTAN GUNER
GOKAY YUZEL
KAYRA OZ
Graffiti by;
ARGO
NCONEN
VISUAL BY; Berk'e Mehmet Ozger
FIRE SHOW BY; Devrim Ekin Şahin
FLAYER BY; Luis Gustavo Gonzalez
TICKETS
Presell: 125 TL / 30 € / 35 $
Door : 150 TL / 35 € / 40 $
For preTickets please contact our team:
05324265891
Thanx to all the crew and others for their work and support!
Organization team holds the right not to accept certain people which found unsuitable.
Sound Monsters
Intergalacted Tribe
Amygdala. Sound System & Solutions
Location
Location
Urla, Izmir, TURKEY
Entry
Entry
TICKETS
Presell: 125 TL / 30 € / 35 $
Door : 150 TL / 35 € / 40 $

For preTickets please contact our team:
05324265891