Backend
THE D1SRUPT1ON AG3NTS presents ALIEN SCIENCES – ZZBING LIVE!!!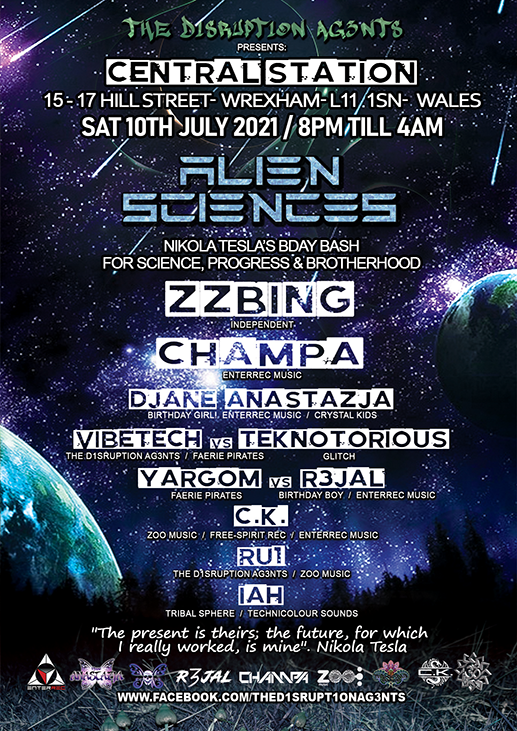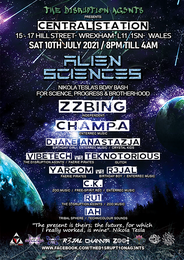 Line Up
The D1srupt1on Ag3nts are proud to present to you... -ALIEN SCIENCES - ZZBING LIVE on a very special day - 10th July
A Psychedelic Experience on Nikola Tesla's Birthday.
"Nikola Tesla Day" will signify a day of science, progress and brotherhood among all nations and religions.
Following the last year of hardship, we finally see light at the end of the tunnel, and all the stars have been conspiring to bring us back from hibernation and onto doing what we do best (FAT PARTIES), aaaand we have brought back with us some very special friends!
Expect the Unexpected!
Since it is Science Day, and Tesla's Bday, our production will be reflective of this.... Wrexham is about to witness something truly otherworldly, possible only thanks to science and progress...
an experience that promises to transcend all that can divide us, and finally let us unleash the last year of frustrations on a Cosmic Trancefloor designed to delight the senses...
A full line up of world class Psychedelic Trance talent, fully immersive decor, Lighting and Visual Show, topped by the most insane DAS Audio Line Array Sound System, which we believe to be the FATTEST SOUNDSYSTEM ever to enter the doors of Central Station, the best grass roots venue in Wrexham...
Are you really gonna miss this????
Line up!
ZZBING – THE ALIEN LORD OF FULL POWER PSYTRANCE
ZZzzzZZBING!!!
OH YES! He is coming to Wrexham!!!! Even bigger than Ryan Reynolds buying Wrexham FC, imho.
Rated by us at The D1srupt1on Ag3nts as one of the best psytrance producers in the WORLD! and that ain't open for debate.
Originally from Outer Space, ZZBING has played his full power live sets at a host of parties and festivals, across Europe and internationally, leaving a trail of broken molecules and glitching humanoids in his wake, every time.
The rubber burning bassline bandit is ready to blast once again, bringing his unique ripping bouncy sounds to Wrexham!! Promising to send you into a swirling, churning frenzy of audio stimulation and all out trancefloor mayhem. Riot gear recommended for this one, its gonna get pretty filthy. Promising an all-round nasty bassface galore. Its gonna be epic!
CHAMPA - ENTERREC MUSIC Recs - GB
A.K.A. DJ Prozak - Founder of ENTERREC MUSIC Records- Full-on Psychedelic Trance act, known for producing the kind of music that needs to be played loud, and danced too with smile upon your face :)
DJANE ANASTAZJA - ENTERREC MUSIC Recs - Poland
The queen of Fullon-Night time & Twilight Psychedelic Trance, Label Djane at ENTERREC MUSIC Records, and it is also her BIRTHDAY! We are so psyched that she chose to spend it with us!! Prepare for take off when Djane Anastazja gets behind the decks!
RU1 - THE D1SRUPT1ON AG3NTS / ZOO MUSIC Recs - Portugal
Label DJ for ZOO MUSIC Records. Founder of The D1srupt1on Ag3nts. Resident DJ for the FaeriePirates.
IAH - TRIBAL SPHERE Recs / TECHNICOLOUR SOUNDS - GB
Label DJ for TRIBAL SPHERE Records. Founder of Technicolour Sounds. Resident DJ for the FaeriePirates.
VIBETECH b2b YOSHII - THE D1SRUPT1ON AG3NTS / FAERIEPIRATES / BADPEOPLEINTHEWOODS
Vibetech is a Resident DJ for the FAERIEPIRATES and The D1srupt1on Ag3nts, and Yoshii a resident DJ for BADPEOPLEINTHEWOODS, LIBERTY CAPTAINS and PSYFUNKTION - The 2 most loved North Wales based Underground DJs are going side by side, promising to take you on a mythical journey down the psychedelic rabbit hole, with absolutely no compromise. Expect a fat stomp to ensue, pronto.
IAGO b2b R3J4L - FAERIEPIRATES / ENTERREC MUSIC Recs
A very special collab made up 2 true psyheads - IAGO, resident DJ for the FaeriePirate's and one of the most respected DJs on the UK Underground Circuit, and R3J4L, the up and coming deck wizard from ENTERREC MUSIC Recs. Two dwellers of the dark and twisted spectrum of Psytrance, promising to take you on an unforgettable trip!
CK - ALCHEMY RECORDS, ZOO MUSIC RECORDS
C.K. aka Edgar Montez stormed into the psychedelic trance scene just over a year ago - but since his entry - it's fair to say he's made quite an impact! As well as scooping a residency for Tribalism Radio & Cohesion Psy-party; C.K. already has a very respectable gigging history that any psy-trance veteran would be proud of. Gracing the decks at a plethora of parties and venues, C.K.'s gig list includes: Transylvaliens festival, Illuminaughty, Ozora – One Day in London, Tribal Village, Cohesion & Psymera. He's now attacking the festival scene with bookings already secured at the legendary Boomtown, England and will also be performing at the awesome Psy-Boutique Festival in Turkey later this year!
The Live Rooms Wrexham
Wrexham
Sat 10 Jul 2021, 8:00PM
BOOK NOW
[co.uk]
Location
Location
Central Station Venue