Backend
The D1srupt1on Ag3nts present - Dark Side of Town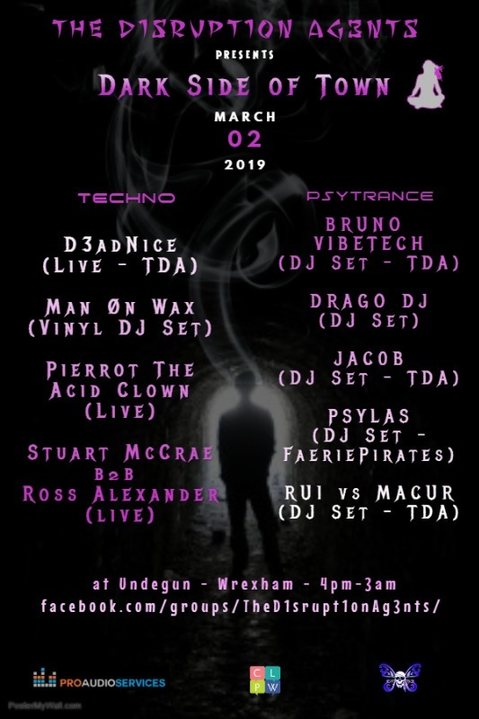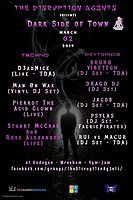 Line Up
Next installment of TDA Techno and Psy - 2nd March 2019 @ Undegun Wrexham
Finally!!!!!!
The D1srupt1on Ag3nts are proud to finally release the line up for our fundraiser event on the 2nd of March 2019, Dark Side of Town 😍😍😍♥️♥️♥️🔥🔥🔥🔥🔥🔥!
We werent kidding when we said we had some big New Year treats in store!
Techno
Man øn Wax/ Esøteric - Live Vinyl DJ Set
soundcloud
Stuart McCrae b2b Ross Alexander - Live
soundcloud
soundcloud
DJ Deadnice Live
soundcloud
Pierrot The Acid Clown Live
soundcloud
Psytrance
Bruno Vibetech DJ Set
[click here]
David Blackhall DJ Set
soundcloud
Psylas ॐ DJ Set
soundcloud
Jacob Cartwright DJ Set
Ru1 DJ Set
soundcloud
And much more to be announced, such as Jay Bleak dropping some spoken word fire, and many others joining in soon to be confirmed!
Hope your all looking forward to this as much as we are, its gonna go off in Wrexham! All profits made will be donated to Project Home, the amazing local CIC group working with the homeless and drug addict community in Wrexham, look them up and find out how you can help and get involved!
There will be a chillout area on the day, full immersive decor, lazer show, VOID Sound System, 2 bars, open decks area, stalls and much much much more!!!
Did I mention the absolute fire line up we have in store for you?? Whoop Whoop!!
TDA
Deco
Multiple Artists, Enpsyronmental UV Installations and Decor, FaeriePirates, The D1srupt1on Ag3nts
Info
Info
All funds raised will be donated to the amazing CIC Project Home, working with homeless and drug addiction issues in our town.
Entry
Entry
£10 early bird, more at the door.