The Beginning - Psychedelic Indoor Gathering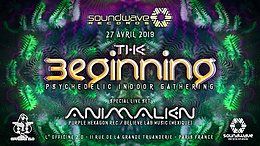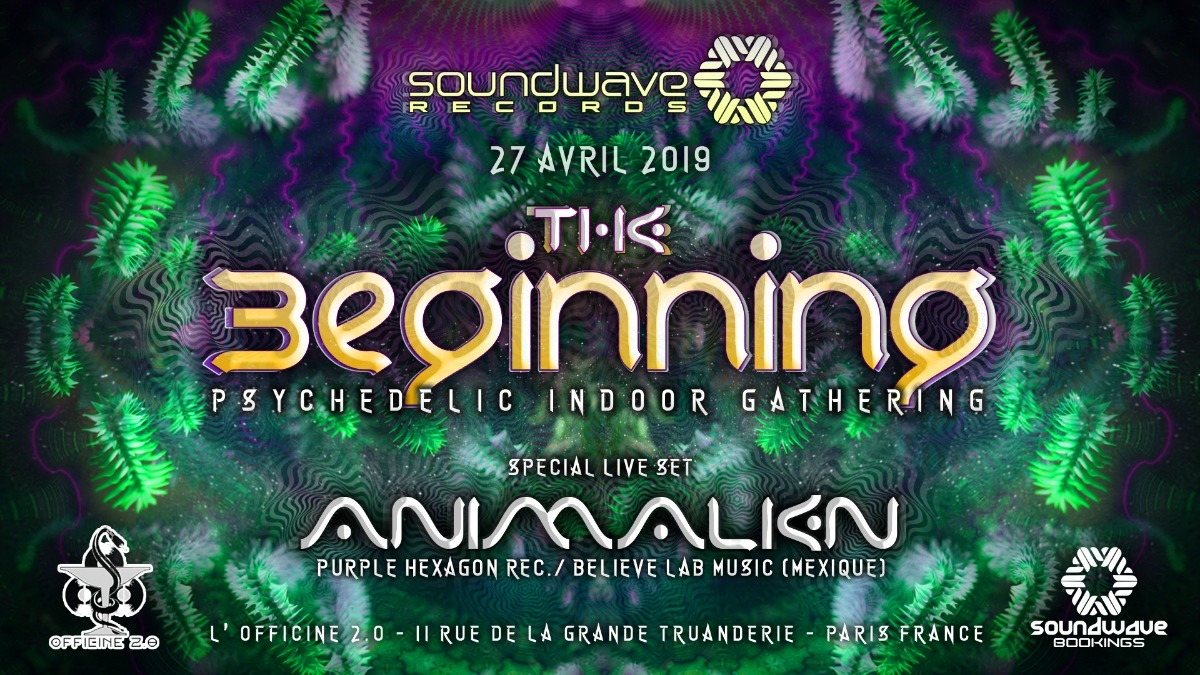 Line Up
Special Live :
►►►ANIMALIEN - Purple Hexagon Rec./ Believe Lab Music (MEXIQUE)
Bio:
The Animalien is a genetic altering sound crafted experiment which
was first introduced to humans in this reality back in 2012 when
some unknown species from another dimension found a brick through
the digital realms and impregnated human consciousness and the
third dimension with this virtual organism.
Mariano Tur from Mexico is the carrier of this frequency and has been perfecting and amplifying the connection with this beings for many years for a better more and more efficient transmission of this sound codes.
[facebook.com]
[facebook.com]
[facebook.com]
▨Line up:
►►PITCHRIDERS - Soundwave Records. (Mexique) LIVE
[facebook.com]
►►ADAPA - Soundwave Records. (Mexique) LIVE
[facebook.com]
►►ORIGINZ - Outrance (Lyon)
[facebook.com]
►►AMNUZ - Soundwave Records (Mexique)
►►MOONWAVE - Outrance (Lyon)
[facebook.com]
►►PURPLE SOCIETY - Soundwave Records. (Paris)
►►MR.GRIB- Soundwave Rec. (Clermont F)
►►REDOX - Basalt Rec. (Clermont F)
[facebook.com]
Deco
▨Deco Art + Video Mapping:
►►►ARTYFISS - Outrance (Lyon)
[facebook.com]
Info
SOUNDWAVE Présente:
▨▨▨▨THE BEGINNING▨▨▨▨
Psychedelic Indoor Gathering
27 - Avril 2019 / Paris France
Tenez-vous prêts! Le 27 Avril l'équipe de Soundwave débarque à Paris pour vous faire danser!
Fondée en 2012, Soundwave Records est un label psychédélique
originaire de la ville de Xalapa, au Mexique.
Notre Psy-family s'est dernièrement étendue à de nouveaux territoires, et l'opportunité s'est présentée d'organiser notre premier event dans
la capitale emblématique française; Paris!
C'est une nouvelle étape dans notre aventure, et nous serions ravis de vous avoir à bord avec nous!
Pour l'occasion nous vous avons dégoté un invité spécial.
Connu comme l'un des meilleurs live acts de Mexico, il a retourné moultes dancefloors dans le monde entier (ou presque).
Il partagera avec nous ses plus récentes productions juste avant de s'envoler pour la saison des festivals.
Nous sommes heureux et fiers de vous présenter:
ANIMALIEN live!
▨▨▨▨▨▨▨▨▨ ENGLISH ▨▨▨▨▨▨▨▨▨
Get prepared! On April 27th Soundwave crew is landing to Paris and we are gonna make you dance!
Founded in 2012 , Soundwave Records is a psychedelic label from the city of Xalapa, Mexico.
As our Psy-family has expanded to new territories, the opportunity came up to create our first event in the iconic French capital, Paris!
This is a new step into our adventure, and we would be really happy to have you onboard with us!
For the occasion we have a very special guest.
Known as one of the best Psychedelic acts from Mexico, he has been blasting numerous dancefloors
of the globe. He will be sharing with us the newest of his productions just before flying to festival season.
We are happy and proud to present you :
ANIMALIEN! live!
▨SOUNDWAVE:
soundcloud
soundwaverecords.bandcamp.com
soundcloud.com/soundwaverecordsmx
▨Partners / Partenaires:
[facebook.com]
[facebook.com]
[facebook.com]
[facebook.com]
▨▨ INFOS PRATIQUES ▨▨
► Date : Samedi 27 Avril 2019
►PAF : 10€ en prévente et avant minuit, 13€ ensuite
►►►Tickets:
[weezevent.com]
►►Lieu : L'Officine 2.0
11, rue de la Grande Truanderie 75001 - Paris
► Horaire : 23h30 - 06h30
►► Sound System : VOID
► Vestiaire obligatoire 2€ ou 4€ (gros sacs)
►►► Interdit -18 ans!
Une pièce d'identité peut vous être demandée !
Location
Venue / Lieu : L'Officine 2.0
11, rue de la Grande Truanderie 75001 - Paris
►Métro 4 : Etienne Marcel
► RER A/B/D : Chatelet Les Halles
►Bus 29 : Sebastopol - Etienne Marcel
► Parkings à proximité
► Taxi, s'arrêter au 57, Bld Sébastopol, puis prendre la rue de la grande truanderie à pied
Organizer
Organizer
Soundwave Records / Soundwave Bookings
Montlucon 03100 France
Added

4y 2m

· Update

4y 1m

· 1