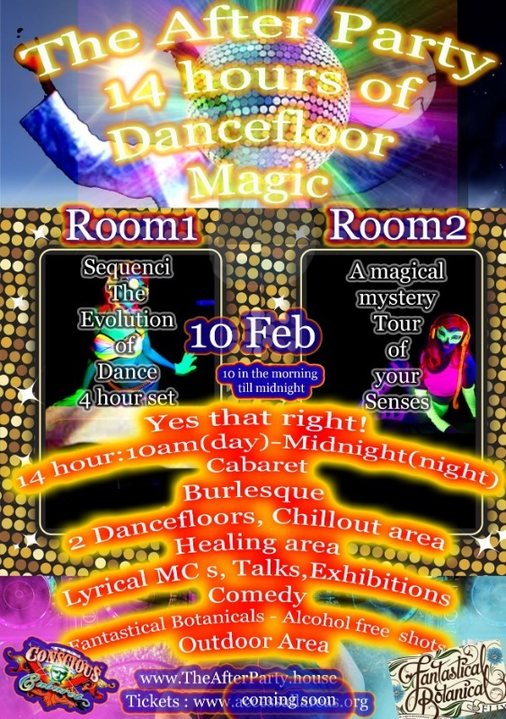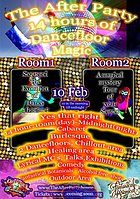 Info
Welcome to "The After Party"London's new event from 10am- 1am, every other Sunday, at club Kolis 18 Kentish Town Road London NW17EX commencing on 10 February
Less than 100m from Camden Town Tube Station.
Featuring Cabaret, Comedy, Lyrical Poetry, Lectures, Presentations, & live music, on the cabaret floor, with all sorts of wonderful DJ's playing various forms of electronic dance music on the main dance-floor, we shall feature Global, Tribal, Progressive, & Psychedelic Trance but we shall have many other types of dance music.
We will also host a presentation from Extinction Rebellion & a lecture from author Gregory Sams.
We aim to instigate change and create something very different. If you have something to offer "The After Party" please contact us, let's see what we can do together, we need your help & support to create something fresh & exciting to create a new dimension of underground entertainment.
Watch this space for updates on more DJ's & further info
100 Early Bird tickets are on sale at
[onlinestall.com]
at £8.50
They will go up to £11.50 after they're gone.
The venue has a limited capacity of 300 so please arrive early
Watch this space more info will follow
ALL ROADS LEAD TO CAMDEN
Location
Location
Club Koulis 18 Kentish Town Road London UK
Organizer
Organizer
Sequenci & The Master Genie