The 14 Year Mystic Rose Celebration---DER KLANG DER EINHEIT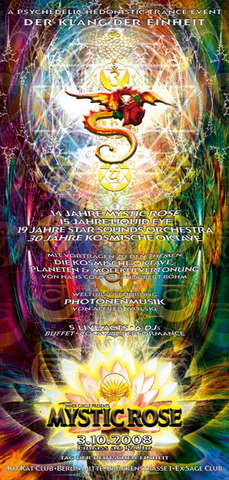 Line Up
Line Up
Main Floor:

19:00 : Einlass
20:00 : Vortrag von Hans Cousto :
Wasserstoff und die Kosmische Oktave
20:45 : LIVE : Akasha Project :
Die Vertonung des Wasserstoffmoleküls
20:45 : Vortrag von Norbert Böhm :
Der Ton der Einheit und die Einheitsmaße des Seins
22:00 : LIVE : Motom - Klangwirkstoff rec. - Berlin
Der Klang der Einheit
23:00 : Vortrag & Konzert von Alfred Wolski - der Lichtpoet - Nierstein
Welturaufführung : Photonenmusik
00:00 : LIVE : Akasha project - planetware Rec. - Braunschweig
01:00 : Dj : Nesjaja - Chromanova.de - Berlin
03:00 : LIVE : Star Sounds Orchestra - Planetware Rec.
05:00 : LIVE & Dj Set: Sangeet - Hamburg
08:00 : LIVE & Dj Set: B. Ashra - Klangwirkstoff Rec. - Berlin
10:00 : LIVE & Dj Set : Audiomatix - Spintwist Rec.
14:00 : Ende??? ----open end-----

Dragon Floor:

01:00 : Naveen - Goa, Australia, Berlin
06:00 : Djanes Alice D. & Joana - Waldfrieden OA - Münster
11:00 : Ende????------open end-------
Deco
Deco
Infin-ET - flourescent networks - Berlin
Kristallobjekte vom Lichtpoeten - Nierstein
Laser & Fx von
[nature-dynamics.com]
- Berlin
Backdrops from Miss Olga - Berlin
Büffee ab 22:00
Danceperformance by Performing Buddhas - Berlin
Cocktail Performance von Food for Freaks
Flupo Sun Chailounge
Open Pool Lounge
Info
Info
Als Hans Cousto am 2. Oktober 1978 das Prinzip der KOSMISCHEN OKTAVE entdeckte, oder besser wiederentdeckte, war er sich wohl nicht bewusst, welch weitreichende Konsequenzen diese Entdeckung haben würde für die MathematiK, die Physik, die Chemie, die Astronomie, die Astrologie, die Musik und die Musikwissenschaften.
Heute, 30 Jahre nach seiner Entdeckung, arbeiten hunderte von Wissenschftlern weltweit mit seinen Ideen und viele Musiker und Dj's haben sich inspirieren lassen von seiner Arbeit.
Die meisten der heute hier auftretenden Künstler, LIVE-acts und Djs sind Weggefährten von Hans Cousto und setzten seine Arbeiten zu einer kosmische eingetuneten Musik in Töne und Rhytmen um....allen voran STAR SOUNDS ORCHESTRA, die ihr erstes Konzert am 29.09 1989 gaben, also vor 19 Jahren..
Und da die MYSTIC ROSE von dem lokalen Veranstalter ANANTO auch noch am 5.10.1994, also vor 14 Jahren, in der alten Turbine, später KITKATCLUB in der Glogauerstr., das Licht der Welt erblickte, würden wir sagen....:
Dies ist ein denkwürdiger Tag zu feiern!!!!!
Und da zufälligerweise am 3.10.1990 die deutsche Einheit und der Einheitsvertrag der alten und neuen Bundesländer in Kraft trat, und somit die Teilung Deutschlands zuende ging, laden wir die ganze Republik ein, mitzufeiern....!
Da dummerweise nur ca. 2000 Leute im Kitty Platz haben, werden wir das Event LIVE streamen auf
[chromanova.de]
, und es in die ganze Welt ausstrahlen.
Und , um dem ganzen noch die Krone aufzusetzten, haben sich der Lichtkünstler ALFRED WOLSKI, genannt der LICHTPOET, und der Musiker WOLFGANG JOST aka WULFMAN bereiterklärt, eine Welturaufführung ihres neuen Musikinstruments ( es gibt noch keinen Namen dafür,....sie selbst nennen es MAX UND ROSI GEHEN TANZEN ) zu diesem Datum durchzuführen.
Das Prinzip ist folgendes: dass Licht, ausgehend von seinen Lichtobjekten, direckt über Photowiderstände die kosmischen Töne, den Klang der Einheit, den Sonnenton und den Ton des Platonischen Jahres, vorprogrammiert im Computer und in Syntisisern, spielt, und dadurch etwas entsteht, was noch nie ein Mensch zuvor gehört hat....:-)).....
Ein KOSMISCHES KONZERT ZUM KLANG DER EINHEIT!
HAPPY BIRTHDAY und LASST UNS FEIERN:
Die Geburt eines neuen Musikinstrumentes
14 Jahre MYSTIC ROSE
15 Jahre LIQUID EYE
19 Jahre STAR SOUNDS ORCHESTRA
30 Jahre KOSMISCHE OKTAVE
Und ich, der ich diese Party organisiere, möchte diese Party ganz besonders HANS COUSTO widmen, und wenn ihr wollt, nenne ich sie eine
HOMMAGE an HANS COUSTO
ein unermüdlicher Aufklärer unserer Zeit, dessen Entdeckung der KOSMISCHEN OKTAVE noch lange nicht verstanden wurde auf diesem Planeten, und der mit seinem Wirken soviel beigetragen hat zur Partykultur in Deutschland und Anderswo, dass es wohl noch 30 Jahre braucht, bis die Bedeutung seiner Arbeit allgemein anerkannt ist!!!
in diesem Sinne....spread the word and come together.......see you on the dancefloor.....
love Ananto
Location
Location
im Kit Kat Club (ex Sage)
Brückenstr. 1, 10179 Berlin
U-Bahnhof Heinrich Heine Strasse
Entry fee
Entry fee
ab 19 Uhr : 20 Euro
ab 01 Uhr: 15 Euro
Wer sonst noch am 3. oder 4. 10 Geburtstag hat, kommt für 5 Euro rein ( Personalausweis mitbringen)
Organizer
Organizer
The Mystic Rose Team