Terraformers Dj Set@L'Arboç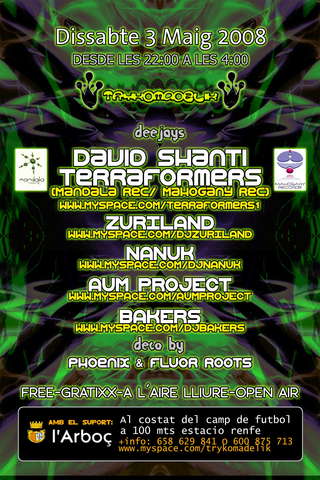 Deco
Deco
PHOENIX and FLUOR ROOTS
Info
Info
No camping area allowed.
Location
Location
CAMP DE FUTBOL DE L'ARBOÇ.
To reach L'Arboç from Barcelona take the N-340 road in Tarragona direction. Also you can try the AP-7 to Tarragona direction, exits in the first Vilafranca del Penedés exit, continue driving, in the roundabout take the N-340 in Tarragona direction and Exits in L'Arboç del Penedés, located between Vilafranca del Penedés and El Vendrell, in the roundabout turn right and continue straight in the next roundabout. Drive a few meters and you will arrive to the last roundabout. Turn left and you will be in the party place.
Organizer
Organizer
Trykomadelik Crew