Backend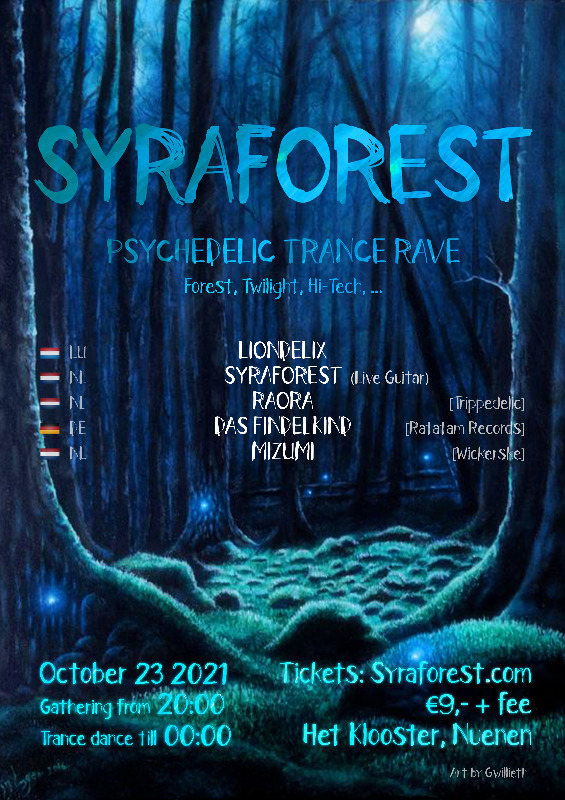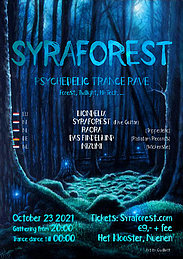 Line Up
Line Up
Liondelix
Syraforest (Live Set)
Raora [Trippedelic]
Das Findelkind [Ratatam Records]
Mizumi [Wickerske]
Info
✹ ✸ ✷ ✴ ✶ ❁ ✶ ✴ ✷ ✸ ✹
We invite you to follow the will o' the wisp to a new psychedelic adventure ✨.
Access only with a Corona Access Certificate. See below for more information.
Gathering from 20:00,
Trance dance till 00:00.
✹ ✸ ✷ ✴ ✶ Info ✶ ✴ ✷ ✸ ✹
To address the needs of the venue, this will be an 18+ event.
Tickets:
[chipta.com]
€9,- + fee.
Drug policy: No tolerance.
Travel information:
❁ By car: Free parking in Nuenen, except for the blue zones.
❁ By public transport: From Eindhoven central train station you can take a bus to Nuenen. The bus stops closest to 'Het Klooster' are 'Kerkstraat' and 'Nuenen Centrum'.
✹ ✸ ✷ ✴ ✶ Access ✶ ✴ ✷ ✸ ✹
Access only with a Corona Access Certificate.
❁ Show your QR-code in the CoronaCheck-app. Please open your QR-code at home, before going to the event. This saves you time, because the app can be slow. After loading the QR-code, you don't need an internet connection to show it. You can get a QR-code by vaccination or proof of recovery.
❁ Or print your paper passport from CoronaCheck.nl.
❁ If you are not vaccinated or your vaccination is not valid yet, you can show a proof of a negative test which is not older than 24 hours.
Bring your identity document (identity card or passport) for identification.
See you on the dancefloor!
✹ ✸ ✷ ✴ ✶ ❁ ✶ ✴ ✷ ✸ ✹
Location
Location
Park 1, 5671 GA Nuenen.
Nuenen is close to Eindhoven, in the south of the Netherlands. You can take a bus from Eindhoven to Nuenen.