Backend
Synestesia We Are Family - X-Mas-Edition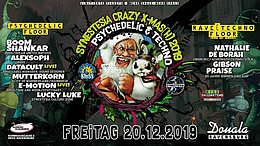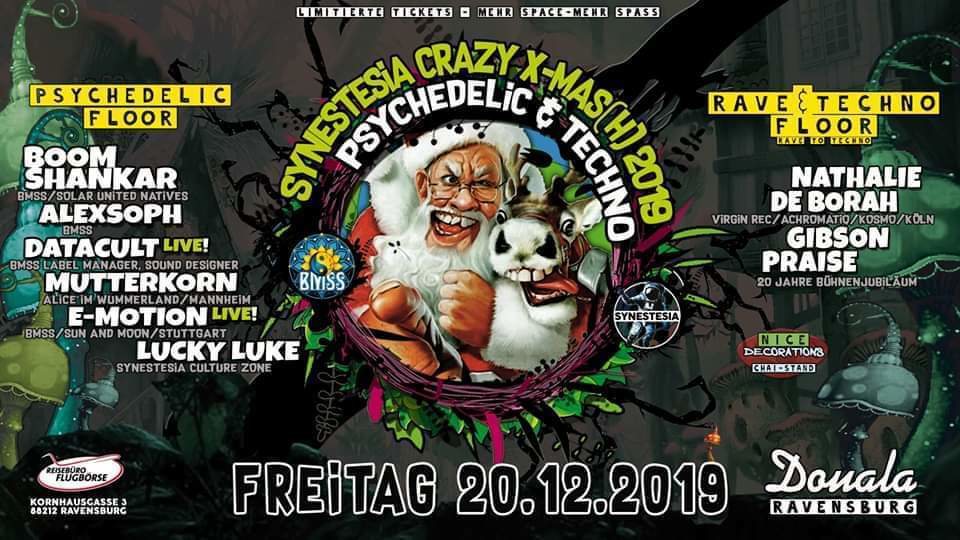 Line Up
❤️ Psychedelic / Proggie / Psy - Floor
+ E-MOTION
(BMSS / Ovnimoon / Bam / Tamil Rec)..
[shamanic-groove.com]
+ DATACULT
(BMSS Co Manager/DJ/Producer)..
[shamanic-groove.com]
+ BOOM SHANKAR
(BMSS Head / Solar United Natives)..
[shamanic-groove.com]
+ MUTTERKORN
(BMSS/Head of Alice im Wummerland)..
[bandcamp.com]
+ ALEX SOPH
(BMSS South)
[shamanic-groove.com]
+ LUCKY LUKE
(Synestesia Culture Zone)..
[chayns.net]
❤️ Oldschool - Rave to Techno - Floor
+ NATHALIE DE BORAH
(Virgin Rec/Aromatiq/Essen/Köln)..
[beatport.com]
+ GIBSON PRAISE
(20 jähriges Bühnenjubiläum)..
[facebook.com]
❤️ Dekorationen
+TBA
❤️ Chaistand by Frequenzkobold
[attention]
🔺LIMITIERTE TICKETS - more Space more Spass
Info
JOURNEY INTO GLOBAL GROOVE:
PSYCHEDELIC & TECHNO BEIM SYNESTESIA JAHRESABSCHLUSS !!!

Wieder knappe 50 Mittwochsclubs mit FreeParty für Euch geschmissen und ein paar Projekte angeleiert die wir Euch 2020 vorstellen wollen. Und nach unserer megacoolen Geburtstagsparty gönnen wir uns jetzt noch einen kleinen oberfetten Jahresabschluss mit der Familie, mit Euch.

Das LineUp auf beiden Floors rockt richtig, es geht querbeet von Oldschool Rave durch die Subgenres von Techno & Psytrance und jeder soll auf seine Kosten kommen. Nathalie de Borah hat so manchen Raveklassiker released und galt zeitweise als most-booked-djane in der Szene. Oldschoolig-ravelastig und technoid wird auf dem zweiten Floor gerockt und auf dem ersten Floor bricht die Apocalypse los mit einem echten Hammer-Abendmahl, mit wobbeligen Tunez, BMSS Nightpsy, mit einem waldigen Gruss vom "Alice im Wummerland" - zwei Mal live performed.
Wir geben uns wieder die grösste Mühe, Euch einen tollen Abend zu bereiten und Euch mit positiven Vibes ins neue Jahr zu schicken.

Synestesia sagt Danke !!

An Euch und an die vielen DJs die uns manche feuchtfröhliche Party beschert haben und freuen uns auf den 20.12 und das Jahr 2020 mit neuen Ideen und Projekten.. CU on the Floor !! & Special Thanks to BMSS Records :) !!

-- Limitierter Eintritt !! Mehr Spass mehr Platz mehr Sicherheit --
-- Synestesia Bändelträger geniessen Special Price --
Location
Douala
Schubertstrasse
D-88214 Ravensburg

Bahn: Strecke Ulm-Friedrichshafen
Stop: Ravensburg

Der Club ist an der Bahnlinie entlang vom Bhf in ca. 5 Min zu erreichen.
Entry fee
Entry fee
Special price für Leute mit Synestesia Bändel !?
Organizer
Organizer
Synestesia Culture Zone