Backend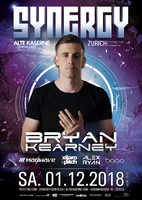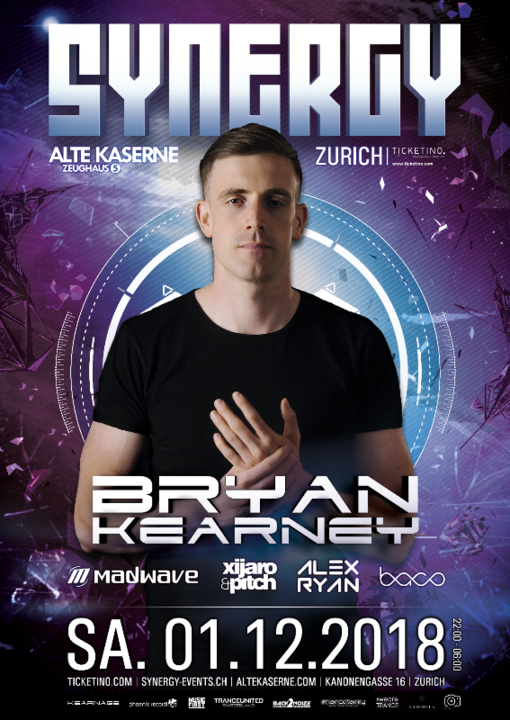 Line Up
▶ BRYAN KEARNEY (IRL)
→ Kearnage, Subculture, Armind
→ A State Of Trance, Transmission, Dreamstate
→ facebook.com/bryankearneyofficial

▶ MADWAVE (CH)
→ FSOE, In Trance We Trust, Digital Society
→ FSOE550, Amsterdam Dance Event, Nature One
→ facebook.com/madwave

▶ ALEX RYAN (IRL)
→ FSOE, Vandit Records, Grotesque
→ Pure Trance, Amsterdam Dance Event, Cream Ibiza
→ facebook.com/alexryandj

▶ XIJARO & PITCH (NL/BE)
→ Grotesque, AVA White, Rielism, Phoenix Rec.
→ TranceFamily Belgium, MNM Radio
→ facebook.com/xijaroandpitch

▶ BACO (CH)
→ Phoenix Recordings
→ FSOE Weekender, Trancegression, Street Parade
→ facebook.com/djbaco
Info
Since its foundation, SYNERGY Events has set a high standard in Switzerland's party scene providing quality events with local and international guests such as Aly & Fila, John O'Callaghan, Markus Schulz, Dash Berlin, Steve Allen, and countless more, who all performed in Switzerland for the first time☝

For this year's closing event, we are very excited to welcome one of the Top DJs with a worldwide reputation and following and a true Trance legend hailing from Dublin, Ireland. Ladies and gentlemen, we present to you Mr. Bryan Kearney 💣

🌎 Being on high demand he is continuously touring all around the world in countries such as the USA, Australia, Argentina, Mexico or India he will make a stop-over in Zurich on Saturday December 1st to perform at Switzerland's coolest underground venue: the Alte Kaserne Zürich!

To make it even more special we are presenting two international acts who will celebrate their Swiss debut:

🚀 Coming from the The Netherlands and Belgium, the two talented DJs/producers XiJaro & Pitch will honour us with a powerful uplifting set. With their recent and successful productions, notably their collaboration release "Nothing Set in Stone" (#6 at the Beatport Trance Top 100) together with Madwave as well as their first ever official mix-compilaton We Are Trance #008, the duo already gained a lot of respect in the Trance scene.

Our third international - and second guest coming from Ireland - is an Ibiza resident at the famous Connect Ibiza events and recurring gigs at Cream Ibiza and Shine Ibiza. With his releases on Future Sound of Egypt, Vandit Records and GOmusic, Alex Ryan sure knows how to rock the international dance floors 🙌🏻

🇨🇭 Alongside international guests, SYNERGY has and always will be supporting local artists both well established as well as up-and-comers. On the forefront, Switzerland's biggest Trance export and the heart and soul of the SYNERGY Events is taking the lead with his rising success in the international Trance scene with his tracks and remixes. His latest release was crowned "Wonder of the Week" on Aly & Fila's weekly broadcasted radio show. Let yourself get overthrown by Madwave's unique Trance waves.

One of those upcoming talents is Baco. On stage, his powerful live performances reflect his passion for the new Trance sounds and he will easily manage to transfer that feeling onto the SYNERGY crowd ♫

🎉 A big event with a massive line-up in a cool venue with fantastic people and most importantly the finest edged Trance at a full-on 8 hours party.

What else is there to crave for...?
Location
Alte Kaserne Zürich
Kanonengasse 16
8004 Zurich
Switzerland
[altekaserne.com]
goo.gl/maps/oxHEtDxMGk82
15 min. away from Zurich Main Train Station (by tram or by walk)
Entry fee
▽ VORVERKAUF / PRESALE / PRELOCATION
→ ticketino.com/en/Event/SYNERGY-Alte-Kaserne-Zurich/79041

▶ EARLY BIRD - SOLD OUT!
::: Strictly limited
→ CHF 20.- (+com)

▶ STANDARD TICKET
→ CHF 26.- (+com.)

▽ ABENDKASSE / AT THE DOORS / AUX CAISSES
→ CHF 35.-