Backend
SYNERGY 'After Parade Party'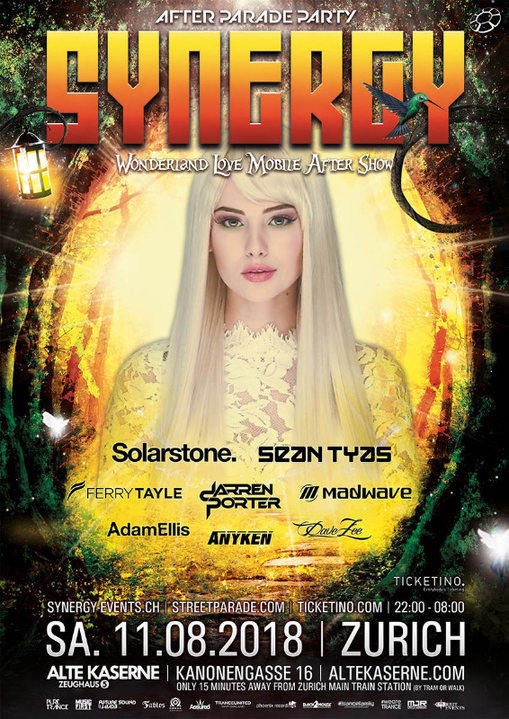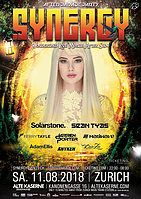 Line Up
▶ SOLARSTONE 🇬🇧
💿 Pure Trance, Black Hole, Who's Afraid of 138?!
→ A State Of Trance, Dreamstate, Transmission
🔗 facebook.com/solarstone

▶ SEAN TYAS 🇺🇸🇨🇭
💿 Degenerate, Future Sound Of Egypt, VII
→ Dreamstate, Transmission, Electronic Family
🔗 facebook.com/seantyasmusic

▶ FERRY TAYLE 🇫🇷
💿 FSOE Fables, Grotesque, Damaged
→ Tomorrowland, Dreamstate, Luminosity
🔗 facebook.com/FerryTayleOfficial

▶ DARREN PORTER 🇬🇧
💿 Future Sound Of Egypt, Grotesque, Degenerate
→ Transmission, Electronic Family, Luminosity
🔗 facebook.com/DarrenPortermusic

▶ MADWAVE 🇨🇭
💿 Future Sound Of Egypt, Grotesque, In Trance We Trust
→ Amsterdam Dance Event, Nature One, Street Parade
🔗 facebook.com/madwave

▶ ADAM ELLIS 🇬🇧
💿 Ellicit Music, Kearnage, Amsterdam Trance
→ Amsterdam Dance Event, Luminosity, Digital Society
🔗 facebook.com/adamellisuk

▶ ANYKEN 🇨🇭
→ Excelsis, Tranceformers, Recall
🔗 facebook.com/djanyken

▶ DAVE ZEE 🇨🇭
→ Härterei, Rave Reunion, WLNT
🔗 facebook.com/davezeeofficial
Info
Enjoy some extra After-Parade time with SYNERGY Events!

Following the mystical ride on the Wonderland Love Mobile at the Zurich Street Parade on Saturday 11th of August, with Liquid Soul (mixer of the official Street Parade 2018 Psy-Trance CD-compilation), SYNERGY Events invites you to continue the saga at a mythical After Parade Party taking place at the jinxed and infamous "Alte Kaserne" in the heart of the City of Zurich. Doors will open at 10pm - hosted by not less than 8 DJs - including 5 international guests who will delight all Trance fans until its closing at 8am.
 
The sensational and exquisite line-up includes magicians, druids and elves... uhm sorry... artists from the UK, France, an American living in Switzerland and the local SYNERGY crew.
 
UKs one and only Trance legend and "Pure Trance" label boss Solarstone will do the honor with an exceptional Stop-over in Switzerland as the main act of the night. Magic storytelling is guaranteed!
 
Fellow countrymen Darren Porter and Adam Ellis, both performing at this year's "Luminosity Beach Festival" in the Netherlands, are extraordinary talents and firm names in the international Trance scene and will scatter their imaginative and colorful Trance stardust into the crowd.
 
American born and raised, nowadays Swiss based Sean Tyas (mixer of the Street Parade 2017 Trance CD) wouldn't want to miss the opportunity to play his degenerate sounds again for the SYNERGY crowd. Known for his driving diversified sets blending and mashing up different styles within the Trance genre, Sean is one of the most successful producers and a well respected and sought-after artist Worldwide.
 
The "French Magician", also known as Ferry Tayle will captivate us once again with an imagination tickling set filled with magic and enchantment. Board his broom and be aware of his magic wand that will charm you into wonderland.
 
Last but not least, there's no fairy-tale without elves and druids! Madwave, one of the pillars of the Swiss Trance scene with an ever-growin reputation and success will tell his own mysterious story accompanied by Zurich's friendly wizard Anyken as well as SYNERGY first-timer Dave Zee coming from a fabled and far far-away land known as Cider-India.
 
We expect this event to be sold out in no time thus make sure to save your tickets NOW!! Buy it online from ticketino.com.
 
...AND THE STORY CONTINUES...
Entry
▽ VORVERKAUF / PRESALE / PRELOCATION
→
[ticketino.com]
▶ AFTER PARTY - STANDARD TICKET
::: Standard Ticket
→ CHF 25.- (+com.)
::: Last Minute Ticket
→ CHF 30.- (+com.)
▽ ABENDKASSE / AT THE DOORS / AUX CAISSES
→ CHF 35.-
▶ LOVE MOBILE + AFTERPARTY
::: Standard Ticket
→ CHF 199.-
::: Last Minute Ticket
→ CHF 209.-