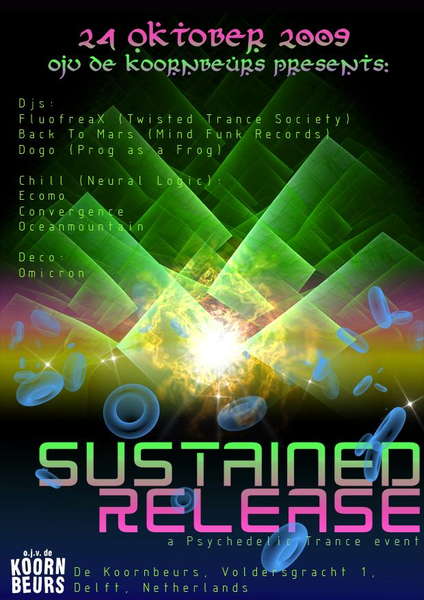 DJs
FluofreaX (Twisted Trance Society)
Back To Mars (Mind Funk Records)
Dogo (Prog as a Frog)
Chill
Ecomo (Neural Logic)
Convergence (Neural Logic)
Oceanmountain (Neural Logic)
Info
Info
After a long, lovely summer it is now autumn again.
To make the transition to winter more fun, we are organizing another evening full of beauty, dancing, and fun.
If the weather permits, we will be having our little fire conclave outside, so bring your fire toys, we will bring fuel!
Our friend Yvette will be making chai for everyone.
We can't let anyone in after 03:00, so please come early!
Location
De Koornbeurs is in the old center of Delft, right next to the market square.
Address: Voldersgracht 1, Delft (NL)

By public transit:
Take the train to Delft station, and walk down the canal and into the center, to the Koornbeurs (5 minutes)

By car:
You can not get to the Koornbeurs by car, the old center is closed to cars.
There is parking (free at night) within easy walking distance from the Koornbeurs.
The gasthuisplaats is probably your best bet.