Backend
Suntribe Festival 2018 ~ Natural Trance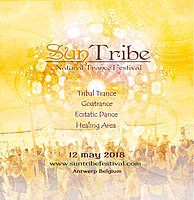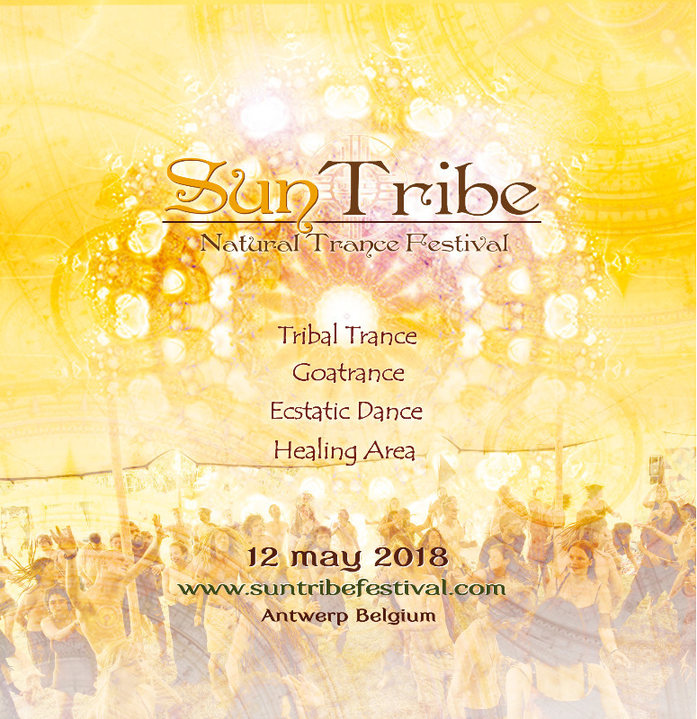 Line Up
SUNTRIBE FESTIVAL 2018:
✶✶✶✶✶✶✶✶✶✶✶✶✶✶
Time is here for the Second Suntribe Festival and we decided to bring it to the next level this time with no less than 3 unique stages combining so much joy into one bubble of light : - )
3 stages / daytime / 15 hours of music / Goatrance / Live Tribal Trance / Ecstatic Dance / World Music / Zen Garden Workshops / Market / Sauna / Healthy food & drinks / No alcohol or any other Drugs / ...
All info:
[suntribefestival.com]
WHAT IS SUNTRIBE FESTIVAL:
✶✶✶✶✶✶✶✶✶✶✶✶✶✶✶✶
Did you ever want to trance/dance with the sun shining on your face? Bare feeted, feeling the Earth below? Without alcohol, smokes or any other drugs on the entire event! Fresh juices and healthy food, feeding your body and the life within. Connected with yourself, the Earth, the Sun and the other dancers? *** Finally, a REAL Natural Trance! ***
12 may 2018 we'll host the second Suntribe and now we can call it a festival! This concept is a collaboration between Universa & Suntrip Records. We chose to take the best out of several worlds and experiences we've had to provoke a spark of tribe conciousness.
Our intentions are simple:
"Celebrate Life, the Sun, the Earth and the entire Universe via melodic goa-trance, tribal music, ambient vibrations, ecstatic dance and so much more, on a pure DAYTIME-event!"
SUNTRIBBIN' PROGRAM 2018:
✶✶✶✶✶✶✶✶✶✶✶✶✶✶✶✶
☯ SUN Stage:
****************
Bringing the best goatrance acts. Including live-acts and djsets.
Live:
✶ Shakta (Dragonfly & Suntrip Records) - (UK)
✶ Asura – Uptempo (Ultimae Rec.) - (FR)
✶ Asura – Downtempo (Ultimae Rec.) - (FR)
✶ Antares (Suntrip Records) - (BE)
✶ Pieter Pan & Pete Mush - (BE)
Dj's:
✶ Anoebis (Suntrip Records) - (BE)
✶ Mantradeli (Ecstatic Dance) - (BE)
✶ Pavane (Suntrip Records) - (BE)
☯ TRIBE Stage:
******************
Bringing a variety of colour to the Suntribe flavours with Ecstatic Dance, Live Tribal Trance, Ethnic Concerts, World Music and more !
Live:
✶ Ecstatic Dance with Kareem Raïhani (IBIZA)
✶ Seb Taylor (Kaya Project - Angel Tears) - (UK)
✶ Regal Trip (Tribal Trance) - (FR)
✶ Nessi Gomes in Concert - (UK)
✶ Haitaka (Tribal Dance by Triquetra) - (BE)
✶ DJ Intiché (Argentinia)
✶ Sargam in Concert - (BE)
✶ Hangdrum Soundjourney - (BE)
☯ ZEN Garden :
*******************
A place where we can recharge / grow / connect / heal:
✶ Relax & Move your Energy - Ellen van Gorp
✶ The work that Reconnects – Eleke Raeymaekers
✶ Soundjourney Concert
✶ Laughter Yoga – Hilde van Liefferinge
✶ Voice Bath with Nessi Gomes (UK)
✶ Tantric Meeting - Marlies Yemaya
✶ Blindfolded Trance Dance – Aernoudt Knecht
LOCATION:
✶✶✶✶✶✶
It is with 100% certainty confirmed that Suntribe 2018 will be held at a special outdoor location in Belgium:
Buitenfort Fort2 - Wommelgem - Belgium
[goo.gl]
PRESALE / TICKETS:
✶✶✶✶✶✶✶✶✶✶✶
✶ Early Bird Presale: 20euro (100tickets max).
✶ 1st - Phase Tickets: 25euro
✶ 2nd - Phase Tickets: 30euro
✶ Tickets at the door: 35euro
Presale:
[suntribefestival.com]
Some rules to preserve the intentions of the event:
✶✶✶✶✶✶✶✶✶✶✶✶✶✶✶✶✶✶✶✶✶✶✶✶✶
✶ Smoking cigarettes is only allowed in one smokingarea.
✶ No smoking weed or any other plants/herbs/...
✶ No alcohol or any other drugs!
✶ Entering under influence of any kind is not allowed at this event.
✶ Respect nature and the surrounding/neighbours.
✶ Park only where allowed to honour the location.
✶ Children are allowed but there is no kindergarden.
✶ No dogs are allowed.
✶ Respect one another.
✶ When you come, please respect these simple rules.
✶ If you find this strange, give it a try, you might like it!
✶ If you do not agree/accept at all, don't come. There are plenty of events where you can go.
✶ If you don't respect these rules at the event, you will be asked to leave the venue.
Location
Fort 2 Wommelgem - Fort II-Straat 54 - Wommelgem België
Organizer
Organizer
Suntrip Records / Ecstatic Dance Belgium / Universa Vzw
Added

4y 9m

· Update

4y 9m

· 1