Suntribe feat. John 00 Fleming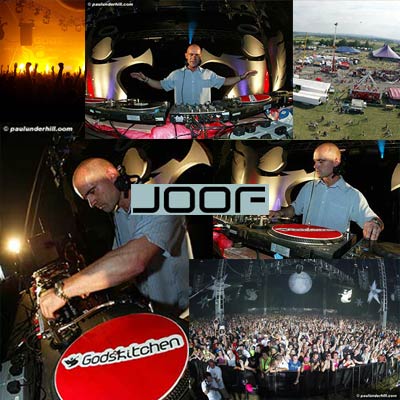 DJs
JOHN 00 FLEMING (JOOF Rec. / Ministry of Sound Radio - UK, one of the top 100 djs worldwide)
John 00 Fleming spielt seit Jahren in der Liga von Danny Howells und Sander Kleinenberg. Der Mann hat gut 20 Jahre DJ Erfahrung und soeben einen DER GOA-Klassiker schlechtin geremixt: Astral Projection - Mahadeva.
John hat seine eigene Sendung of Ministry Of Sound Radio genannt "Global Trance Grooves" and deckt djmässig ein weites Spektrum ab.
Ein Act der absoluten Sonderklasse - erstmals in Österreich!!!!
Joof-Records:
[uk.com]
John 00 Fleming Page:
[john00fleming.com]
Info
Boasting regular appearances at Godskitchen and The Gallery, John 00 Fleming has long been injecting his blend of hard-edged progressive trance into the UK's top clubs, including Cream, Ministry Of Sound, Euphoria, Promise, Slinky, Passion and Inside-out among many others. With a career spanning nearly twenty years, his unique character and impeccable talent have seen Fleming become the face of his genre, producing numerous mix albums, artist singles, remix projects and heading his own underground label; Joof Recordings.

Fleming spends the remainder of his time sprinkling his trademark sound over the rest of the world. His Australian profile continues to reach epidemic proportions, while his US and European following grows steadily in magnitude.

"I love the Australian scene. It has the kind of anticipation and excitement that the UK scene had in its early years. It's also a beautiful country which makes playing there all the more magical."

John has a strong relationship with Australian dance heavyweights, Future Entertainment and often plays at their events for 20,000+ clubbers along with regular club nights including Home (Sydney). Other regular international gigs include Spundae (LA / San Francisco), Arc (New York), Code (Washington), RA (Las Vegas), Aria (Montreal) Club Oxa (Switzerland), Urban Bug (Istanbul), The Munich Brewery (Sweden), Harmony (Amsterdam) and the former Allenby 58 (Israel).

John's career started some 18 years ago when his headmaster asked that he play an under 18s night for the school. After just one appearance, John was asked to become a resident at the now legendary Sterns in his hometown of Worthing. He was aged just 15. Fleming honoured his residency throughout the 80s and during this period, shared the decks with some of dance-music's most treasured DJs, including Carl Cox, Fabio and Grooverider at the club's

'Interdance' night. As acid house and the rave scene reached new heights, John stepped forward as one of the leaders of the movement, DJing at Fantazia, Raindance and Ibiza as far back as 1987.

In 1990 John was diagnosed with lung cancer, aged 20. His escalating reputation was to suffer a blow as Fleming was forced to turn his back on the dance-music community in order to concentrate on recovering. After two years in hospital undergoing chemotherapy, John was in remission and moved to Florida in an attempt to regain his health. It was here that Fleming made his return to the decks with regular dates at Miami's Cameo Theatre and guest spots up and down the East Coast to Canada. A year later John returned to the UK with a fresh perspective. It is this life-threatening experience that has given him the lust for life and determination to regain his place at the peak of his profession.

Arriving back on British shores, John filled a residency at the Zap Club in Brighton together with Tall Paul and Eric Powell. He has since rebuilt a solid reputation as one of dance-music's innovators, pushing his genre and leading where many others follow. Accepted back in to the higher echelons of clubland, John continues to research his own inimitable sound, searching for inspiration in the most obscure places.

Complementing his assured reputation as a DJ, John has displayed a great flair for production. The massive success of two artist singles; 'Alpha 5' and 'Lost In Emotion', were accompanied by a third release in 2000 with 'Free', which enjoyed an entry in the UK Top 40. In 2002, John continued to develop his production work with the release of 'Belfast Trance'; sampling Simple Minds' 'Belfast Child' and John 00 Fleming vs Hemstock & Jennings 'Genetica, both on Nebula Recordings. Fleming ended the year with the excellent 'Ice Cream' with M.I.K.E. (Push) on Bonzai.

The next step for Fleming was Joof Recordings; an underground trance label set up with Russel Coultart (Floorplay) in 1999.

"I come across great music all the time but not everyone has the funds to put records out. Joof Recordings enables me to lend my support and give talented artists the full release that their tracks deserve."

Acting as head of A&R, John has signed a number of innovative artists including Digital Blonde and Gatecrasher resident, Matt Hardwick. Among Joof's releases are John and Russel's 'We Have No Reference Of Time' and a track from Fleming and co-producer Chris Daniels, 'Make Me Feel'. Further success was achieved with Reysan Khan's 'Shi-du 2000' which was championed by Judge Jules, Seb Fontaine and Ferry Corsten. In 2003, John has re-launched the label to great effect with quality releases from The Beetseekers, AR52 and Fleming favourite, Digital Blonde.

Fleming has also mastered a number of highly revered mix albums. In 1998, John displayed his playful nature by releasing the fittingly titled, 'Licensed To Thrill' on Automatic Records. He followed this in May 2000 with 'For Your Ears Only' on React Music. John also co-compiled Volumes 13 & 14 of the notorious 'Reactivate' series (React Music) and headed 'The Real Ibiza' (Telstar), 'Sunny Side Up' (Passion Music) and 'The Best Trance Anthems' …. Ever' (Virgin). More recently John had massive success with the excellent 'Progressive Euphoria' (Telstar) that sold a staggering 70,000 copies within the first two weeks of release and his 'White Label Euphoria' compilation which has since become the second biggest selling album in the Euphoria series.



During his career, Fleming has completed numerous remix projects in a broad spectrum of genres. Among his successes are Erasure's 'Sometimes', Gloria Estefan's 'When Will This Moment End', Mansun's 'Tax Loss' and 'Wide Open Space' and Junior Vasquez' 'House Of Joy'. In 2001 his remix of Konkrete's 'Law Unto Myself' on Perfecto was supported by Dave Pearce, Paul Oakenfold and Paul Van Dyk and his most recent remix of the international club classic 'Café Del Mar' reached No.24 in the UK singles chart!!

John's radio show, Global Trance Grooves is becoming the most popular radio show on The Ministry of Sound radio network. His last show beat all previous records by having the most amount of hits in any forum! Fleming has also turned his hand to journalism, writing a monthly column for M8, titled 'From Brighton With Love' and reviews for iDJ. The little time that John has left to spare has been filled with guest mixes for Radio 1, Galaxy and Kiss FM.

Still reeling from his astounding success at Number 27 in DJ Magazine's Top 100 Poll for 2003, John 00 Fleming has just announced a new residency at New York's Arc club for 2004! Fleming will appear at the club every 4-6 weeks, bringing his pure trance sound to the discerning New York audience. Filling other residencies at Arc and alternating with John are Danny Howells, Jeff Mills and Sander Kleinenberg!

John 00 Fleming has become one of the front-runners in the worldwide club scene. 2004 brings a new level of demand for one of few DJs capable of filling clubs on a global level. From the studio, February 2003 welcomed 'White Label Euphoria 2' on Telstar. The release of his long awaited solo project 'Le Voyage' E.P. is now bouncing out across the airwaves with Pete Tong's, Judge Jules and Dave Pearce on Radio One, Tall Paul on KISS FM and is receiving DJ support from Tiesto, Armin Van Buuren, Paul Oakenforld and Marco V! A remake of Trance guru Astral Projection's classic 'Mahadeva' due out early next year is earmarked to be John's biggest release yet!

John 00 Fleming's status as one of the front-runners in the worldwide club scene has so impressed Technical Giant Pioneer, they're planning a mass marketing campaign incorporating John early next year.. watch this space!
Location
Location
WUK (Währingerstr. 59, 1090 Wien)
[wuk.at]
Entry fee
Entry fee
13,- € VVK at WUK, 15,- € AK