SUNDAYDRY!ZELT - Party with Heart!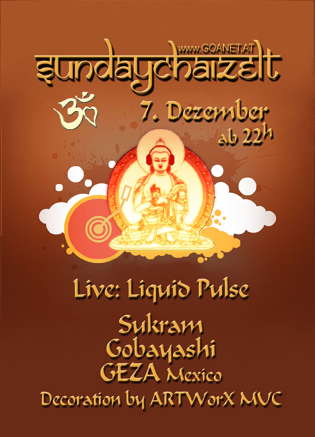 Line Up
LIQUID PULSE Studio Z/Alienfolk
Jenseits der 147 Beats Per Minute beginnt die weite Landschaft, die sich im ständigen Fluss immer neuer Ausblicke vor unserem inneren Auge formt und wandelt.
Wir bewegen uns tanzend durch die Synapsen der äußeren Welt, nicht ohne uns selbst in angenehmer Weise da und dort zu verlieren.
Schon drehn wir uns in Spiralen der Sonne entgegen, schon entfalten wir 1000 Flügel oder mehr.
Unsere Körper passen sich perfekt allen Gegebenheiten an.

This is no dream / This is a landscape in your mind

Die Metamorphose beginnt nicht am Beginn.
Der Kern wird gemeinsam mit den Tanzverlorenen entdeckt.
Einmal hier, einmal da.
Und Du musst fliegen wie ein großer, bunter Vogel.

Pale violet landscape / Sunshine in a liquid sky
I go so far / I see so much
Ten miles over ground / Ten miles over ground
And I´m still rising to the sun


Visuals: WYSFORCE
DJs
GOBAYASHI - Astralzone
GEZA - Nutek Records / Spirit Zone - MEX
Chill
You can chill at the Flex-Cafe or outside under the stars next to the Danube-Channel!
Info
Liebe Partyleute, liebe Sundaychaizeltfamilie - die Zeit ist gekommen und wir machen unseren Winterbreak der uns für
Monate in den Sommer führen wird.... daher gibts das nächste Sundaychaizelt erst wieder am Ostersonntag !
Wir wünschen Euch eine wunderbare Zeit !

ACHTUNG:
Leider gibts wieder mal ein Konzert davor! Doppelbooking der Halle, daher musste ich die deko aus deutschland streichen, da keine zeit ist diese aufzuhängen.Ich glaube das mt dem "Party with Heart" ist mehr denn je wörtlich zu nehmen, weil würd mein herz nicht dranhängen, ich hätte die veranstaltung abgesagt. Achtung wir beginnen nun erst um 23h, Eintrittspreis muss ich erst noch abklären und nochmals durchkalkulieren...

Schon allein wegen GEZA wollte ich nicht absagen, da ich glaube uns ein besonderer Musikgenuss ins Haus stehen wird.
Den LiveAct schaffen wir auch irgendwie aufzubauen und solltenn die ersten 5 minuten etwas "strange" wirken, sorry, wir haben vorher keine mögichkeit einen soundcheck zu machen.

Lassen wir uns überraschen :) ...


Boom :P