SUNDAYCHAIZELT "Viva Italia - Chillum Special"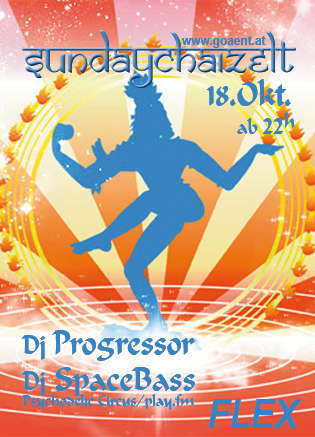 Chill
chill at the Flex Cafe or at our Chaibar - even you can take a break outside under the Stars next to the Danube Channel!
Deco
Deco
Schwarzlichtmiljöö (Original SCZ Deko Family)
Info
FREE CHAI all night long!
Chaibar hosted by Esther Summer (
[myspace.com]
) - Get The Best Chai in Town!!!
...and some more goodies!
SPECIAL GUEST: Miss Fairy Bini is bringing wonderful Chillums from Italy - Very good from Daniele / Torino - and a very affordable Price - with good Stones and Cover incl.! Check them out at our Chai-Shop!
Sundaychaizelt - GoaTranceClub since 2000
FLYERGALLERY:
[facebook.com]
Various PARTYPIX:
[facebook.com]
MYSPACE:
[myspace.com]
Location
Location
FLEX
Wien 1
Donaukanal - Abgang Augartenbrücke
U2/U4 Station Schottenring
[flex.at]
Hotline
pm here at the meetingpoint or on our website!