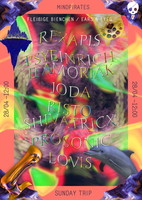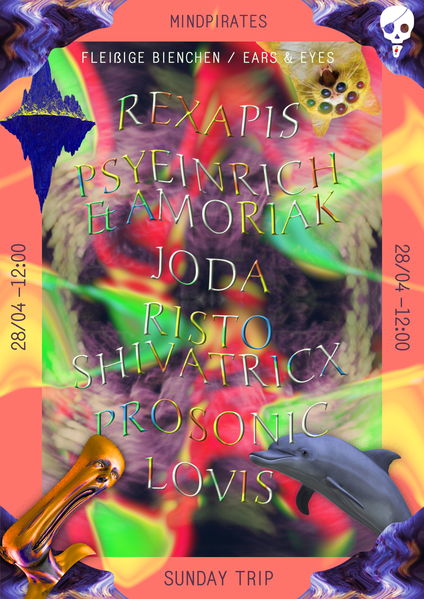 DJs
Rexapis LIVE DRUM // Fleißige Bienchen / Ears & Eyes
Psyeinrich & Amoriak LIVE E-Guitar // Ears & Eyes
Joda // Ears & Eyes
Risto Shivatricx Live Drum // Fleißige Bienchen
BaaBaarish
Prosonic
Lovis
Chill
Es wird warmes Essen geben. Wir verkaufen für wenig Geld Wraps (auch vegan),Waffeln, Kuchen,Chai-Tee,Kaffee und auch selbst gemachte Smoothies. Das ganze wird von Köchen zubereitet die normalerweise im Hotel arbeiten.
Das ganze wird von Indischer-Ambiente Musik untermalt.
Deco
Fleißige Bienchen / Ears & Eyes
Info
Info
Mindpirates invite you to join us for a relaxed and meditative Sunday slumber in collaboration with Fleißige Bienchen and Ears & Eyes as we delve into a psychedelic world of kaleidoscopic intonation. Float away on a vibrant rainbow of picturesque bliss.

Mindpirates lädt euch herzlich ein, einen entspannten und meditativen sonntag mit uns zu verbringen. In zusammen arbeit mit Ears & Eyes und Fleißigen Bienchen werden wir in eine psychedelische welt eintauchen. Wir haben alles, um in eine neue welt ein zu tauchen um sich gehn zu lassen und um zu relaxen. wir hoffen ihr besucht uns in dieser welt.
Organizer
Organizer
Fleißige Bienchen / Mindpirates
Added

9y 10m

· Update

9y 9m

·